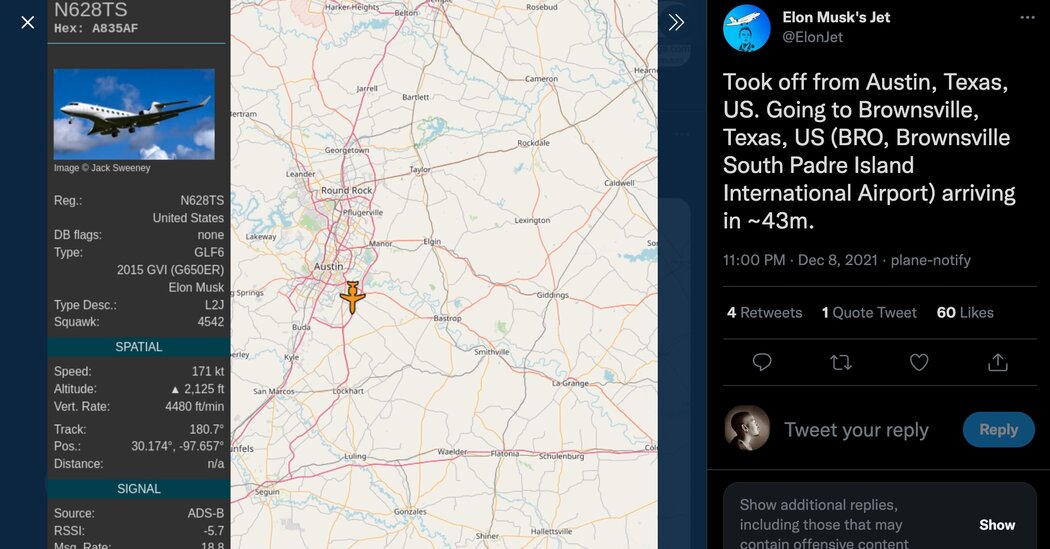 Mr. Sweeney made a counteroffer to Mr. Musk, according to the screenshots of the exchange, saying that he would abandon the account if Mr. Musk upped the ante to $50,000. He said that he would also accept a Tesla Model 3, an electric car that costs more than $38,000, adding that he was joking.
In the exchange, Mr. Sweeney was asked how he had been able to track Mr. Musk. He explained that he had obtained the plane's transponder data. When told that paying to have the Twitter account shut down didn't seem right, Mr. Sweeney made another proposal: How about an internship?
The exchange, which carried on for more than a month, went silent after Jan. 23.
Mr. Sweeney downplayed the privacy and security concerns associated with his tracking account for Mr. Musk, which has more than 305,000 followers.
"It's a private jet so he goes right from the jet to the car," he said, adding that he has long been fascinated by tracking planes. "I don't think it's that big of a concern. Some people are just interested in seeing where he goes."
Mr. Sweeney said that he obtained the data for his aircraft-tracking accounts from the ADS-B Exchange, which describes itself on its website as the world's largest source of unfiltered flight data.
Dan Streufert, the founder of ADSBexchange.com L.L.C., said in an email on Wednesday that anyone with basic electronics could obtain the signals from aircraft that broadcast their locations. The information is also available by listening to air traffic controllers, he added.
"However, it is important to note our website tracks aircraft, not individuals," Mr. Streufert said. "We cannot say who is or is not on the plane. Mr. Musk's companies own and operate many aircraft — this is only one of them. Mr. Musk may find Mr. Sweeney's activities annoying, similar to paparazzi, however, this information is already public from a myriad of sources."