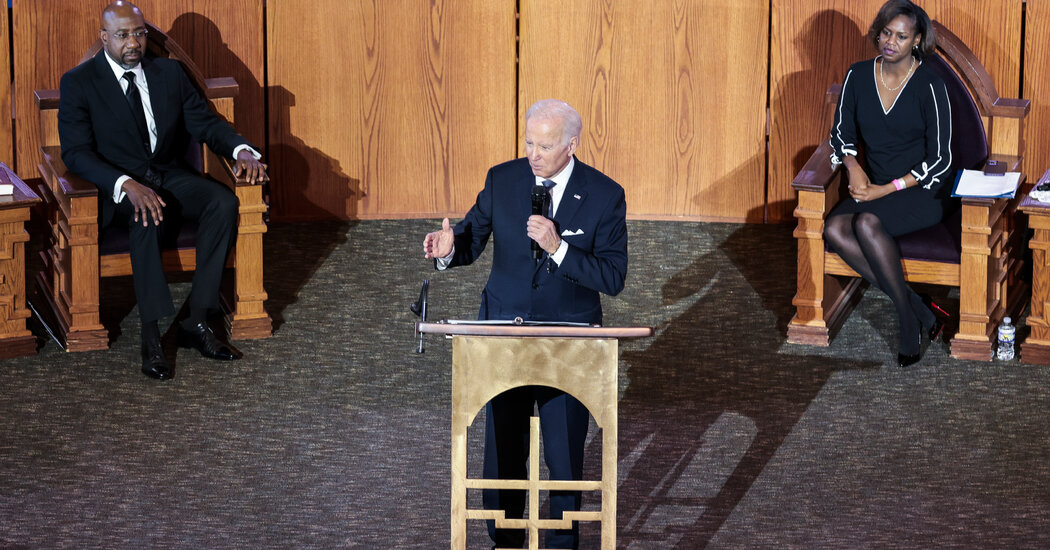 Mr. Warnock, however, said in his victory speech that night that he won despite voter suppression. Stories of Georgia voters waiting for hours in long lines that wrapped around buildings, he said, were "most certainly not a sign voter suppression does not exist."
Early figures indicated that nationally the Black share of the electorate in the midterm elections fell to its lowest level since 2006, particularly in states like Georgia. Many factors could explain why Black voter participation returned to levels common before the era of President Barack Obama, analysts said. And an examination of the numbers suggested that the lower Black turnout might not have changed the outcome of any major race.
But the shift in selected states was striking. In Georgia, Louisiana and North Carolina, the average Black turnout rate was 26 percent lower than among white voters, according to state records, compared with 13 percent lower in the 2018 midterm elections. Georgia and Louisiana both passed new restrictions before the 2022 elections, while North Carolina did not.
Nowhere has the issue been more pronounced than in Georgia, where Dr. King led the struggle for civil rights. Ebenezer is holy ground for the civil rights movement, with the old church long since growing into an expansive set of buildings and memorials, including the crypt containing Dr. King and his wife, Coretta Scott King.
In the sanctuary opposite the previous church, Mr. Biden joined Mr. Warnock and more than 1,000 parishioners to invoke Dr. King's spirit on what would have been his 94th birthday. While Jimmy Carter, Bill Clinton, George W. Bush and Mr. Obama all spoke at Ebenezer, Mr. Biden was the first sitting president to offer a Sunday sermon.
He said that Dr. King and Robert F. Kennedy were his heroes as a young man and, as he has in the past, Mr. Biden left the impression that he was perhaps more involved in the civil rights movement than other people's recollections indicate. He referred to himself as "a 22-year-old kid in the east side in the civil rights movement," although he did not claim to have been arrested, as he did last year. (The Republican National Committee nonetheless issued a statement saying, "Joe Biden once again lied about his life story.")
In his sermon, the president extolled Dr. King as a "nonviolent warrior for justice" who remains an inspiration for today's generation nearly 60 years after his celebrated "I Have a Dream" speech.