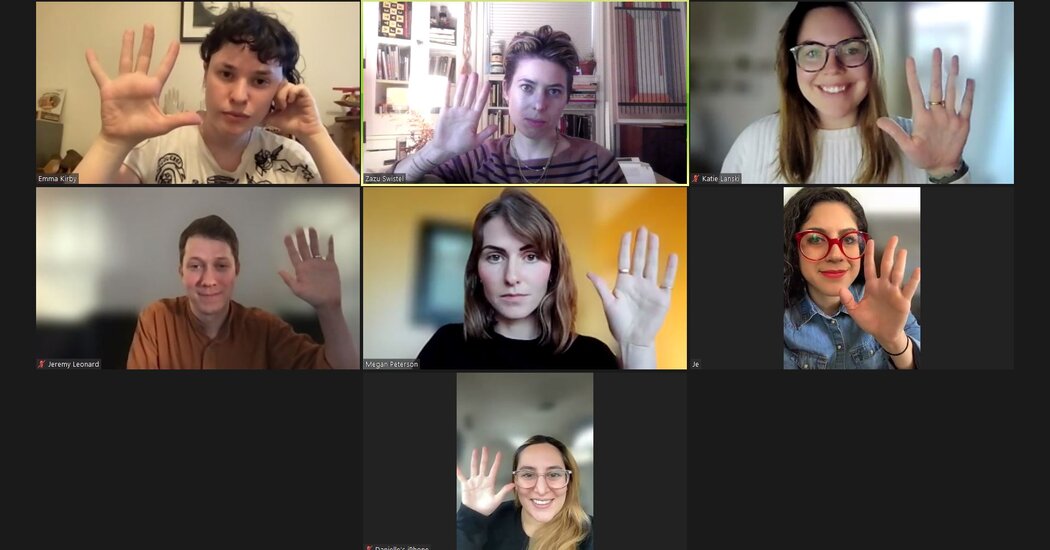 Less than two months after seeking to form the only union at a prominent U.S. architecture firm, workers at SHoP Architects, in New York, have formally ended their effort.
"We never imagined we would have to write this statement, but after a difficult unionizing attempt that was met with a powerful anti-union campaign, we have decided to withdraw our petition," the group, which calls itself Architectural Workers United, said in a statement on Thursday.
The statement did not provide examples of anti-union activity, but added: "We have seen how the fear of the unknown, along with misinformation, can quickly overpower individual imaginations of something greater than the status quo."
SHoP, in a statement, said the group's decision to withdraw an election petition filed with the National Labor Relations Board "reflects our staff's clear desire to determine our collective future together as an employee-owned firm." The company said that "any allegations of bad faith campaigning are unfounded and an attempt to undermine the strong majority of SHoP employees who made their views known."
The organizing campaign was a response to long-simmering tensions in the architecture profession, where workers often accumulate tens of thousands of dollars in debt in college and graduate school but earn modest salaries while working long hours.
The campaign also appeared to reflect a growing interest in unionizing among white-collar professionals, such as tech workers, doctors, journalists and academics, who have formed unions during the past decade as a way to address a loss of professional autonomy in addition to low wage growth and job security.
At SHoP, a high-profile firm of about 135 employees that is known for work on such projects as the Barclays Center in Brooklyn and a Manhattan luxury building once known as the Steinway Tower, several employees said they worked 50 hours a week on average and 60 or 70 hours a week every month or two when a big deadline loomed.
Typical of the industry, many who worked these hours over the past few years were junior architects earning $50,000 to $80,000 a year — higher than average for all workers, but low given the profession's schooling requirements. According to a report last year from the American Institute of Architects, an industry group, few architects have annual salaries above the $100,000-to-$120,000 range, and many make less, a decade or more into their careers.
The organizing campaign at SHoP appears to have been touched off by the economic uncertainty introduced by the pandemic, as well as the toll on employees of working long hours remotely. "Many of us feel pushed to the limits of our productivity and mental health," employees wrote in a letter to the firm's leadership announcing the union in December.
Among other changes, supporters had hoped that a union could help rein in the practice of uncompensated or undercompensated overtime, which is common in the industry. But skeptics within the profession warned that such changes could backfire, raising labor costs that rival firms could undercut when bidding on a project.
In response to the initial union announcement, SHoP indicated that it was sensitive to workers' concerns about pay and hours, saying it had recently turned down several projects that it did not believe would generate enough revenue to staff appropriately. The firm also said it preferred to employ architects on a long-term basis rather than to staff up and down as projects came and went, as some competitors seek to do.
Even employees favoring unionization said the firm's labor practices were better than average for the industry — noting that the firm pays its interns, for example.
The effort to organize prominent architecture firms does not appear to have died with the union drive at SHoP. Workers at two other prominent architecture firms were in the process of organizing when workers at SHoP went public in December, said David DiMaria, an organizer with the International Association of Machinists and Aerospace Workers, with which the SHoP architects had hoped to affiliate.
In an interview this week, Mr. DiMaria said that those efforts were continuing, and that workers at five other firms had reached out to the union and begun organizing since then.
"This has started a conversation around the value of architectural work, and the realization that without leverage, there will never be value," Mr. DiMaria said of the SHoP campaign. "The organizing is going to continue because it's the only way to fix these problems."