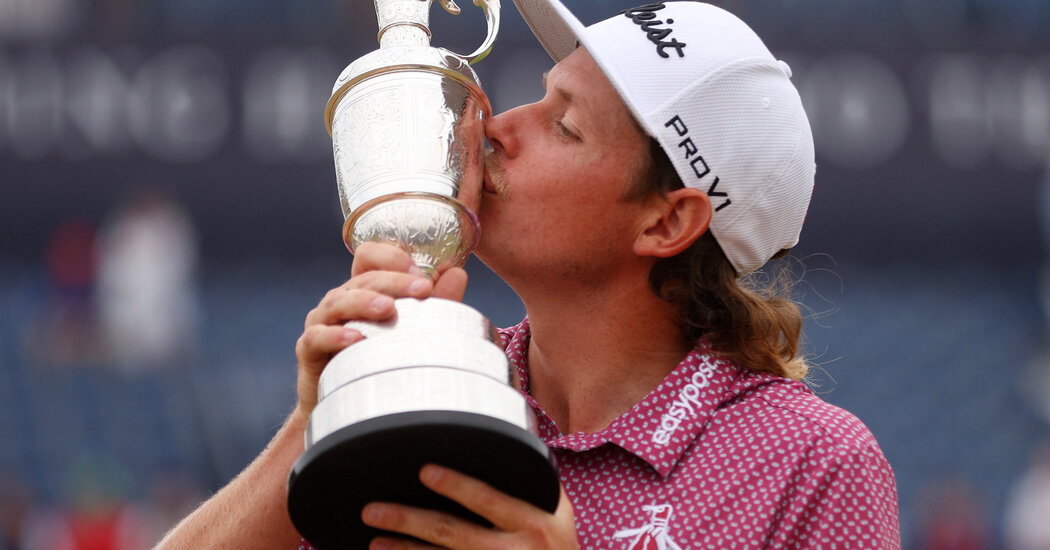 ST. ANDREWS, Scotland — The wind, what little there was of it, finally seemed to be blowing Rory McIlroy's way again at a major championship.
He had a share of a four-shot lead with one round to go, and though he was not quite playing at home in the home of golf, McIlroy, a Northern Irishman, certainly must have felt as if he was playing on his terms and on his turf as he basked in the roars of the record crowd and walked his jaunty walk over the undulating fairways and double greens of the Old Course.
McIlroy, at 33, has both charisma and game, with an elastic swing that provides him the sort of power usually associated with more muscular men and allows him to pound drives to faraway places.
But the 150th British Open would come down to deft touch, not overwhelming force, and though McIlroy certainly did not choke away his chance to make history, he hardly seized the big moment by the lapels and shook it for all it was worth.
That was left to Cameron Smith and his putter.
Smith, an Australian with a wispy mustache and mullet, has a retro air, and though blazers and ties are the rule at the Royal and Ancient Golf Club, Smith still fit right in at the Old Course, holing birdie after birdie after birdie after birdie after birdie (yes, five in a row) on the back nine despite the pressure that goes with trying to win one's first major.
Smith, a 28-year-old from Brisbane in steamy Queensland, would make eight birdies in all on Sunday, shooting a brilliant, bogey-free closing round of 64 that put him at 20 under par and gave him a one-stroke victory over the American Cameron Young. McIlroy finished in third place, one more stroke behind, after shooting 70 on Sunday and producing par after par but no fireworks on the back nine.
"The putter just went a little cold today compared to the last three days," McIlroy said.
Smith had no such difficulties, and he is the first Australian to win the British Open since Greg Norman in 1993 and the first Australian man to win any major since Jason Day won the P.G.A. Championship in 2015.
Smith also maintained his nation's tradition of winning special anniversary editions of the Open Championship at St. Andrews. The Australian Kel Nagle won the 100th edition here in 1960.
"That's pretty cool; I didn't know that," Smith said. "I think to win an Open Championship in itself is probably going to be a golfer's highlight in their career. To do it around St. Andrews, I think, is just unbelievable. This place is so cool. I love the golf course. I love the town. Hopefully we can keep that trend going with the every 50 years. That would be nice, wouldn't it?"
The victory was also, at first glance, a reaffirming moment for the traditional tours in their increasingly contentious rivalry with the breakaway, Saudi-backed LIV Golf series, which has used big checks and lighter workloads to lure major stars like Phil Mickelson, Brooks Koepka, Bryson DeChambeau and Dustin Johnson, all of whom have since been barred from competing on the PGA Tour but, for now, are still able to play the majors.
The closest a defector came to victory at the Old Course was Johnson, who finished in a tie for sixth at 13 under. But Smith was hardly reassuring when asked about rumors that he was considering a jump to LIV. "I just won the British Open, and you're asking about that?" he said, visibly uncomfortable, saying the line of inquiry was "not that good."
The reporter persisted, and Smith neither confirmed nor denied his interest in the new tour, which is headed by Norman, a fellow Australian. "I don't know, mate," Smith said. "My team around me worries about all that stuff. I'm here to win golf tournaments."
Smith, if he does jump, is certainly in a stronger bargaining position after his week at St. Andrews, and he showed much more precision than emotion during his final-round surge that began on No. 10 when he made the first of his five consecutive birdies and began to reel in McIlroy and Viktor Hovland, who were the co-leaders after the third round.
But Smith has learned some hard lessons at the majors with four top-five finishes, including a tie for third at the 2022 Masters and a tie for second there in 2020. "I've definitely kicked myself a couple of times over the last few years," he said.
He won the Players Championship in March, his second PGA Tour victory this season, also making a string of final-round birdies on the back nine. The Players, with its elite field and rich purse, has often been labeled the next best thing to a major, but the Open Championship is the real deal, and though the Old Course is far from the most difficult test on the rotation, it retains its power to inspire.
Smith's 20-under-par total score of 268 set a record for a British Open at St. Andrews, surpassing Tiger Woods's score of 19 under when he won the Open here in 2000.
Woods, then in his prime, won by eight strokes, turning the final round into a processional. But Smith's victory went to the wire. He led the tournament after two rounds, but then fell four shots off the lead with a one-over 73 on Saturday, a round that included a double bogey on the par-4 13th when he went for an ill-advised second shot from the edge of a bunker.
By Saturday night, McIlroy had the momentum, sharing the lead with Hovland, a former collegiate star at Oklahoma State who taught himself the rudiments of the game by watching YouTube videos and was trying to become the first Norwegian to win a major.
"You were born for this Rory! Come on!" shouted one Scottish fan as McIlroy headed for the 10th tee on Sunday.
McIlroy won the 2014 British Open at Royal Liverpool and added a fourth major at the P.G.A. Championship later that season. He seemed set for a long run of dominance, but missed the British Open the next year, the most recent one to be contested at St. Andrews, because of an injury, and has faced years of final-round disappointments.
Eight years later, the chase for the next major continues even though he finished in the top 10 in all four majors this season.
"I'll rue a few missed sort of putts that slid by, but it's been a good week overall," he said. "I can't be too despondent because of how this year's went and this year's going. I'm playing some of the best golf I've played in a long time. So it's just a matter of keep knocking on the door and eventually one will open."
This one opened for Smith instead. "Look, I got beaten by a better player this week," McIlroy said. "Twenty under par for four rounds of golf around here is really, really impressive playing, especially to go out and shoot 64 today to get it done."
To get it done, Smith had to recover from a shaky second shot at the infamous Road Hole, the par-4 17th that played tougher than any hole on the course this year. But Smith produced a beautifully weighted putt uphill from off the green that left him with a 10-foot putt to save par. He made it and headed to the 18th hole, where Young, his playing partner, finished with an eagle that put him very briefly in a tie for the lead with Smith, at 19 under.
But Smith had already put his second shot on the par-4 18th just two feet from the hole.
"Cameron was not going to miss that," said Young, who had watched Smith drain so many pressure putts throughout the overcast afternoon.
Young knew his man. Smith calmly positioned himself and stroked the ball into the cup to retake the lead at 20 under.
The last chance for McIlroy to force a playoff was to make an eagle on 18, which Young had just proven was drivable. But McIlroy's tee shot, like his round, came up short, and when he failed to hole his second shot, Smith was the British Open champion with his name engraved — in a hurry — on the claret jug.
"All the hard work we've done the last couple years is really starting to pay off," Smith said to his team, with the trophy in his grip and the tears starting to come. "And this one definitely makes it worth it."
But Smith, after composing himself, made it clear that he intended to put the claret jug to good use, although not at the moment for claret.
"I'm definitely going to find out how many beers fit in this thing, that's for sure," he said.