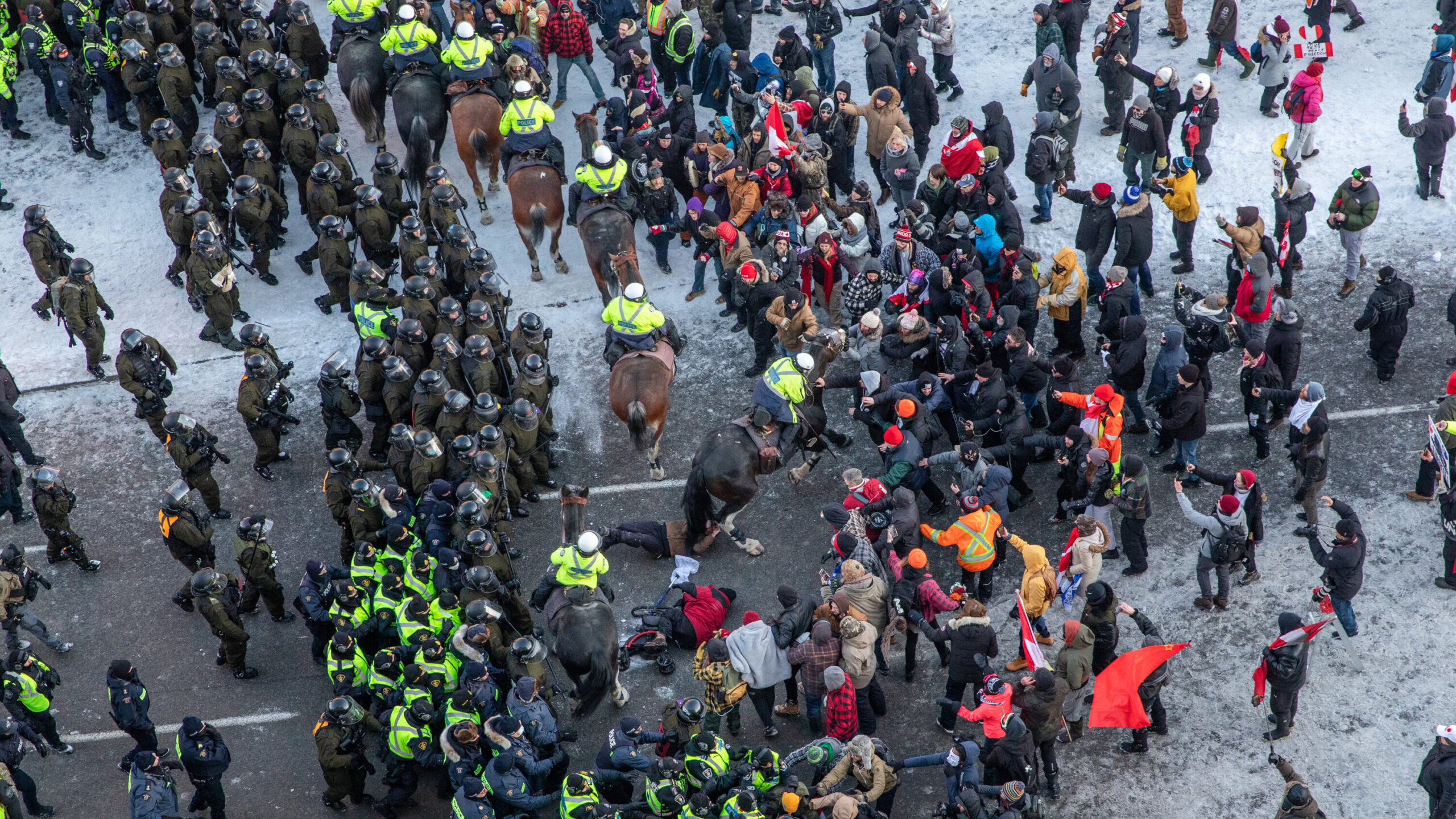 Twenty-two days after a trucker convoy rumbled into Canada's capital to protest pandemic restrictions, hundreds of police officers in downtown Ottawa moved in to arrest protesters Friday, hoping to end weeks of gridlock that have roiled the city, infuriated local residents and shaken the country.
After a night of unusually heavy snowfall, rows of police officers in fluorescent jackets edged steadily toward protesters on Parliament Hill, backed by at least two armored vehicles and tactical officers armed with rifles and wearing helmets.
By late afternoon, protesters were clashing with police officers in front of Canada's Senate building. The Ottawa police said that some demonstrators had assaulted officers and had tried to remove their weapons. The police deployed crowd-dispersal spray against demonstrators, and officers on horseback were forcing the crowd back, leading to a rush of people trying to flee in a flood of panic.
Protesters are assaulting officers, have attempted to remove officer's weapons. All means of de-escalation have been used to move forward in our goal of returning Ottawa to it's normalcy. #ottawa #ottnews

— Ottawa Police (@OttawaPolice) February 18, 2022
Images on Canadian television showed police officers dragging one recalcitrant protester on the snowy ground near a truck draped with a Canadian flag.
At 4:45 p.m., after several hours of making arrests, the police cleared hundreds of protesters from a major intersection outside the Canadian Senate, where a truck blockade has been disrupting daily life.
Earlier, B.J. Dichter, a spokesman for the truckers' convoy, wrote on Twitter that it was time for protesters to leave, saying that the police had smashed the windows of one driver's truck.
Several heavy tow trucks whose license plates had been removed and whose company names were covered with Ottawa police stickers were towing protesters' trucks away. The police said 21 vehicles had been towed.
The Ottawa Police Service said that as of Friday evening, more than 100 people had been arrested on various charges, including "mischief," a serious offense under Canada's criminal law, which can carry a prison term of up to 10 years.
Among those arrested on Thursday night was Tamara Lich, a leading activist, fund-raiser and singer who in the past has advocated the secession of Canada's western provinces. She has become one of the main voices of the protest movement.
The police mobilization comes after mounting criticism that law enforcement personnel have moved too slowly to end the protests, permitting protesters to taunt local residents for wearing masks, honk their horns in quiet residential neighborhoods and undermine local businesses.
Law enforcement officers have created a perimeter with about 100 checkpoints in Ottawa's downtown core to keep anyone but residents from entering.
There was a sense of anticipation across the trucker encampment as reports trickled in from their organizers via a text message chain that police cruisers had been seen massing outside the demonstration area.
"They're coming in," said one man wearing a Canadian flag as a cape. "They're going to corral us."
While it was proceeding cautiously, the police operation appeared to be the culmination of a tenacious protest that has reverberated around the world and has been a seminal moment in the history of Canadian civil disobedience and law enforcement. Prime Minister Justin Trudeau took the rare step this week of declaring a national public order emergency — the first such declaration in half a century — to end the protests.
The logjam in the nation's capital, the weekslong blockade of an Ontario bridge that is vital to automakers' supply chains and the news media's projection of all that onto the global stage have given the protests an outsize megaphone and impact.
As the police move to clamp down on the protests, the so-called "Freedom Convoy" is likely to live on long after the last trucks depart — if only as a vivid template for how civil disobedience can be effective, in particular in a liberal democracy where the threshold for intervention by law enforcement personnel to stop demonstrations can be high.
Much like Occupy Wall Street in 2011, the Canada convoys show that what seem like fringe political movements can gather force at a time of anxiety — and when the world's cameras are pointed at them. Back then, the driving force was anger over endemic social inequality. These days it is a lethal global pandemic.
In addition to Ms. Lich, Chris Barber, another main organizer, was also arrested on Thursday.
Ms. Lich, of Medicine Hat, Alberta, has emerged as the public face and the most visible leader of the trucker convoy. She is a former fitness instructor who has worked in the energy sector and has sung and played guitar in a band called Blind Monday.
The protests began weeks ago with a loosely organized group of truckers who objected to a requirement that they be vaccinated if they cross the U.S.-Canada border. They expanded into a broader movement opposed to an array of pandemic measures and to Mr. Trudeau generally.
Ian Willms contributed reporting.