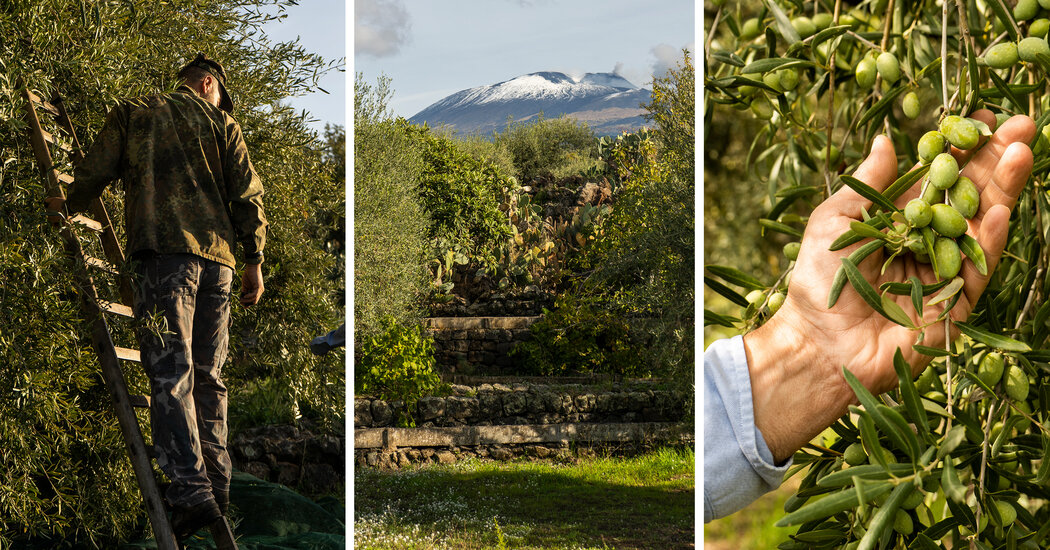 In the summer of 2020, out of the blue, my father told me of a friend of his who, after decades spent working in Milan as a photojournalist, decided to return to his roots and begin producing extra virgin olive oil at a family farm on the slopes of Mount Etna, an active volcano — Europe's largest — on the eastern side of Sicily.
I flew to meet the man, Enzo Signorelli, at the start of the olive picking season, in late October of the same year. It was very wet the first few days, so the harvest was postponed, and there was no certainty that I'd get to photograph it. Luckily, toward the end of my stay, the sky opened up and gave us two warm and bright days.
Because of its height, Mount Etna is visible from virtually everywhere in northeastern Sicily. (In August its summit was 11,014 feet tall, though it changes with eruptions.) But the volcano looms especially large for the region's farmers and vintners: For millenniums, they have benefited from a mineral-rich soil, a result of its eruptions.
"Somewhere along the slopes, there are olive trees that are at least 500 years old," Enzo told me, adding that the Greeks, and then the Romans, were known to harvest olives here.
Enzo, now 63, moved back to Sicily in 2011, becoming the caretaker of the olive groves which his family has owned and tended to for over 100 years. "I wanted to dedicate my time to the land and to the olives," he said. "At first I had no idea this interest of mine would turn into a passion — and later, into a full-time occupation."
Every autumn, Enzo gathers a small team of about 10 pickers to help with the harvest. The men work elsewhere during the rest of the year — picking oranges and lemons, for example — but keep themselves available for Enzo during the olive season, which typically lasts from the end of October to mid-November.
The workers gathered each morning at seven, while it was still dark and cold, to make a fire while they discussed the day's plan. Then they quickly laid out the nets under the designated trees.
To harvest the olives, the men used their hands as if they were rakes, reaching into the trees with both hands and gently but firmly pulling out as many olives as they could, then allowing the fruit to drop into the nets below.
The men, who all know each other, spent their working hours sharing stories and telling jokes. Since they worked in the open air, they did not wear masks. During their lunch break, they took out their hearty packed lunches and shared their food. Riccardo, the team leader, kindly invited me to sample the meal that his wife had packed for him and his friends. Alessandro, another of the young workers, had joined his father for the picking season and chatted with him about family matters.
All day long I heard a steady symphony of bird calls, crickets and other buzzing insects, olives dropping first against the wooden ladders and then against the ground, and the pickers' very local Sicilian parlance.
The men often sang while they worked. Roberto, 35, with dark hair and dark eyes, entertained everyone with an impressive repertoire of local folk songs, most of them about love and longing.
Though often difficult to farm, the volcanic soil near Mount Etna is extremely fertile. Over time, lapilli, ash and lava rocks, deposited by eruptions, have degraded to form a crumbly soil that's rich in nutrients, including minerals and organic matter. The altitude and the groves' exposure to southern sun and winds, along with a moderate supply of rainwater, also promote soil fertility.
Since the grass in his groves is useful for protecting the soil from excessive evaporation, and since it softens the olives' falls as they drop onto the nets, Enzo cuts it only about three or four times a year. Still, in the summer months, the centuries-old roots of his olive trees will break apart lava rocks in their search for water.
This year's weather was especially hot. In the midst of a heat wave, a nearby monitoring station, some 50 miles south of Enzo's groves, registered a temperature of 119.84 degrees Fahrenheit, possibly the highest temperature ever recorded in Europe.
Often within hours of being harvested, the olives are taken to the oil mill, where they undergo a series of mechanized processes: The leaves are suctioned away; the olives are cleansed with water and cold-pressed to become a paste; the paste is sent into the kneading machine, which begins separating the oil from the pulp. From there, the oil, which still contains some water, is extracted centrifugally, then filtered.
The process, from start to finish, takes at most 40 minutes, after which the oil is ready for consumption — although the flavor stabilizes over time, Enzo explained.
"We don't throw away anything," he added. The solid residue and the paste is dehydrated and turned into fuel. The residual water is made into a concentrate from which polyphenols, a broad class of antioxidants found in plants, are extracted and added to animal feed.
Enzo produces four different olive oils, each coming from a distinct cultivar, or variety, of olives. (In practice, that means that each oil is produced from olives from a distinct grove.) While each oil retains its own individuality, they all present the three characteristics typical of this area: bitterness, spiciness and a sweet aroma.
In addition to producing olive oil, Enzo has established a new program to salvage several of Mount Etna's old and abandoned olive groves, many of which were damaged this summer during a series of wildfires.
Since moving to Sicily, Enzo says he's found a new balance. "The countryside has taught me its own rhythm — new for me, but as old as these mountains themselves," he said.
"I wake up, step out of the door, and the volcano is there. How could I not be happy with my decision to come back?"
Marta Giaccone is a photographer based in Tallinn, Estonia. You can follow her work on Instagram.