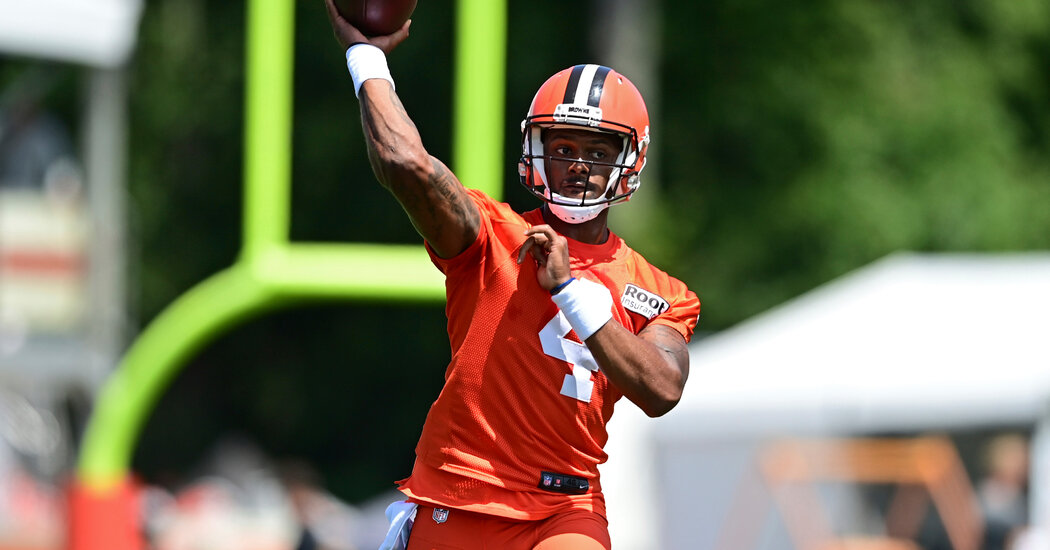 Deshaun Watson, the Cleveland Browns quarterback accused by more than two dozen women of sexual misconduct during massage treatments, was suspended Monday for six games without pay for multiple violations of the National Football League's personal conduct policy, according to a 16-page report released by the disciplinary officer who considered his case.
As a condition of his reinstatement, Watson was also directed to use only club-approved massage therapists, in club-directed sessions, for the duration of his career. He has not been fined or required to undergo counseling.
Sue L. Robinson, the retired federal judge jointly appointed by the N.F.L. and the players' union to oversee the hearing, found that Watson violated the policy's provisions by engaging in unwanted sexual contact with another person, endangering the safety and well-being of another person and undermining the N.F.L.'s integrity.
She described Watson's conduct as "predatory" and "egregious," and said that he had not expressed remorse, but she rejected the N.F.L.'s recommendation that Watson be suspended for at least the full 2022 season. Robinson reasoned that there was no basis in the policy for a penalty that stiff for what she deemed nonviolent conduct.
The league and the players' union have three business days to submit a written appeal, which would be handled by Commissioner Roger Goodell or a person of his choosing. The players' union said in a statement on Sunday night — before Robinson informed both sides of her decision — that it would not appeal and called on the N.F.L. to let the ruling stand.
The N.F.L. has been criticized for disciplining players inconsistently for off-field behavior, and for acting as judge and jury, and the Watson case was the first major test of a new collectively bargained protocol, adopted in March 2020, aimed at addressing these issues.
Still, many people inside and outside the sport said on Monday that Watson's punishment was lenient, with one sports law expert calling it "paltry" and Tony Buzbee, the lawyer who represented many of the accusers, calling it a "slap in the face."
In a statement, the N.F.L. left open the possibility of appealing the decision, saying that it "will make a determination on next steps," while thanking Robinson for her "diligence and professionalism."
The N.F.L. Players Association declined to comment. Dee and Jimmy Haslam, the owners of the Browns, said in a statement that they respected Robinson's decision and "empathize and understand that there have been many individuals triggered throughout this process." They said they would "continue to support" Watson.
The ruling comes after a 15-month investigation into allegations that Watson, then quarterback of the Houston Texans, had engaged in sexually coercive and lewd behavior toward women he hired for massages from the fall of 2019 through March 2021. Watson denied the claims, and grand juries in two Texas counties declined to charge him criminally.
The breadth of allegations against Watson set this apart from any other personal conduct case that has been considered by the league, at a time when the N.F.L. is facing increased scrutiny over its treatment of women. The decision on Watson's discipline was also highly anticipated, in part because of the substantial investment the Browns made in him, trading top draft picks to acquire his services and then awarding him a five-year, $230 million fully guaranteed contract to become their franchise quarterback.
The Browns anticipated Watson would be suspended for at least a part of the 2022 season and structured his contract accordingly, loading most of his $46 million compensation for this year into a signing bonus. He will lose only a portion of his approximately $1 million base salary.
A rising star in the N.F.L., Watson, 26, was the most high-profile quarterback to be investigated for sexual misconduct since the Pittsburgh Steelers' Ben Roethlisberger was suspended for six games in 2010 after being accused of sexual assault by a 20-year-old college student after an encounter in a Georgia bar. His penalty was later reduced to four games. Like Watson, Roethlisberger was not charged with a crime.
Watson has reached settlements with all but one of the 24 women who filed civil lawsuits against him. Twenty suits were settled in June, and on the eve of Robinson's issuing her ruling, Watson reached agreements with three more women, including Ashley Solis, the licensed massage therapist who filed the first claim against Watson in March 2021, according to Buzbee.
The league and Watson's representatives could not negotiate a mutually agreed upon discipline, putting the case in Robinson's hands. She oversaw a three-day hearing in late June, during which the N.F.L. recommended that Watson be suspended indefinitely and required to wait at least a full season to reapply, while the union and Watson's representatives argued against a lengthy ban. The personal conduct policy purports to hold people representing the league to a "higher standard," regardless of how cases are adjudicated elsewhere.
Robinson made clear in her written decision that her ruling was based only on the information presented to her. She wrote that the N.F.L., which does not have subpoena power, investigated only the claims of the 24 therapists who sued Watson, interviewed 12 of these women and relied on four accounts for its conclusions, as well as documentation and interviews of other people with knowledge of these claims.
Robinson wrote that she could not give weight to Watson's "complete denial" against what she deemed credible testimony from the two former sex crimes prosecutors who led the N.F.L. investigation and the four accounts that she said were "substantially corroborated" by evidence. But she also expressed reluctance to set a new league standard with the discipline she issued for what she called "nonviolent conduct," which she appeared to define as an absence of physical force. The N.F.L. had argued that it pushed for a lengthy suspension because Watson's conduct had no precedent.
This was the N.F.L.'s first personal conduct case to be heard by a disciplinary officer instead of Goodell, a protocol established in the 2020 collective bargaining agreement. In advance of Robinson's decision, the union called the new process impartial and legitimate while imploring the N.F.L. not to ask Goodell or his designee to override her ruling on an appeal. The bargaining agreement affords Goodell the final word.
The decision comes as examination of the N.F.L.'s treatment of women has included a congressional inquiry into the workplace treatment of female employees at the Washington Commanders and a warning from attorneys general in six states, including New York, that they will investigate the league unless it addresses allegations of workplace harassment of women and minorities.
The N.F.L. has been under the microscope for what has been perceived as inconsistency in how it issues discipline and for what appeared to be conflicts of interest in deciding penalties for its star players.
In 2014, after Goodell was criticized for his handling of suspensions, particularly in domestic violence cases involving Ray Rice and Adrian Peterson, the N.F.L. created its own investigative unit to systematize its approach to cases involving allegations of violence against women. Yet the league has struggled to find a consistent way of adjudicating these cases because each one has its own complexities, particularly when no criminal charges are filed. This has led critics, including N.F.L. owners at times, to claim that Goodell and the penalties the league have handed down have been capricious.
In 2017, Dallas Cowboys running back Ezekiel Elliott was suspended for six games based on assault allegations that dated to his college days, leading to questions about the league's jurisdiction over the incident. Giants kicker Josh Brown was initially suspended for one game based on, as it turns out, incomplete evidence of domestic violence. When the league looked again at the case, it suspended Brown for an additional six games.
By contrast, Atlanta Falcons wide receiver Calvin Ridley last year was suspended for at least one season for betting on N.F.L. games.
Watson's case, too, has presented unique challenges: Two grand juries declined to press charges, but reporting by The New York Times showed that Watson's use of massage therapists and his questionable behavior were far more extensive than had been known. The volume of accusations and revelations led to more calls for a substantial penalty.
"Six games is paltry," said Helen Drew, who teaches sports law at the University at Buffalo. "The sheer volume of the complaints should compel at least a full season suspension."
Drew added that while the N.F.L. might want to seek a longer suspension, it would have to appeal the decision to Goodell or someone he appoints. That would likely lead to charges that the commissioner is conflicted and could result in a challenge from the union and Watson's representatives in federal court.
An elite talent during his four seasons on the field, Watson requested a trade from the Texans after the 2020 season when Houston struggled to a 4-12 record. He was traded to the Browns in March, after a Texas grand jury declined to charge him criminally, for three first-round picks and three additional selections in the N.F.L. draft. A grand jury in a different county later opted not to bring charges against him.
Watson can continue working out with the Browns during training camp. Pending any potential appeals, his suspension will begin with the Browns' first regular-season game, on Sept. 11 against the Carolina Panthers, and he would be eligible to return for the Browns' seventh game, against the Baltimore Ravens on Oct. 23.
By the time Watson is eligible to return from his suspension it will have been about 22 months since he last played in an N.F.L. game.