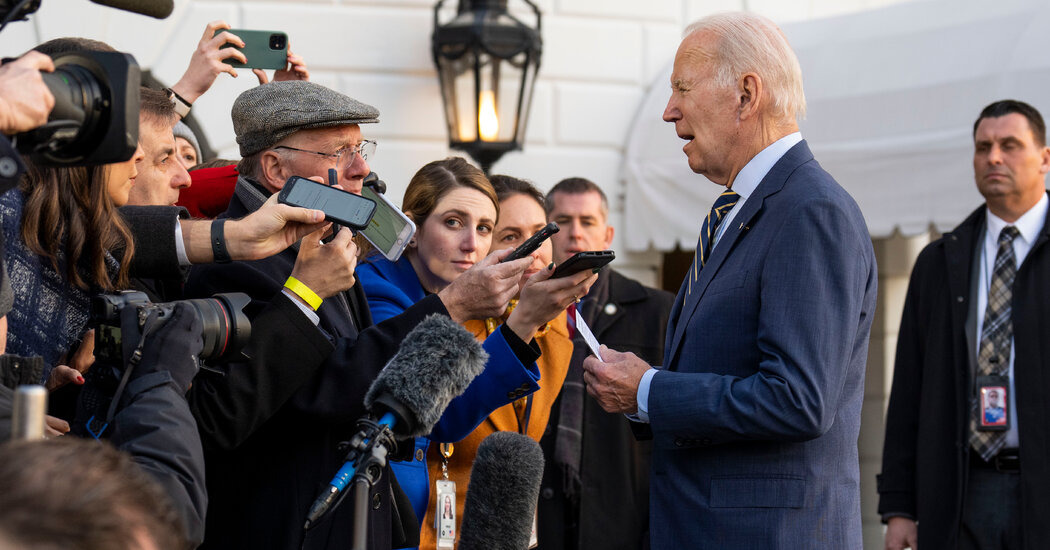 Follow for the latest on the discovery of the second batch of classified documents from Biden's vice presidency.
WASHINGTON — President Biden's aides have found a new batch of classified documents at a second location associated with Mr. Biden, a person familiar with the situation said on Wednesday. It was the second such disclosure in three days, and it was sure to intensify Republican attacks.
Republicans reveled in the new disclosures, accusing Mr. Biden of hypocrisy in calling former President Donald J. Trump irresponsible for hoarding sensitive documents at his private club and residence in Florida. This week, the new Republican chairman of the House oversight committee issued a far-ranging request to the National Archives and Records Administration, which is supposed to receive all highly sensitive materials after an administration leaves office, for documents and correspondence.
It is not clear where or when the records were recovered. But Mr. Biden's aides have scoured various places since November, when his lawyers discovered a handful of classified files, including briefing materials on foreign countries, as they closed a think tank office in Washington. The Justice Department is reviewing the discovery to determine how to proceed.
A White House spokesman and a member of Mr. Biden's legal team did not immediately respond to requests for comment. A spokesman for the Justice Department declined to comment.
On Tuesday, Mr. Biden told reporters in Mexico City that he was "surprised" to learn in the fall that his lawyers found classified government documents in his former office at the Penn Biden Center for Diplomacy and Global Engagement.
He said his staff had fully cooperated with the National Archives and the Justice Department.
A day later, NBC News reported that another cache had been found at a different, undisclosed location.
Under government regulations, access to classified documents is limited to people who are currently authorized to see them and the materials must be stored in special security containers to limit the risk of exposing sensitive information. The Presidential Records Act says official documents in the White House — classified and unclassified alike — should be turned over to the National Archives when an administration departs.
After Mr. Trump left office, officials with the archives identified sensitive documents that had not been recovered, prompting numerous appeals for their return. The matter was eventually referred to the Justice Department, which conducted a court-approved search of Mr. Trump's Mar-a-Lago estate and turned up classified materials, including some bearing the most restrictive top secret markings.
By contrast, the first set of documents found by Mr. Biden's lawyers was voluntarily returned to the archives in November, and had not been logged as missing. It is not clear if the archives had flagged the new materials.
A spokesman for the archives declined to comment.
The discovery of the second batch raises new questions about the handling of sensitive documents by a Biden team that has prided itself for adhering to norms and rules flouted by his predecessor.
---
How Times reporters cover politics. We rely on our journalists to be independent observers. So while Times staff members may vote, they are not allowed to endorse or campaign for candidates or political causes. This includes participating in marches or rallies in support of a movement or giving money to, or raising money for, any political candidate or election cause.
But the circumstances of the two cases appear strikingly different. Unlike Mr. Trump, who resisted returning the records stored at Mar-a-Lago and failed to fully comply with a subpoena, Mr. Biden's team appears to have acted swiftly and in accordance with the law, immediately summoning officials with the National Archives to retrieve the files. The archives then alerted the Justice Department, according to the White House.
"After I was briefed about the discovery, I was surprised to learn that there are any government records that were taken to that office," Mr. Biden said in Mexico.
"But I don't know what's in the documents," he added.
On Wednesday, the White House press secretary, Karine Jean-Pierre, refused to address the issue, saying it would be inappropriate to comment on a matter under review by the Justice Department.
She also declined to provide details of searches undertaken by Mr. Biden's legal team after the first batch of files was discovered and did not respond when asked about the possibility that other sensitive materials dating to the Obama era were stored at other Biden-related locations.
"I'm not going to go beyond what the president shared yesterday," she said. "I'm not going to go beyond what my colleagues at the White House counsel shared with all of you as well."
Attorney General Merrick B. Garland, whose time in office has been largely defined by two criminal investigations involving Mr. Trump, assigned the preliminary phase of the Biden inquiry to John R. Lausch Jr., the U.S. attorney in Chicago, a Trump appointee.
But the inevitable comparison of the Trump documents case with the Biden matter has put new pressure on Mr. Garland to appoint a special counsel to investigate Mr. Biden's handling of government files. In November, days after Mr. Trump announced his third bid for the presidency, Mr. Garland assigned a special counsel, Jack Smith, to oversee the investigation into Mr. Trump's role in the Jan. 6 attack, and the inquiry into whether he illegally kept classified materials at Mar-a-Lago.
Mr. Lausch's review is aimed at helping Mr. Garland decide whether to appoint a special counsel, which appears increasingly likely, according to people familiar with the situation.
Mr. Garland has been briefed on the inquiry, according to a person familiar with the situation, though it is unclear if he has made a decision.
If the legal implications of this week's revelations remain unclear, the political implications are more obvious.
Republicans, eager to move on from the rancor of their recent House leadership fight, hope to spin the Biden matter into an attack that sustains a protracted congressional investigation that damages Mr. Biden and blunts the effects of Mr. Trump's troubles on the party.
On Tuesday, Representative James Comer, Republican of Kentucky, the chairman of the House oversight committee, asked the archives and the White House Counsel's Office for correspondence about Mr. Biden's "failure to return highly classified records from his time as vice president."
On Wednesday, he took another step in keeping with his promise to hold the Biden administration accountable for what Republicans describe as politicizing federal agencies: pressing the Treasury Department for information about Mr. Biden's family finances.
Republicans reveled in Wednesday's disclosure.
"It's clear that Biden's staff have no idea how many classified documents are in Biden's former offices and are desperately looking for them," Tommy Pigott, the rapid response director of the Republican National Committee, wrote in an email.
Adam Goldman, Charlie Savage and Jim Tankersley contributed reporting.