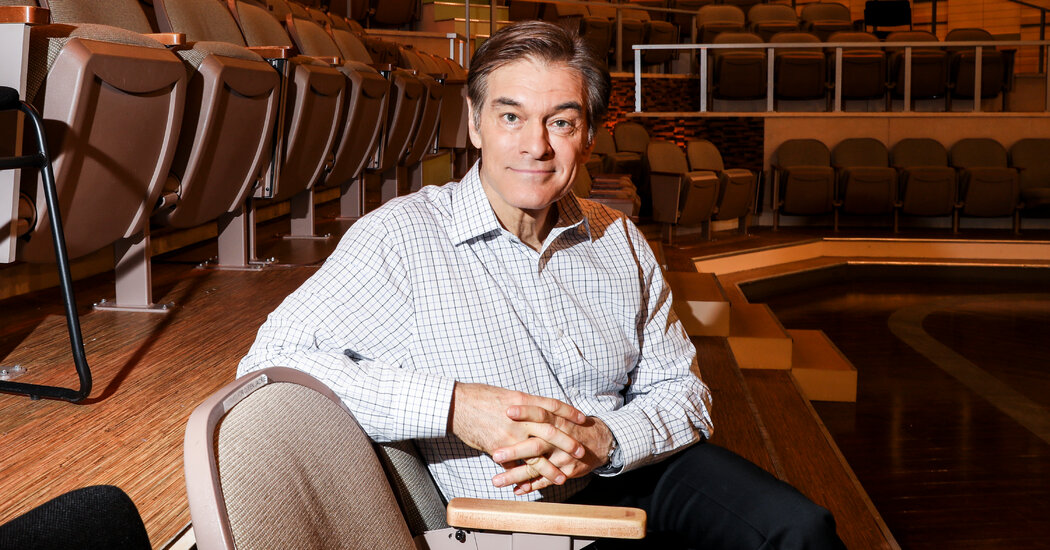 Dr. Mehmet Oz, a celebrity physician known as the host of the "Dr. Oz Show," announced on Tuesday that he would run for Senate in Pennsylvania, jumping into a crowded Republican primary for an open seat that is crucial to both parties' quest for a Senate majority in 2022.
Dr. Oz, a first-time candidate whose political views are little known, entered a G.O.P. field roiled by the recent withdrawal of a candidate endorsed by former President Donald J. Trump, in which most contenders are vying to show their loyalty to the Republican Party's de facto leader.
The Cleveland-born son of Turkish immigrants, Dr. Oz said he had been motivated to run because of the pandemic. In an online statement announcing his candidacy in The Washington Examiner, he criticized official responses to Covid-19 in terms embraced by conservatives.
The pandemic, he wrote, has been mishandled by "elites" who stifled dissenting opinions, "mandated" policies and "closed our parks, shuttered our schools, shut down our businesses, and took away our freedom.''
Pennsylvania's Democratic governor, Tom Wolf, was under attack through much of 2020 by Republicans for orders closing businesses during the height of the pandemic.
Dr. Oz, 61, is a heart surgeon who first came to the public's attention as a regular guest on "The Oprah Winfrey Show" before starting his own long-running daytime TV show, where he dispenses medical advice on all subjects. He has also appeared regularly on Fox News discussing Covid-19, sometimes making controversial statements about treatments.
Republicans in Pennsylvania expected that the entry of such a high-profile and wealthy figure into the Senate race would shake up a field without a front-runner. It follows the recent withdrawal of Sean Parnell, the Trump-endorsed candidate, who suspended his campaign after a judge gave primary custody of his children to his estranged wife, who had accused him of abuse.
Dr. Oz's principal residence has long been in Bergen County in New Jersey, where he voted. But he has also become a registered Pennsylvania voter, listing an address in Montgomery County in the Philadelphia suburbs. Although rivals can be expected to accuse him of carpetbagging, one local Republican leader said the issue may not play strongly with voters.
"Being a newcomer, I don't think that's a drawback,'' said Pat Poprick, the Republican chairwoman of Bucks County, the state's fourth largest. "Issues are what voters are looking for."