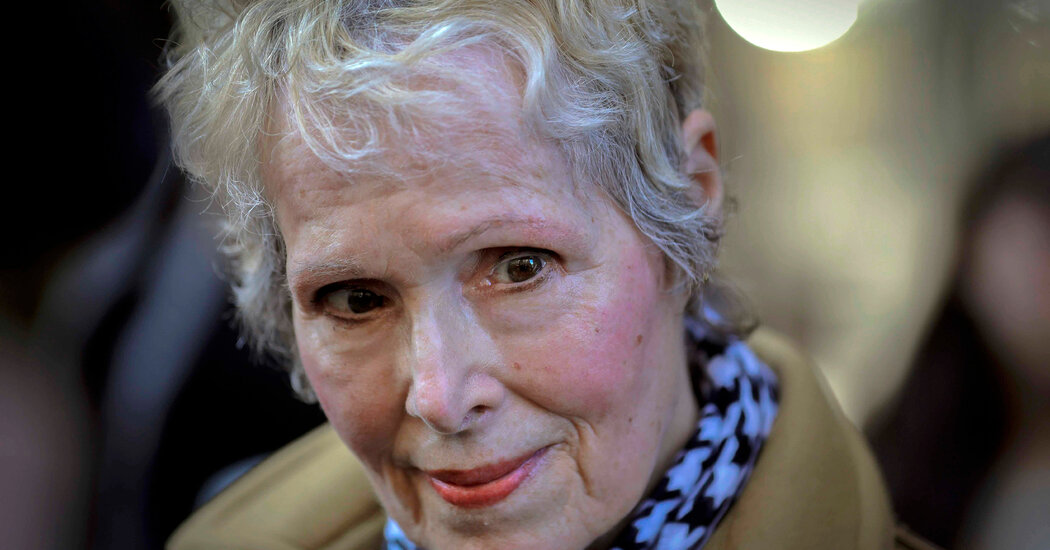 A federal judge on Friday rejected former President Donald J. Trump's effort to dismiss a lawsuit in which the writer E. Jean Carroll accuses Mr. Trump of raping her in a dressing room at a Fifth Avenue department store in the mid-1990s.
In letting the suit proceed, the judge, Lewis A. Kaplan of Federal District Court in Manhattan, upheld a 2022 New York law that gives adults who claim to have been sexually assaulted years ago a one-time window to sue those they say abused them even if the period for doing so under the statute of limitations has long since expired.
In his ruling, which the law's chief State Senate sponsor described as a first in New York, Judge Kaplan labeled "absurd" Mr. Trump's argument that the legislation violated the state's Constitution.
Ms. Carroll, an author and a former longtime advice columnist for Elle magazine, sued Mr. Trump on Nov. 24, the start of the period in which the law, the Adult Survivors Act, allows such suits to be brought.
Lawyers for Mr. Trump, who has denied Ms. Carroll's accusation, sought to dismiss the suit on the grounds that allowing suits that were otherwise barred by the statute of limitations was an infringement of a person's right to due process and therefore in violation of New York's Constitution.
Judge Kaplan, in his 28-page opinion, said the fact that adult victims of sexual abuse "are legally and in some respects practically capable" of filing a suit from the moment the abuse occurs was "constitutionally immaterial."
"The elected branches of the New York State government have determined that many such victims are unable to do so, sometimes for long periods of time," the judge wrote.
What to Know About E. Jean Carroll's Accusations
Card 1 of 5
Two lawsuits. E. Jean Carroll, a writer who says former President Donald J. Trump raped her in the mid 1990s, has filed two separate lawsuits against the former president. Here's what to know:
"They are prevented by suppression of awful memories or deterred by fear and a 'culture of silence' — just as Ms. Carroll claims she was dissuaded from reporting or suing Mr. Trump," the judge added.
Brad M. Hoylman, the state senator who sponsored the law, hailed the judge's ruling.
"Judge Kaplan has affirmed in no uncertain terms that the State Legislature was within its constitutional authority to allow the survivors of sexual abuse to revive their time-barred claims and seek justice against their abusers," Mr. Hoylman said in a statement.
Mr. Trump's lawyer, Alina Habba, said in a statement that she and her client were "disappointed" with Judge Kaplan's decision but that they planned "to immediately appeal the order and continue to advocate for our client's constitutionally protected rights."
Roberta A. Kaplan, Ms. Carroll's lawyer, said in a statement that she and her client were "pleased though not surprised" by the judge's ruling.
Ms. Kaplan said that she and Ms. Carroll, who has sued Mr. Trump separately for defamation, were looking forward to the trial in the sexual assault litigation. That trial is scheduled to begin in April. (Ms. Kaplan and the judge are not related.)
Judge Kaplan is also presiding in the defamation case. It, like the rape suit, has its origins in Ms. Carroll's assertion, made in a 2019 book and New York magazine excerpt, that Mr. Trump assaulted her in a dressing room at the luxury department store Bergdorf Goodman in the mid-1990s.
Ms. Carroll said Mr. Trump had thrown her against a wall, pulled down her tights, opened his pants and forced himself on her.
Mr. Trump said that Ms. Carroll was "totally lying" and that he had never met her. He also said he could not have raped her because she was not his "type."
Claiming that Mr. Trump's comments had damaged her reputation, Ms. Carroll filed the defamation suit, which has been tangled up in litigation on appeal. Last October, after Judge Kaplan denied Mr. Trump's request to delay his deposition in the defamation case until the appeal was resolved, Mr. Trump lashed out at Ms. Carroll in a social media post with the kinds of statements that had led her originally to sue for defamation.
On Friday, Judge Kaplan ordered, over Mr. Trump's objection, that a portion of the deposition be made public.
In the excerpt from the deposition, which was taken on Oct. 19 at Mar-a-Lago, Mr. Trump's residence and private club in Florida, the former president repeats his denials about Ms. Carroll's claim, calling her a "nut job."
He reiterates his statement that Ms. Carroll is "not my type" while saying he knows that doing so is not "politically correct" and calls Ms. Kaplan, the lawyer questioning him, a "disgrace" and a "political operative."
"I will sue her after this is over, and that's the thing I really look forward to doing," Mr. Trump says about Ms. Carroll, adding of Ms. Kaplan: "And I'll sue you too."
Mr. Trump also makes it clear in his testimony that he was unhappy with Judge Kaplan's refusal to delay his deposition, calling the decision "somewhat negative."
"He's not a fan of mine, obviously," Mr. Trump says.