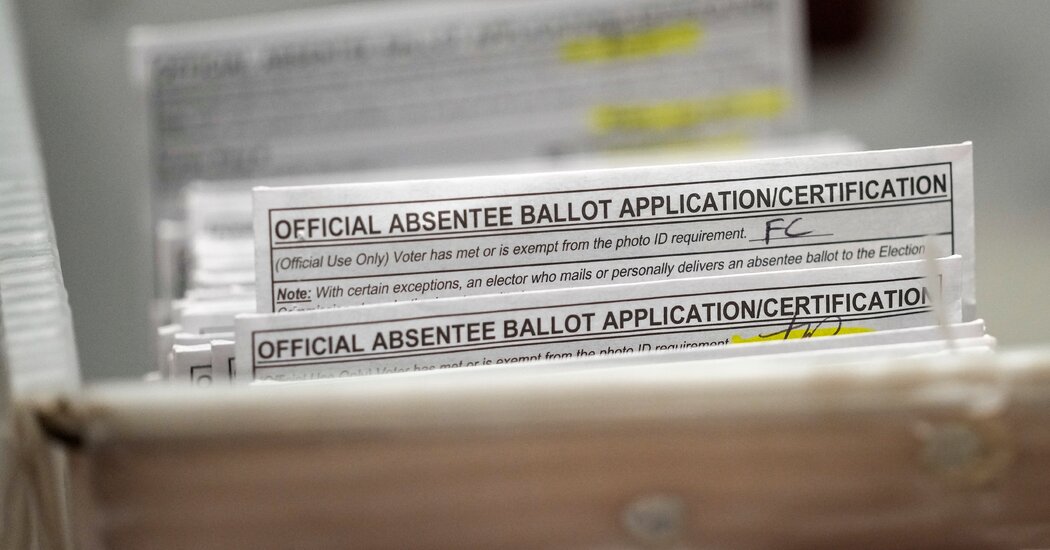 A former upstate New York election official pleaded guilty on Wednesday to federal identity theft charges arising from his fraudulent use of voters' personal information to apply for a dozen absentee ballots in 2021.
In entering his plea in U.S. District Court in Albany, the former official, Jason Schofield, admitted to requesting the bogus ballots through a state website in his role as the Republican election commissioner in Rensselaer County, federal prosecutors said in a news release.
Mr. Schofield's guilty plea is part of a broader federal inquiry into potential ballot fraud across Rensselaer County, just east of Albany.
He or someone working for him sought the ballots from May to October 2021, during elections for county executive, clerk and legislature and municipal races in the cities of Rensselaer and Troy, according to the indictment charging him in the case. At the time, New York State voters were able to request absentee ballots online because of the pandemic.
The voters whose names and birth dates Mr. Schofield, 43, used to obtain the ballots either had no interest in voting, absentee or otherwise; had not asked for absentee ballots or his help in getting them; or did not know what he was doing with their information, the indictment says.
In several instances, the indictment says, Mr. Schofield had the voters whose names he had used illicitly sign the envelopes the ballots were to be returned in without completing the ballots themselves. That allowed him to fill out the ballots himself and deliver them to the county elections board for processing, the indictment says.
Mr. Schofield, a county election commissioner from April 2018 until his resignation last month, admitted on Wednesday that he had falsely certified on the ballot applications that he was the voter requesting the ballots, prosecutors said.
He also admitted taking possession of nine of the 12 ballots despite knowing that county election records would show they had gone to the voters whose information he used in the scheme, prosecutors said.
His lawyer, Danielle Neroni, declined to comment on the plea.
Mr. Schofield is the second public official in Rensselaer County in the past year to admit to engaging in ballot fraud.
Last June, Kimberly Ashe-McPherson, a former member of the Troy City Council, pleaded guilty to a federal identity theft charge after being accused of casting three absentee ballots using names other than her own in 2021.
Ms. Ashe-McPherson, who resigned from the Council after entering her plea, was helped in the scheme by an unnamed person who worked at the Rensselaer County Board of Elections, according to court documents. She is awaiting sentencing.
Mr. Schofield, a former Troy school board president, is scheduled to be sentenced in May. He faces up to five years in prison on each of the 12 counts to which he pleaded guilty, according to the U.S. attorney's news release, though he is likely to receive a less severe punishment under federal sentencing guidelines.
His abrupt resignation from his $90,000-a-year position as election commissioner came about two weeks after Rensselaer County lawmakers approved his reappointment to the job despite the federal charges against him, The Times Union of Albany reported.