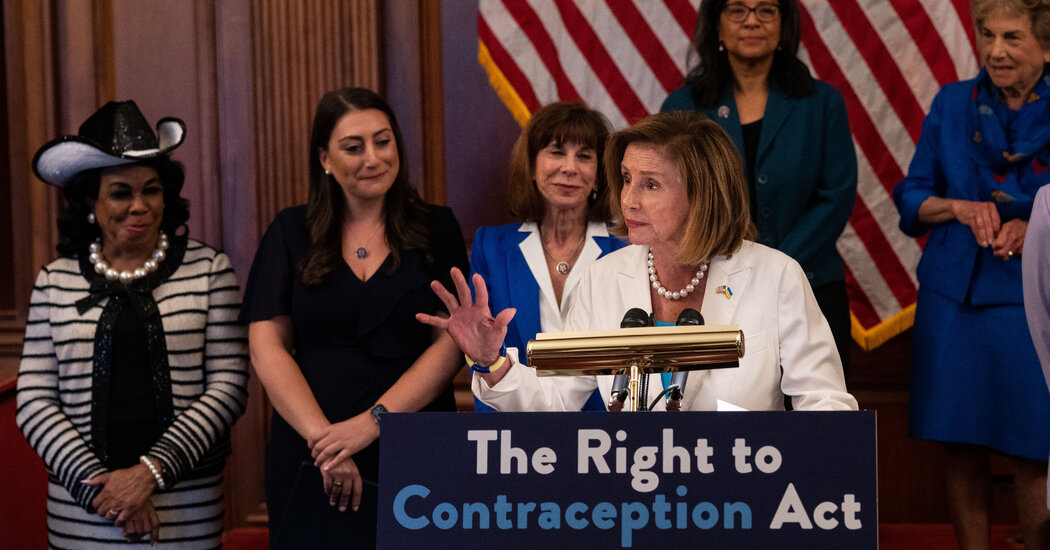 WASHINGTON — The House on Thursday passed legislation to ensure access to contraception nationwide, moving over almost unanimous Republican opposition to protect a right that is regarded as newly under threat after the Supreme Court's overturning of Roe v. Wade.
The measure is almost certain to fail in the evenly divided Senate, where most Republicans are also likely to be opposed. The vote was the latest election-year move by Democrats to draw a sharp distinction with Republicans on a social issue that has broad support.
The measure passed 228 to 195, with eight Republicans joining Democrats in support. It would protect the right to purchase and use contraception without government restriction. The legislation drew only slightly more Republican support than two bills that the House passed last week, which aimed to ensure access to abortion in the post-Roe era; almost all Republicans were united in opposition.
That vote reflected the growing acceptance of same-sex marriage in the United States, where polls show large majorities — including most Republicans — in support. Even more Americans, 92 percent, said they viewed contraception as "morally acceptable," according a Gallup poll in May.
But for many Republicans, the issue of contraception access is linked to abortion rights, a far more polarizing topic that is anathema to much of the party. Some Republicans said on Thursday that they supported contraception in practice but viewed Democrats' bill as a gateway to allowing abortion. Anti-abortion groups encouraged lawmakers to oppose the measure, claiming that the bill's definition of contraceptives could be interpreted to include pills that induce abortion.
The flurry of legislative action in the House is a direct response by the Democratic-led Congress to the Supreme Court's ruling last month in Dobbs v. Jackson Women's Health Organization, which overturned the nearly 50-year-old right to abortion. The decision raised alarm that other longstanding rights could be at risk at the hands of the conservative court.
In a concurring opinion, Justice Clarence Thomas explicitly said that other precedents, including those protecting same-sex marriage and the right to contraception, "should be reconsidered."
The constitutional right to contraception has been protected for over five decades by the Supreme Court's 1965 ruling in Griswold v. Connecticut.
Democrats on Thursday tried to paint Republicans as a party of extremists, charging that they would seek to roll back firmly established rights and were out of step with the views of most voters.
Read More on Abortion Issues in America
"An extreme G.O.P., an extreme Supreme Court, they want to take away your freedom and your control over your own lives," said Representative Angie Craig, Democrat of Minnesota. "We are in an absurd time."
She said before the vote that "quite frankly, I'm appalled that we have to vote on this damn bill at all. This is not an extremist issue. This is an extremist G.O.P."
Republicans, in turn, claimed that Democrats were intent on finding novel ways to increase access to abortion.
Representative Cathy McMorris Rodgers, Republican of Washington, said she supported access to contraception but that she vehemently opposed the bill, which she described as a "Trojan Horse for more abortions."
Ms. McMorris Rodgers said part of her concern was that the bill would send more taxpayer money to Planned Parenthood, which provides abortion services in addition to contraception.
"Rather than work with us, Democrats again are spreading fear and misinformation to score political points," she said.
Half of the eight Republicans who broke with their party to support the measure are retiring from Congress, including Representatives Anthony Gonzalez of Ohio, John Katko of New York, Adam Kinzinger of Illinois and Fred Upton of Michigan. The remainder — Representatives Liz Cheney of Wyoming, Brian Fitzpatrick of Pennsylvania, Nancy Mace of South Carolina and María Elvira Salazar of Florida — have sought to appeal to moderates and independent voters to bolster their re-election bids.
Ms. Mace took to the House floor on Thursday with a scrawled message taped to the back of her blazer: "My state is banning exceptions — PROTECT CONTRACEPTION." It referred to new legislation being proposed in South Carolina that would prohibit almost all abortions, without exceptions for victims of rape or incest.
"You can't ban abortion and then not protect women's access to contraceptives," Ms. Mace wrote on Twitter.
Democrats viewed the vote as a way to show voters that they were doing everything they could to safeguard rights that are broadly popular in the United States — and that Republicans were standing in the way.
The vote came as progressives have harshly criticized Democrats after the demise of Roe for failing to do more to safeguard abortion rights and for being slow to respond when the Supreme Court struck them down in a widely expected ruling.
While the marriage equality bill garnered far more support among Republicans than anticipated, less than a quarter of the party's representatives backed it. Still, the margin was enough to propel that measure from a messaging bill bound to die in the Senate to a legislative vehicle with a chance — albeit a slim one — of enactment.
Senator Chuck Schumer, Democrat of New York and the majority leader, said he was surprised by the amount of Republican support for that bill. He added that he would work to bring it to the floor and muster support from 10 Senate Republicans to ensure that it could move past a filibuster.
Senator Mitch McConnell, Republican of Kentucky and the minority leader, has declined to state a position on the bill. On Thursday, Senator John Thune of South Dakota, his No. 2, told Punchbowl News that it was possible there would be sufficient Republican support to pass it.
The contraception measure faces longer odds in the Senate. Democrats in that chamber tried and failed on Thursday to win Republican backing to quickly pass legislation that would provide funding for a range of reproductive care options, including birth control and cancer screenings.
"I am entirely unconvinced by Republican words about wanting to support women and families," said Senator Patty Murray, Democrat of Washington, one of three female senators who tried unsuccessfully to speed the measure through.
Republicans blocked it, citing the same reason that their counterparts in the House had offered for voting against the contraceptive measure: They claimed that it would increase access to abortion.
"This bill is a wolf in sheep's clothing," said Senator Joni Ernst, Republican of Iowa. "While the language touts supporting access to family planning, in reality it's likely a $5 billion gift for Planned Parenthood and other abortion-related providers."
Stephanie Lai contributed reporting from Washington.