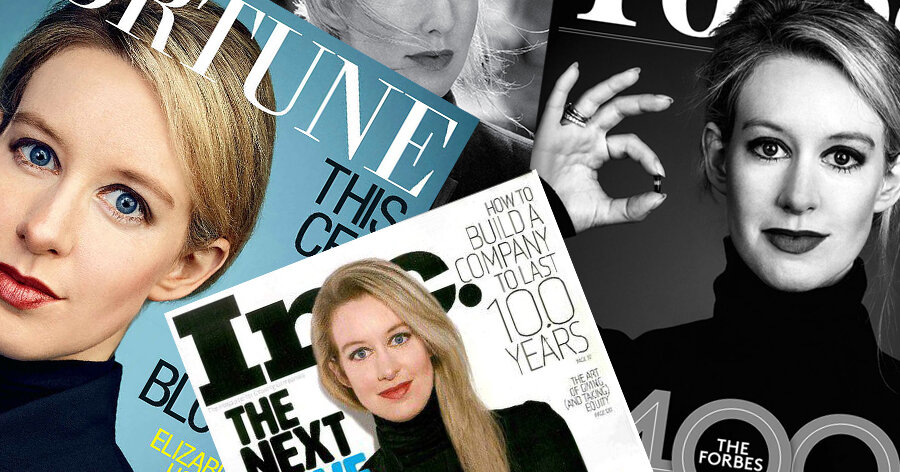 SAN JOSE, Calif. — At the height of her acclaim in 2015, Elizabeth Holmes, the entrepreneur who founded the blood testing start-up Theranos, was named Glamour's "Woman of the Year." Time put her on its list of 100 luminaries. And she graced the covers of Fortune, Forbes, Inc. and T Magazine.
Theranos collapsed in scandal three years later, failing in its mission to revolutionize the health care industry. But it did change the world in another way: It helped sour the media on Silicon Valley.
That point was brought home on Thursday when Roger Parloff, a journalist who penned the Fortune cover story on Ms. Holmes and Theranos in 2014, testified in a federal courtroom in San Jose, Calif., where Ms. Holmes is on trial for 12 counts of fraud. Mr. Parloff said Ms. Holmes had made misrepresentations to him, including the volume and types of tests that Theranos could do, as well as its work with the military and pharmaceutical companies.
Theranos's law firm, Boies Schiller, had introduced him to the start-up, Mr. Parloff said. The law firm had told him that "the real story was this remarkable company and its remarkable founder and C.E.O., Elizabeth Holmes," he testified, looking directly at Ms. Holmes across the courtroom.
The discovery that Ms. Holmes, the tech industry's most celebrated female entrepreneur, was misdirecting the world about her company marked a turning point in the tech press, ending a decade-long run of largely positive coverage. Reporters cringed over glowing articles they had written about tech companies that turned out to have stretched the truth, glossed over the negative consequences of their products or generally abused the trust they had enjoyed with the public.
"Holmes just becomes this fable of 'You can't just buy what they're selling,'" said Margaret O'Mara, a professor at the University of Washington and a historian of Silicon Valley. "'This was not what it purported to be, and we fell for it.'"
Understand the Elizabeth Holmes Trial
Elizabeth Holmes, the founder of the blood testing start-up Theranos, is currently standing trial for two counts of conspiracy to commit wire fraud and 10 counts of wire fraud.
After The Wall Street Journal published exposés in 2015 and 2016 showing that Theranos was not what it appeared to be, coverage of tech companies generally became more probing.
Reporters dug into Facebook's role in the 2016 presidential election, as well as scandals at Uber and a series of #MeToo accusations and labor uprisings at tech companies. The shift happened alongside the realization that the tech industry was no longer the niche realm of idealist computer geeks. It had become the dominant force in the global economy and needed to be held more to account.
Now as Ms. Holmes, 37, stands trial, the media's role in Theranos's rise and fall has been laid out in painstaking detail. Ms. Holmes used positive articles like Fortune's to gain credibility with investors, who poured $945 million into Theranos, prosecutors have argued.
Those investors were often wowed by the media coverage. Chris Lucas, a venture capitalist whose firm had invested in Theranos, testified that reading the Fortune article had made him "very proud of the situation, proud we were involved, very proud of Elizabeth, the whole thing." Lisa Peterson, who managed a $100 million investment in Theranos on behalf of the wealthy DeVos family, lifted language directly from the Fortune article into a report she prepared.
The media was likewise eager to embrace Ms. Holmes's narrative of a brilliant Stanford University dropout on her way to becoming the next Steve Jobs. Here was a young, self-made female billionaire who was being compared to Einstein and Beethoven. She embraced iconography, dressing like Mr. Jobs in black turtlenecks, as well as an esoteric lifestyle, telling Mr. Parloff that she was a vegan Buddhist who eschewed coffee for green juice.
"There was a hunger for that kind of story, and she seized that opportunity and worked that very carefully," Ms. O'Mara said.
The media's fascination with Ms. Holmes became so intense that in 2015, her business partner and boyfriend at the time, Ramesh Balwani, who is known as Sunny, warned her that the hype was getting risky.
"FYI, I am worried about over exposure without solid substance, which is lacking right now," Mr. Balwani wrote in a text message that was included in court filings.
Ms. Holmes brushed off the warning. Media coverage had helped Theranos with an apparent potential business deal, she wrote, adding, "The more it works the more haters will hate."
Later that year, The Journal revealed that Theranos's technology did not do what the start-up claimed, spurring a surprise inspection by regulators that led to the company's unraveling.
Theranos forcefully denied The Journal's report. On CNBC, Ms. Holmes dismissed the article as "what happens when you work to change things." She and Mr. Balwani plotted a defamation suit, according to text messages included in court filings. Together, they led Theranos employees in chanting an expletive at John Carreyrou, The Journal's reporter.
Soon after, Mr. Parloff published a long correction to his Fortune article outlining the ways Theranos and Ms. Holmes had misled him. He also blamed himself for not including some of Ms. Holmes's more evasive and opaque answers to his questions.
In court, exhibits revealed that Ms. Holmes had shown Mr. Parloff the same falsified validation reports — which appeared to show that pharmaceutical companies had endorsed Theranos's technology when they had not — that she had sent to investors. Mr. Parloff also said Ms. Holmes had told him that the military was using Theranos in Afghanistan, but that the fact was so sensitive he could not publish it or even ask Gen. James Mattis, a Theranos board member, about it. It turned out that Theranos machines were never used on battlefields.
"She was very concerned about trade secrets," Mr. Parloff said.
Other outlets that had hailed Ms. Holmes followed Mr. Parloff's mea culpa. Forbes revised Ms. Holmes's net worth, once estimated at $4.5 billion, to zero. Glamour appended an update to its Woman of the Year award after the Securities and Exchange Commission charged Ms. Holmes with fraud.
Even as she faces up to 20 years in prison if convicted, Ms. Holmes continues to fight the media. Throughout the trial, her lawyers have pushed to limit Mr. Parloff's testimony. They filed a motion to compel him to turn over all of his reporting notes, even though he had already provided recordings of his interviews with Ms. Holmes to both sides of the case under subpoena.
The goal of that motion was to show that Mr. Parloff "was colored by bias" and "a desire to blame any errors he made in his initial article on Ms. Holmes," John Cline, a lawyer for Ms. Holmes, said in a hearing in October.
A judge denied the motion as a "fishing expedition."