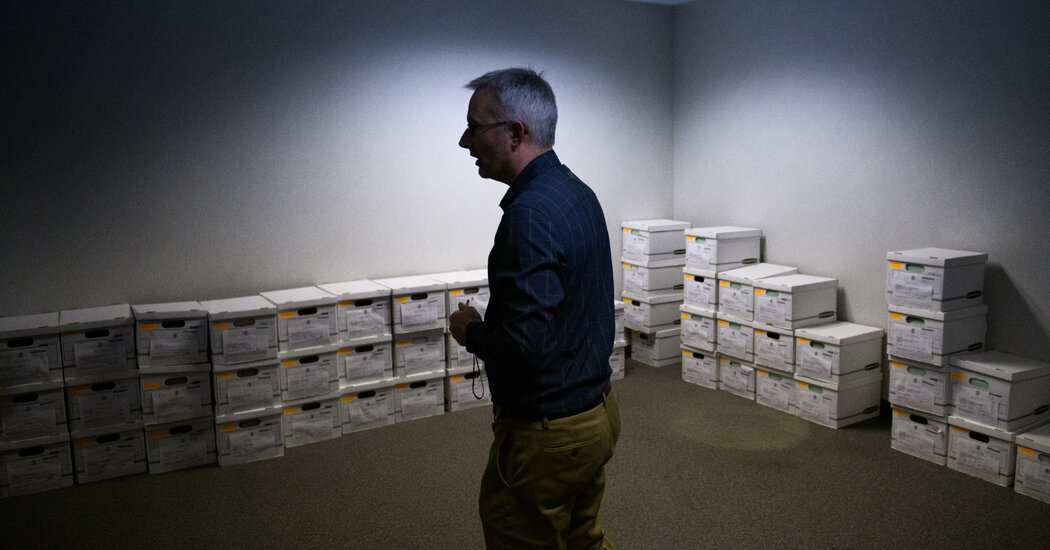 WILLIAMSPORT, Pa. — On the 797th day after the defeat of former President Donald J. Trump, a rural Pennsylvania county on Monday began a recount of ballots from Election Day 2020.
Under pressure from conspiracy theorists and election deniers, 28 employees of Lycoming County counted — by hand — nearly 60,000 ballots. It took three days and an estimated 560 work hours, as the vote-counters ticked through paper ballots at long rows of tables in the county elections department in Williamsport, a place used to a different sort of nail-biter as the home of the Little League World Series.
The results of Lycoming County's hand recount — like earlier recounts of the 2020 election in Wisconsin, Georgia and Arizona — revealed no evidence of fraud. The numbers reported more than two years ago were nearly identical to the numbers reported on Thursday.
Mr. Trump ended up with seven fewer votes than were recorded on voting machines in 2020. Joseph R. Biden Jr. had 15 fewer votes. Overall, Mr. Trump gained eight votes against his rival. The former president, who easily carried deep-red Lycoming County in 2020, carried it once again with 69.98 percent of the vote — gaining one one-hundredth of a point in the recount.
Did that quell the doubts of election deniers, who had circulated a petition claiming there was a likelihood of "rampant fraud" in Lycoming in 2020?
It did not.
"This is just one piece of the puzzle," said Karen DiSalvo, a lawyer who helped lead the recount push and who is a local volunteer for the far-right group Audit the Vote PA. "We're not done."
Forrest Lehman, the county director of elections, oversaw the recount but opposed it as a needless bonfire of time, money and common sense. He sighed in his office on Friday.
"It's surreal to be talking about 2020 in the present tense, over two years down the road," he said. He attributed the slight discrepancies between the hand recount and voting machine results to human error in reading ambiguous marks on the paper ballots.
Lycoming County's recount was part of the disturbing trend of mistrust in elections that has become mainstream in American politics, spurred by the lies of Mr. Trump and his supporters. Amid the Appalachian ridges in north-central Pennsylvania, such conspiracy theories have firmly taken hold.
The county's election professionals spent months responding to the arguments of the election deniers in public hearings and fielding their right-to-know requests for the minutiae of voting records. Mr. Lehman said he did not think an encounter with the facts would change the views of some people.
"You close one election-denying door, they'll open a window," he said.
One of the residents who pushed for the hand recount, Jeffrey J. Stroehmann, the former chair of Mr. Trump's 2020 campaign in Lycoming County, said he was happy the results matched the 2020 voting machine counts, though he said other questions needed to be addressed.
"Our goal from Day 1 when we approached the commissioners, we said our goal here is not to find fraud — if we find it, we'll fix it — we just want to restore voter confidence," said Mr. Stroehmann, a founder of the far-right Lycoming Patriots group.
He and Ms. DiSalvo were inspired by the debunked claims of a retired Army officer named Seth Keshel, who gained attention in 2021 with the assertion that there were 8 million "excess votes" cast for Mr. Biden. His analysis has been dismissed by professors at Harvard, the University of Georgia and the Massachusetts Institute of Technology.
A petition circulated by Ms. DiSalvo and Mr. Stroehmann noted that registered Republicans grew their numbers in Lycoming County compared with Democrats from 2016 to 2020, but that Mr. Biden managed to win more votes than Hillary Clinton. Election deniers found this suspicious.
"If Republicans GAINED voters and Democrats LOST voters — why did Biden receive 30% MORE votes in the November 2020 election than Hillary Clinton did in 2016?" their petition asked.
Mr. Lehman called the argument nonsensical. Party registration does not dictate how someone will vote, he said. Mr. Biden outperformed Mrs. Clinton in nearly every Pennsylvania county in the 2020 election. Mr. Trump also raised his vote totals in the county by 16 percent.
"The voters' unpredictability — it makes democracy both majestic and messy," Mr. Lehman told county commissioners at a hearing last year. The commission ultimately approved the recount two to one, along partisan lines.
Election officials at every level have been harassed and vilified since 2020, when election conspiracists echoing Mr. Trump blamed officials and helped inspire the "Stop the Steal" movement. On an election conspiracy show that was streamed on Rumble, Mr. Stroehmann called for an investigation into Mr. Lehman, who he said is "part of the steal."
"Our director of voter services is playing for the other team," Mr. Stroehmann said on the show. "He's as liberal as the day is long."
Richard Mirabito, a Lycoming County commissioner who is a Democrat, said there was no evidence whatsoever of wrongdoing by Mr. Lehman. "He's held in the highest esteem of integrity," he said. "Those kinds of statements undermine the confidence of people in our system."
Mr. Mirabito voted against the recount but was overruled by the two Republicans on the board. Scott L. Metzger, a Republican and the chair of the county commission, also vouched for Mr. Lehman. "He's done an outstanding job,'' he said.
After the 2022 midterms, requests for recounts in Pennsylvania races that were not close inundated counties, delaying the certification of some results. In Arizona and New Mexico, rural county commissions held up certifying primary or general election results last year.
Across the country, a wave of Trump-backed election conspiracists who ran for statewide offices with control over voting lost their races. But some election deniers won races at the local level, where pressure by activists on officials has a better chance of yielding results.
Mr. Metzger — one of the two Republicans on the commission who approved the recount — said that he voted for it after thousands of people signed petitions, and others approached him on the street saying they didn't want to vote because they distrusted the system. Now that the recount matched what voting tabulator machines showed in 2020 and that there was no evidence of fraud, Mr. Metzger said, it was time to move on.
"As far as I'm concerned, I'm done with it," he said.
Before the commissioners voted for the recount, Ms. DiSalvo and Mr. Stroehmann presented the results of what they called a door-to-door canvass of some county residences. The canvassing was conducted by volunteers from Audit the Vote PA, a group founded in 2021 under the false belief that Mr. Trump, not Mr. Biden, won Pennsylvania.
Canvassers claimed to have found multiple "anomalies," including votes that were tabulated from people in nursing homes who did not recall voting, as well as people who said they had voted, though there was no record of it.
Mr. Lehman said he and his staff addressed each case. For those in nursing homes, the election office pulled records showing they had returned a mail ballot with their signature on the envelope. The canvass, he said, lacked rigor, adding that he was not surprised some people might have claimed to have voted in a face-to-face interview when they actually had not.
Election deniers have no plans to stand down. They have requested reams of documents that they believe will expose fraud once and for all.
"We've received a series of crazy records requests," Mr. Lehman said. "You can quote me. They are insane."
Election deniers asked for copies of every application for a mail ballot, requiring Mr. Lehman and his staff to laboriously redact all personal information. They are pressing for copies of every ballot cast on Election Day 2020, and they have gone to court to seek digital data from the voting machines at each of the 81 county precincts.
Though observers from both parties watched the hand recount this week, Ms. DiSalvo raised questions about the process, including that Mr. Lehman oversaw the adding up of the recounted votes.
"We asked to see the tally sheets before the final processing and were denied," Ms. DiSalvo said, referring to the paperwork used by ballot counters. The elections director, she added, had a "vested interest in making sure the numbers aligned."
Her group has filed a right-to-know request for the hand-count tally sheets.
Mr. Lehman, a former Eagle Scout and teacher, displays two iconic photographs in his office. One shows Harry S. Truman in 1948 holding aloft the famously erroneous "Dewey Defeats Truman" newspaper headline. The other shows Lyndon Johnson solemnly taking the oath of office on Air Force One in 1963 following the assassination of President Kennedy.
"They're both transitions of power," Mr. Lehman said. "One is comic, the other tragic. We've managed to process them both as a country. I don't know which category to put 2020 in. We need to get back to a place where we can process the outcomes of elections in a constructive, healthy way."