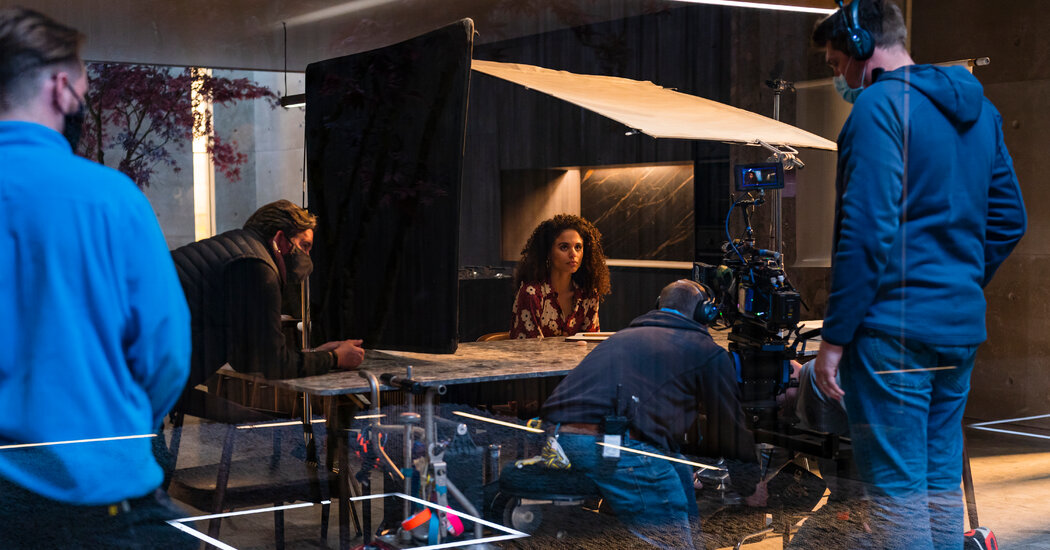 BRISTOL, England — The opening shot of the new HBO Max limited series "The Girl Before" planes over the silvery, slatted-timber facade of a house, then moves into its gorgeously minimal interior. Tall cathedral windows let in muted light; a stone table and wooden chairs stand like art objects framed by smooth concrete and glass walls.
"I really wanted it to sometimes feel calm and safe, a sanctuary, and sometimes like a prison," said the show's production designer, Jon Henson, as he walked visitors around the futuristic home that is the setting for much of the four-part show, which premieres on Thursday and was adapted by JP Delaney from his 2017 novel of the same name.
Henson, who said he had been influenced by the Japanese architecture studio Gosize and by the Belgian architect Vincent Van Duysen, opened one of the kitchen drawers. "We even customized these so that each knife and implement has its own compartment," he said.
The plot of "The Girl Before" centers on a house in the affluent London suburb of Hampstead designed by the exacting architect Edward Monkford. Played by David Oyelowo with smooth, contained charm, Edward rents the house at 1 Folgate Street for a strangely affordable rate to a select few tenants who agree to abide by his many, many rules ("over 200" an estate agent explains). Among them: No pets, no children, no mess, no possessions. Also, the occupants must submit to random interrogations from the house's Big Brother operating system, Housekeeper, which monitors their daily behavior.
"The real star of the show is 1 Folgate Street!" said Gugu Mbatha-Raw, who plays Jane, a P.R. executive taking refuge in the monastic environment after losing a child in a stillbirth. "She is looking for a sanctuary to erase that memory," Mbatha-Raw said in a video interview. "It's a cleansing space for her to recalibrate her sense of self."
But Jane, who begins a relationship with Edward, soon discovers that the previous tenant, Emma (Jessica Plummer) not only looked like her, but had also been involved with Edward and had died in the house in ambiguous circumstances. As Jane tries to discover what happened to Emma, whose former boyfriend Simon (Ben Hardy) is still mourning her death, the house becomes an incubator of fear and danger.
When Delaney (a pseudonym of the book's author, Tony Strong) was writing the novel, he was interested in taking the British gothic tradition of creaking manor houses, and "flipping that into something that is austere and modern, where the ghosts are all in people's minds," he said in a video interview.
"Most designed houses are a collaboration between the architect and the client, but with minimalism you buy into the vision of the architect," Delaney added. "It's a psychological form of architecture right away."
Oyelowo said that he had been immediately attracted to the role of Edward when Mbatha-Raw, also an associate producer on the show, emailed him about it. "I didn't quite know how to play it," he said in a video interview. "How do you thread the needle of this guy who is both attractive and repellent?"
Emma and Jane, he said, see Edward "as a refuge, a savior, because of the loss of control they have felt in their lives, and he provides a fortress for them to hide from the bad things in the world. But is it villainous the way he takes the control they are seeking to the nth degree?"
The story plays out on dual, overlapping timelines, so we see alternating scenes of both Emma and Jane being shown around the house, applying to live there through a long, invasive questionnaire and eventually becoming involved with Edward.
"The hard thing was translating the narrative structure of the book, which switches back and forward in time," Delaney said. "I wanted to avoid one timeline becoming a flashback to another one, so there are equal beats in both. It creates a kind of dance between the stories."
We see Edward proffering the same speeches to Emma and Jane, including, "People aren't so very different from buildings" and, "What if you were to have a relationship unencumbered by convention?" Both women eventually discover that they bear a close resemblance to Edward's deceased wife.
Edward suffers from repetition compulsion, Oyelowo said, a Freudian term for the need to re-enact an earlier trauma with the objective of providing a new outcome. "He isn't just having a relationship with these women, he is trying to transpose his wife on to them and heal himself from the point at which his life kind of stopped," Oyelowo said.
The house is a personification of Edward, and Simon instinctively feels threatened when he moves in with Emma, Hardy said. "The house is controlling, with technology that turns the lights off when it thinks you should go to bed," he said. Simon, Hardy added, "starts to feel control slipping away."
Control is an important theme for all three main characters, as each tries to master the emotional aftershocks of a previous ordeal. Jane is mourning her stillbirth and Emma, traumatized by a robbery and sexual assault, "desperately wants to control everything, and it all keeps spiraling," said Plummer. "For her, the house is a fortress that will protect her."
Oyelowo said that to prepare for the role, he had spoken to his friend, the British-Ghanaian architect David Adjaye, "partly because he is Black, partly because he is a 'starchitect.'"
"I wondered if there is a god complex" Oyelowo said. "Your ideas are tangibly there, larger than life in buildings; what does that do to your psychology?" He added that, even though "The Girl Before" didn't ostensibly touch on race, he wanted to do everything to make the character feel three-dimensional.
"To be honest, I don't know any Black architects apart from David," he said. "I wanted to be clear that Edward is a unicorn, that for him, failing has higher stakes than for others." It's a position Oyelowo recognizes: "I feel that as an actor; I know the playing field isn't level," he said.
Lisa Brühlmann, the director and an executive producer on the show, said that the producers had initially approached Mbatha-Raw to play either Emma or Jane. (Mbatha-Raw said that because she felt naturally "more of an Emma," she decided that playing Jane would be more challenging.)
"The author doesn't specify race, and when Gugu came on board and suggested we approach David, we found that idea very exciting," Brühlmann said. "And then we needed another actress who looked like Gugu, yet had another kind of energy, which was tricky until we found Jessica."
Both female characters, Brühlmann said, want to be remade by their new environment. "I found the premise very interesting," she added. "Can we be changed by our surroundings?"
That question had a curious real-life resonance, Mbatha-Raw said, as they had meetings and rehearsals for the show on Zoom during a stringent lockdown in early 2021. "The parallels weren't lost on me," she said. "There was a dark psychological thriller going on in the real world as well as in our story."