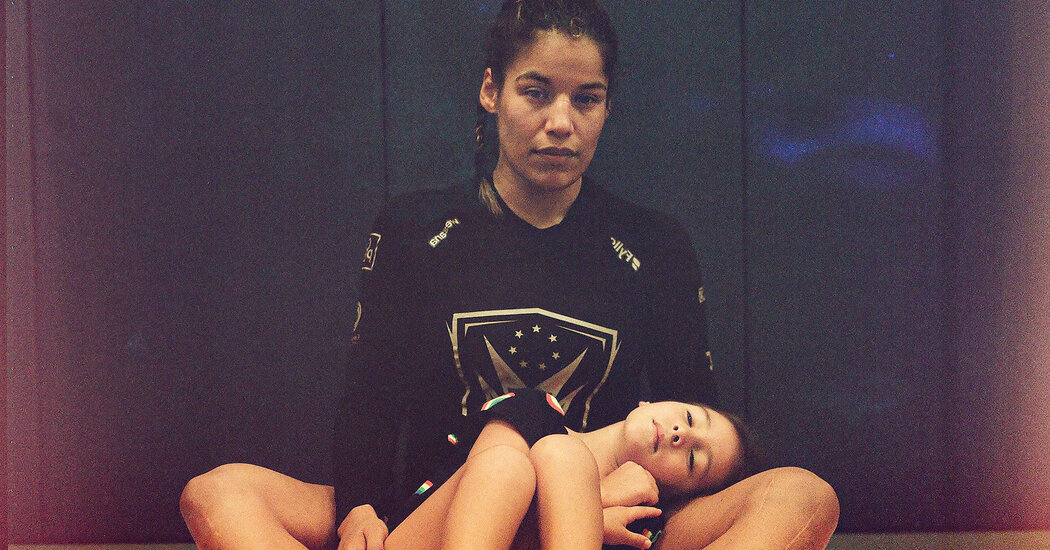 There, she met Nina Ansaroff, who trained at the same gym. Initially sparring partners, the two soon struck a romantic relationship. They soon shared a two-bedroom home with seven other people in Little Haiti, a Miami neighborhood with some of the city's highest poverty rates.
Their lives began to stabilize as they entered the U.F.C., and after winning two of her first three fights, Nunes went on a 12-fight win streak that cemented her legacy. She dispatched the biggest stars in women's mixed martial arts — Tate, Rousey, Holm and Justino among them — often in devastating knockouts or submissions.
Nina Nunes — they married in 2019 — had always wanted children, but Amanda Nunes was hesitant.
"My dream was always to be a mother, hers was to be champion, so it was about finding the time for both to make sense," Nina Nunes said.
"I had those moments of, 'Oh, I'm not sure if I'm going to be a good mother, I'm not sure if I wanted this,'" Amanda Nunes said. "I was conflicted for a little bit. It's a baby, it's not a dog."
The timing aligned, Nina Nunes said, after she lost a fight in June 2019. She and Amanda Nunes later started the in vitro fertilization process, using donor sperm. Amanda Nunes said her doubts about parenthood subsided when she saw Raegan for the first time. That elation continued even as she learned how to change diapers while her wife recovered from the delivery.
"This is the next step in my life now, and I love it," Amanda Nunes said.
What Mommy Does 'Is Important'
Isabella's burgundy-colored car seat livens up the otherwise monochrome interior of Peña's white B.M.W. sport utility vehicle, keeping the child safe as she and her mother traverse the Chicago suburbs.