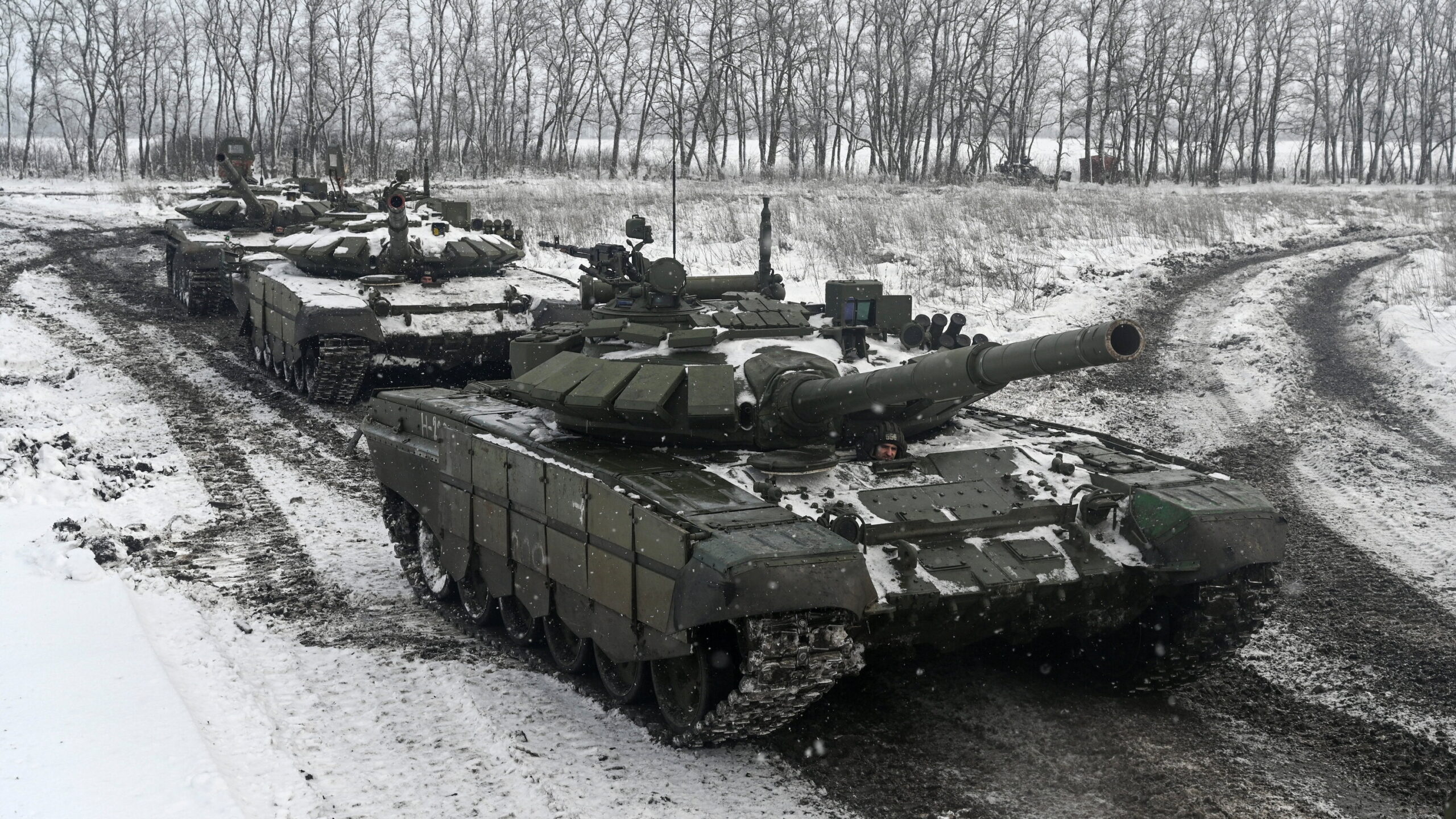 MOSCOW — President Vladimir V. Putin said on Tuesday that Russia had decided "to partially pull back troops" as the Defense Ministry announced that some forces from military districts bordering Ukraine were being sent back to their garrisons, a tentative sign that Russia could be stepping away from the threat of an invasion.
The announcement was the strongest signal yet that Russia might be trying to de-escalate the military standoff near the Ukrainian border, but it was far from clear that the threat of war had passed.
Speaking at the Kremlin after meeting with Chancellor Olaf Scholz of Germany, Mr. Putin said Russia would keep pushing for its central demands of a rollback of the NATO presence in Eastern Europe and a guarantee that Ukraine never join the alliance.
"We are also ready to continue on the negotiating track, but all these questions, as has been said before, must be viewed comprehensively," Mr. Putin said.
It couldn't be determined how many troops were being pulled back, and a Defense Ministry spokesman, Igor Konashenkov, said that some military exercises that have raised fears of an attack against Ukraine — including in Belarus and in the Black Sea — were continuing.
U.S. officials said they were still assessing Russia's troop announcement, and the NATO secretary general, Jens Stoltenberg, said that members of the alliance "have not seen any sign of de-escalation." Mr. Stoltenberg added that Russia has moved forces around before while leaving heavy weapons in place.
Still, Mr. Putin's comments added to signs that Moscow was willing to pursue its objectives through negotiations rather than launch immediate military action. When asked about how Russia would act next, Mr. Putin responded with a slight smile: "According to the plan."
He said Russia would seek to achieve its key aims but that the outcome of the process "does not only depend on us."
"We intend to and will strive to reach agreement with our partners on the questions that we posed, in order to solve them by taking a diplomatic path," Mr. Putin said.
Earlier Tuesday, Moscow added to its leverage in talks when lawmakers in Russia's Kremlin-backed lower house of Parliament on Tuesday asked Mr. Putin to recognize breakaway states in eastern Ukraine as independent, raising fears that Russia could use such recognition to move more of its military into the areas.
Mr. Putin indicated at the news conference that he would not immediately recognize their independence.
On Monday, Defense Minister Sergei K. Shoigu appeared to characterize Russia's enormous troop buildup around Ukraine as part of "large-scale drills" being carried out by the military. He told Mr. Putin in a stage-managed meeting broadcast on state television that some of those drills were now ending.
Then on Tuesday, Mr. Konashenkov said in a televised statement that some troops of the southern and western military districts had "completed their tasks" and were heading back to their bases. Russian state television aired footage of tanks being loaded onto rail cars, describing it as images of troops headed back to their garrisons.
The troops that Mr. Konashenkov said are being pulled back are from the military districts closest to Ukraine — meaning they would remain relatively close to the country even if they are pulled back to their bases. His statement indicated that troops that have arrived in the region from farther away — Siberia and Russia's Far East — would remain deployed near Ukraine for now.
Ukraine's foreign minister, Dmytro Kuleba, said that there was reason to be skeptical of Moscow's statements.
"When we see the withdrawal, we will believe in de-escalation," Mr. Kuleba told reporters during a video briefing from Kyiv.
The Kremlin spokesman, Dmitri S. Peskov, characterized the troop movements as routine, and continued to describe Western warnings of Russia's military buildup as overblown. Moscow had always intended that when the drills were over, "troops move back to their barracks," he said. "This is what is happening this time too — there is nothing new."
But Russia continued to shift away from its more pessimistic official rhetoric of recent weeks.
Foreign Minister Sergey V. Lavrov, speaking at a news conference, said that in ongoing talks, the West had "responded positively to initiatives that it had for a long time rejected."
"I think that thanks to efforts in all these areas, it will be possible to come up with a very decent, comprehensive package result," Mr. Lavrov said.