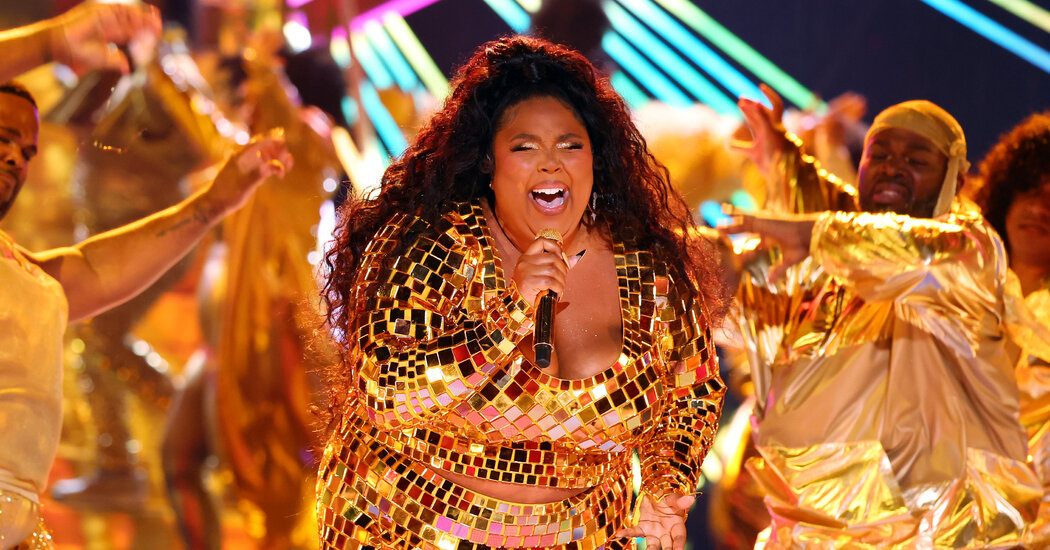 Since her charismatic breakout hit "Truth Hurts" dominated the Hot 100 in 2019, the music of the Houston-raised singer, rapper, songwriter and flutist Lizzo has been a pop cultural omnipresence — a glossy sonic lacquer ready to provide any humdrum moment with a hater-repellent sheen.
That signature spirit of uplift is all over "Special," Lizzo's fourth album, and the follow-up to her 2019 major-label debut, "Cuz I Love You." "In case nobody told you today, you're special," Lizzo sings on the title track, briefly abdicating her role as the rap game Mae West to become a millennial Mister Rogers. Later, on the bouncy, brassy "Birthday Girl," she asks, "Is it your birthday, girl? 'Cause you looking like a present." Another propulsive, synth-driven track succinctly captures Lizzo's bawdily empowering ethos in its title: "I Love You Bitch."
As a self-described "big grrrl" preaching unapologetic sex positivity and self-love, Lizzo, 34, is a refreshingly radical personality, on red carpets and on social media, where she is candid and outspoken. But the cultural ubiquity of her recent music emphasizes its general agreeability and attests to its political limitations: Now many Lizzo songs have come to signify the treat-yourself mood major corporations wish to capture when they want you to buy something. In the past few years, Lizzo's music has appeared in advertisements for several competing technology companies, alcoholic beverages and soft drinks, a food-delivery app and the rebranded Weight Watchers (for which she was criticized by some fans and semi-apologized, stating, fairly, "I deserve the space to learn from my actions"). The "Cuz I Love You" diversity anthem "Better in Color" accompanied a 2021 commercial introducing the many hues of iMacs.
In 2022, there's no such thing as selling out — everyone is entitled to make money in a challenging music industry — but artists run the risk of diluting their message. Perhaps it is unsurprising, then, that on "Special" Lizzo often sounds caught between the personal and the personal brand. Occasionally, on songs that chronicle her less-than-ecstatic feelings, she gestures toward complexities that challenge the one-dimensional image of her as the high priestess of the mirror pep talk — only to retreat back to the anodyne comfort zone of songs like "Special" (which debuted as part of a Logitech ad campaign early this year) and "Birthday Girl," which features a spoken-word segment of people gleefully shouting out their astrological signs.
Like her irresistibly fun 2019 single "Juice," many of Lizzo's best songs cruise in the same lane that Bruno Mars skillfully dominates: uncannily reproduced '70s-funk and '80s-pop simulacra, updated for the present moment with slangy, winking vocals. Her current hit, the disco-lite summer jam "About Damn Time" (produced by her "Truth Hurts" collaborator Ricky Reed and Blake Slatkin) is a bit Lizzo-by-Numbers: a showy flute solo, relentlessly vampy delivery, lyrics that could double as Instagram captions. But the bass line's gummy groove holds all the disparate parts together, allowing Lizzo to glide elegantly from arch, semi-rapped verses to a belted-out bridge that shows off the full range of her vocals. When it works, it works.
And when it doesn't, well … you get a song like overzealous-ally anthem "Everybody's Gay," which aims for Paradise Garage euphoria but lands closer to Target's collection of Pride month apparel. The energy of the opening track, "The Sign," somehow manages to be both relentless and listless, Lizzo's usual cheeky wit blunted by generic lines like, "I live inside his head and pay no rent, yeah/It's lit, yeah." The best thing about the abrasive, Beastie Boys-sampling "Grrrls" is that it is the shortest song on the album.
"Grrrls" is one of several tracks on "Special" centered around an interpolation of another older and more famous song, which, repeated often on a relatively short pop album, starts to feel less like homage and more like an overreliance on other people's hooks. The soulful, midtempo "Break Up Twice," produced by Mark Ronson, draws out a melodic line from Lauryn Hill's "Doo Wop (That Thing)" to address a disappointing partner, but after the dueling "Ex-Factor" samples in Drake's "Nice for What" and Cardi B's "Be Careful" in summer 2018, interpolating the untouchable Hill has come to feel like an overused trope. "Coldplay" features a sped-up and ill-fitting sample of "Yellow," which Lizzo later shouts out as her go-to soundtrack for nursing a broken heart: "It made me sad, I cried," she sings over a skittish, jazzy beat, "Singin' Coldplay in the night."
"Coldplay," the album's final track, concludes the loose thematic arc of "Special," which finds Lizzo wondering if all this work on her self-confidence has made it more difficult to let her guard down and allow herself to be swept away by romantic love. "I've learned to love me as myself," she sings on the searching ballad "If You Love Me," "But when I'm with somebody else/I question everything I know." On the energetic "2 B Loved (Am I Ready)," which has a bright, synth-driven chorus reminiscent of Laura Branigan's "Gloria," the antic butterflies of a new romance make Lizzo question her hard-won identity as an independent single woman. "I'm good with my friends, I don't want a man, girl," she sings, before the ringing of her phone upends that stability: "And now he callin' me, why do I feel like this? What's happenin' to me?"
What happens when the woman who proclaimed she would "put the sing in single" finds herself in a monogamous relationship? Or when the queen of empowerment pop wakes up feeling something less than good as hell? In its more tantalizing moments, "Special" articulates these questions but falls short of committing to an answer. On her major-label albums, Lizzo has yet to risk traveling to a depth from which she cannot immediately pull herself up, with triumphant fanfare, on the very next song.
Lizzo
"Special"
(Nice Life Recording Company/Atlantic)