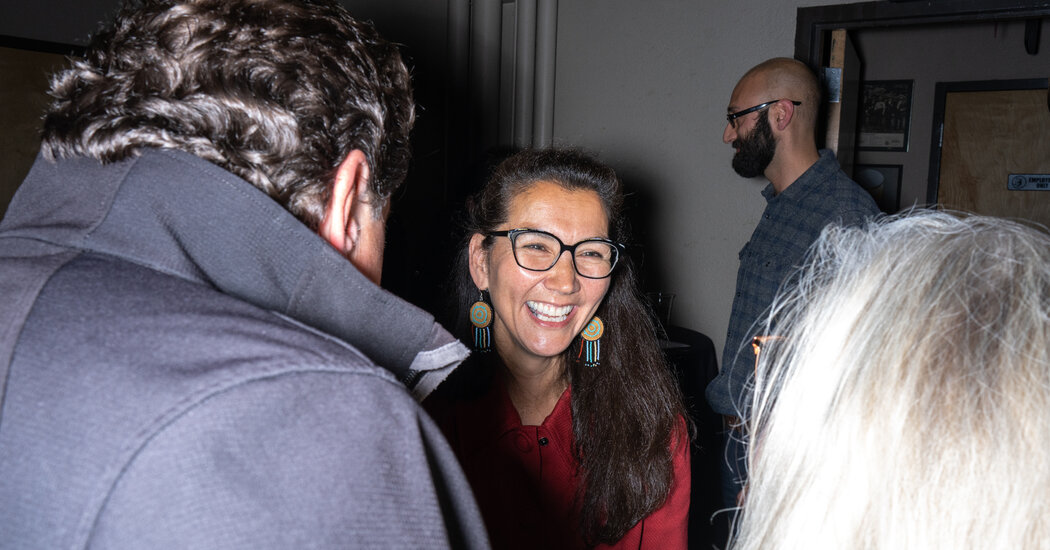 Ms. Peltola has sought to highlight her Native roots in a state where more than 15 percent of the population identifies as Indigenous. As a Yup'ik woman, she said, she has sought to use the teachings of her community in her broader appeals for bipartisanship. "Dry fish and pilot bread — that is how I got other legislators in the room when I was rebuilding the bipartisan Bush caucus," she said in an ad introducing herself to voters. ("Bush caucus" refers to a group of legislators from rural Alaska.)
On Tuesday night, Ms. Peltola mingled with a couple dozen supporters at a brewery in central Anchorage. She embraced relatives, campaign workers and longtime friends who had served with her in the Legislature. "I've really been an advocate of thinking beyond partisanship and seeing people beyond party lines," she said in an interview. "I think Alaskans are very receptive to that. We often vote for the person and not the party."
Ms. Peltola — the only Democrat in the 22-candidate primary — served in the Alaska House from 1999 to 2009 before becoming the executive director of the Kuskokwim River Inter-Tribal Fish Commission, which works with tribes to manage salmon resources. She has also served as a councilwoman in Bethel, a small city in western Alaska, and as a judge on the Orutsararmuit Native Council Tribal Court.
She has had a sharp rise in the public eye since she came in fourth out of 48 people in a June special-election primary. The candidates included Ms. Palin, Mr. Begich and even a councilman legally named Santa Claus. Al Gross, an independent who unsuccessfully ran for Senate in 2020 and came in third, soon dropped out of the race and endorsed Ms. Peltola, helping clear her path for a strong performance on Tuesday.
Democratic and Republican pollsters and strategists said Ms. Peltola's lead in the race stemmed from her focus on forging a coalition across class, party and ethnic lines, the skepticism of Ms. Palin's political comeback and the bickering between Ms. Palin and Mr. Begich in the campaign. Another advantage was the new, complex voting system that allowed voters on Tuesday to rank their preferences in the special election and was widely seen as designed to favor more centrist candidates.
Leaving a polling location in South Anchorage, Maeve Watkins, 52, a nurse, and her 20-year-old daughter, Isabelle, a university student, said they were drawn to Ms. Peltola for her strong stance on abortion rights and her pledges to protect Alaska's resources.
"She is a quiet force," Ms. Watkins said. "She is such a good listener. She's all about kindness and hearing from everyone, but, at the same time, she has a backbone."
Maggie Astor contributed reporting.