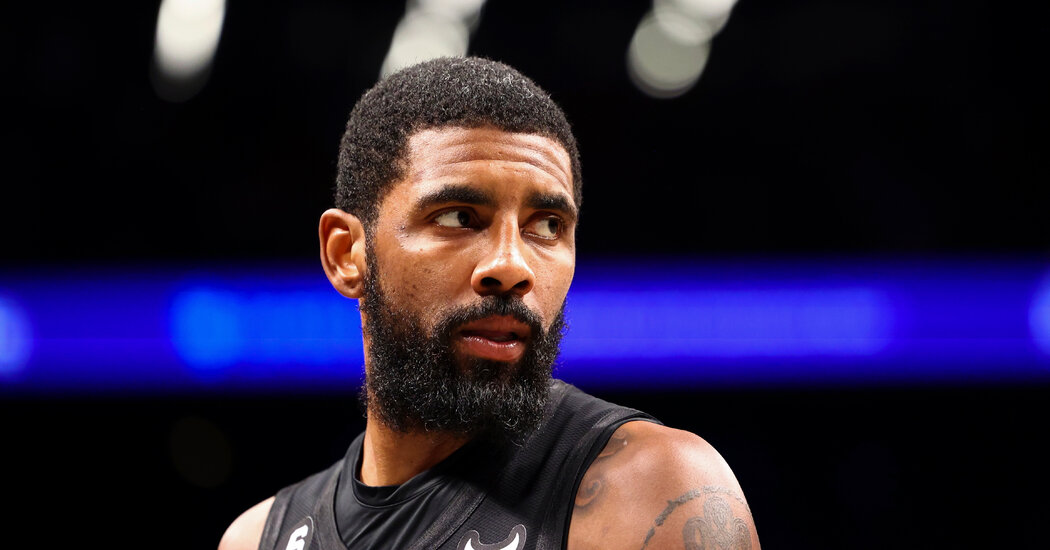 The Nets suspended guard Kyrie Irving indefinitely Thursday, calling him "unfit to be associated" with the team because he had declined to say he has no antisemitic views in the week since he posted a link on Twitter to a film with hateful claims about Jewish people.
"Such failure to disavow antisemitism when given a clear opportunity to do so is deeply disturbing, is against the values of our organization, and constitutes conduct detrimental to the team," the Nets said in a statement.
Irving had declined to apologize despite fierce backlash, but late Thursday night, hours after the Nets suspended him, he relented in a post on Instagram.
"To All Jewish families and Communities that are hurt and affected from my post, I am deeply sorry to have caused you pain, and I apologize," Irving said in the Instagram post.
The Nets said Irving would be suspended without pay for a minimum of five games and "until he satisfies a series of objective remedial measures that address the harmful impact of his conduct."
On Thursday, before he was suspended, Irving did not apologize for his post but said there were some things in the film he did not agree with.
"I didn't mean to cause any harm," Irving said after a Nets practice. "I'm not the one that made the documentary."
Antisemitism in America
Antisemitism is one of the longest-standing forms of prejudice, and those who monitor it say it is now on the rise across the country.
When asked what specific points in the film he did not agree with, Irving responded vaguely.
"Some of the criticism of the Jewish faith and the community, for sure," Irving said. "Some points made in there that were unfortunate."
The team said in the suspension announcement that it was "dismayed" that Irving did not "acknowledge specific hateful material in the film."
Last week, Irving posted a link on Twitter to the film "Hebrews to Negroes: Wake Up Black America," which is driven by antisemitic tropes about Jewish people lying about their origins. Its false and outlandish claims about Jews include the assertion that the Holocaust never happened.
"Those falsehoods are unfortunate," Irving said when asked if he believed that the Holocaust occurred, despite what the movie said. "And it's not that I don't believe in the Holocaust. I never said that. Never ever have said it. It's not come out of my mouth. I never tweeted it. I never liked anything like it. So, the Holocaust in itself is an event that means something to a large group of people that suffered something that could have been avoided."
On Sunday, Irving deleted the Twitter post that included the film's link, but he had not spoken publicly since Saturday. That night, during a postgame news conference, Irving argued with a reporter about whether he was promoting the movie by posting about it on Twitter.
In his apology Thursday, Irving said he "initially reacted out of emotion to being unjustly labeled Anti-Semitic, instead of focusing on the healing process of my Jewish Brothers and Sisters that were hurt from the hateful remarks made in the Documentary."
In the past week, the N.B.A. and its players' union released statements condemning antisemitism without naming Irving. The Nets owner Joe Tsai said in a tweet that he was "disappointed" with Irving and would speak to him.
In a statement released with the Anti-Defamation League on Wednesday, Irving and the Nets said they would each donate $500,000 to unspecified causes and organizations that combat hate in their communities. When asked Thursday if he had met with the Anti-Defamation League, Irving said he was told that the organization wanted a meeting and "we handled it."
Irving had said in his statement Wednesday that he took responsibility for his post.
On Thursday morning, less than an hour before Irving spoke to reporters at practice, N.B.A. Commissioner Adam Silver said he planned to meet with Irving and expressed disappointment that Irving had not "offered an unqualified apology and more specifically denounced the vile and harmful content contained in the film he chose to publicize."
In his Instagram post Thursday, Irving apologized for "posting the documentary without context and a factual explanation outlining the specific beliefs in the Documentary I agreed with and disagreed with."
He said he "had no intentions to disrespect any Jewish cultural history regarding the Holocaust or perpetuate any hate," but he did not cite specific arguments from the film that he disagreed with.
The Nets said in their statement announcing Irving's suspension that they had tried to help Irving "understand the harm and danger of his words and actions."
"We believed that taking the path of education in this challenging situation would be the right one, and thought that we had made progress with our joint commitment to eradicating hate and intolerance," the team said.
Irving spoke to reporters for about six minutes Thursday before a member of the Nets' public relations team ended the news conference. Irving spent half that time responding to a question about whether he was surprised that his Twitter post hurt people.
"I think I can ask a better question which is, where were you when I was a kid figuring out that 300 million of my ancestors are buried in America?" said Irving, who has African American and Native American heritage. "Where were you guys asking those same questions when I was a kid learning about the traumatic events of my familial history and what I'm proud to come from? And why I'm proud to stand here?"
When Irving was asked if he had any antisemitic beliefs, he said he respected all walks of life.
"I cannot be antisemitic if I know where I come from," Irving said when he was asked to answer the question with a "yes" or "no."
Jonathan Greenblatt, the chief executive of the Anti-Defamation League, chastised Irving for his response.
"The answer to the question — 'Do you have any antisemitic beliefs' is always 'NO' without equivocation," Greenblatt said in a post on Twitter. "We took @KyrieIrving at his word when he said he took responsibility, but today he did not make good on that promise. Kyrie clearly has a lot of work to do."
The N.B.A. has penalized players for hate speech. Minnesota Timberwolves guard Anthony Edwards was fined $40,000 in September for using homophobic language in a video he posted on social media.
In March 2021, the league fined Meyers Leonard of the Miami Heat $50,000 and suspended him for one week because he used an antisemitic slur while playing video games on a livestream. Miami also suspended him for two days while the N.B.A. investigated. The Heat then quickly traded Leonard to Oklahoma City, which released him about a week later. No team has signed him since then.