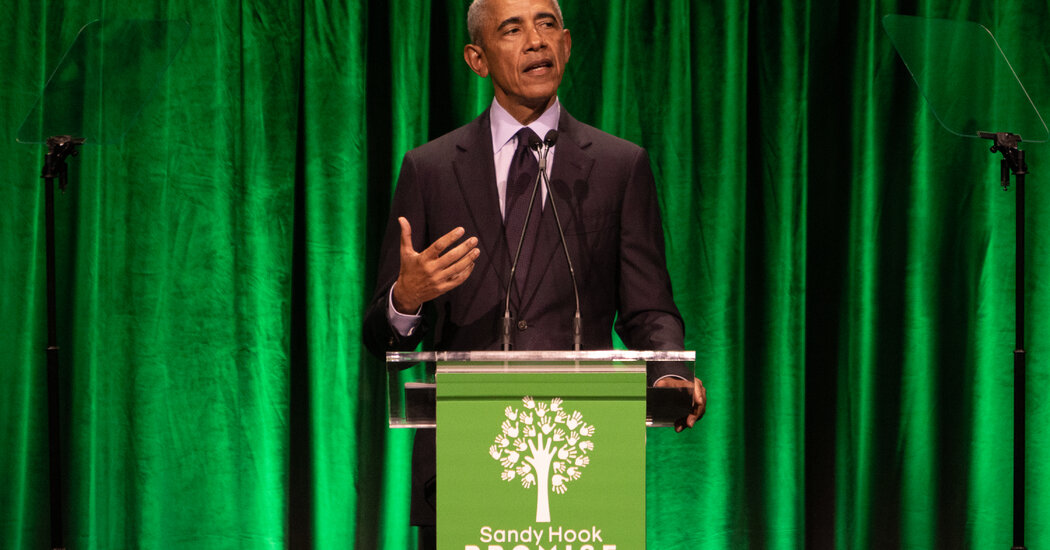 Former President Barack Obama and the Disney chief executive Robert A. Iger were the marquee speakers at an event on Tuesday commemorating the 10th anniversary of the shooting that took the lives of 20 first graders and six educators at the Sandy Hook Elementary School in Newtown, Conn.
Organized by Sandy Hook Promise, a nonprofit organization founded by several family members of the victims, the benefit took place at the Ziegfeld Ballroom in Midtown Manhattan. Each of the more than 450 guests paid at least $1,500 to attend.
Nicole Hockley, who lost her son Dylan in the shooting on Dec. 14, 2012, described the benefit event as a "celebration and remembrance." "I will dance the day this organization doesn't need to exist anymore," said Ms. Hockley, who founded Sandy Hook Promise with another school parent, Mark Barden.
Mr. Obama spoke shortly after the guests had taken their seats.
"Perhaps the most bitter disappointment of my time in office, the closest I came to being cynical, was the utter failure of Congress to respond in the immediate aftermath of the Sandy Hook shootings," Mr. Obama said. "To see almost the entire G.O.P., but also a decent number of Democrats, equivocate and hem and haw and filibuster, and ultimately bend yet again to pressure from the gun lobby."
He added: "I would not have blamed the Sandy Hook families for giving up after that. I wouldn't blame them for falling into cynicism and disgust and despair. But Mark and Nicole told me then that they would not give up — that ending gun violence would be their life's work."
Understand the Defamation Cases Against Alex Jones
Card 1 of 6
A united front. Alex Jones, a far-right conspiracy theorist, is the focus of a long-running legal battle waged by families of victims of a mass shooting at Sandy Hook Elementary School in Newtown, Conn., in 2012. Here is what to know:
Mr. Obama concluded his remarks by reciting the names of those who had died in the shooting. After a standing ovation, he and his phalanx of Secret Service officers disappeared.
The guests included artists, performers, models, athletes, venture capitalists and politicians. As they moved toward the ballroom early in the evening, they posed for photographs against a backdrop that featured the Sandy Hook Promise logo.
Mr. Iger made his entrance with his wife, Willow Bay, a former television correspondent who is now the dean of the Annenberg School for Communication and Journalism at the University of Southern California. Mr. Iger — who returned to the top job at Disney weeks ago after 11 months of retirement, replacing the ousted Bob Chapek — took a few questions from reporters affiliated with ABC, the Disney-owned network, and ignored the rest.
Anthony Scaramucci, who served as the White House communications director for 10 days in 2017 under former President Donald J. Trump, strode toward the ballroom with his arm around the longtime investor and Democratic power player Robert Wolf. Mr. Scaramucci was wearing a Brioni suit and Prada Monolith loafers, a shoe with chunky heels.
"You know why I got the Prada shoes on?" Mr. Scaramucci said. "Sometimes, when you're vertically challenged, you got to wear Prada."
Right behind him was the former N.F.L. star Victor Cruz in a plaid Hugo Boss suit. Mr. Cruz, who had attended several Sandy Hook Promise benefits, said he was ready to shed tears. "I'm always crying by the middle of this event," he said. "I know it's coming. I've been here before, but somehow they always manage to pull the tears out of me."
The venture capitalist Joshua Kushner, the younger brother of the Trump son-in-law and adviser Jared Kushner, arrived with his wife, the supermodel and fashion entrepreneur Karlie Kloss. Mr. Kushner seemed to reluctant to go before the brigade of photographers. The more camera-friendly Ms. Kloss, wearing a black floor-length Proenza Schouler gown, did a solo turn. Then her husband joined her — briefly — before jetting off to the side. Moments later, inside the ballroom, the couple chatted and laughed with Mr. Iger and Adam Silver, the commissioner of the N.B.A.
Nearby, Mayor Eric Adams of New York found himself swarmed by his fellow guests soon after finding his table. He was wearing a dark suit made by his "handpicked tailor," he said. Mr. Wolf, a onetime fund-raiser for Mr. Obama, made a beeline to the mayor, took hold of his shoulders and announced that he considered Mr. Adams to be his "brother from another mother."
After the glad-handing, Mr. Adams spoke in a low, somber tone. "It's hard to believe, 10 years later, we're still talking about mass shootings in our schools," he said. "Ten years later, we're still dealing with the proliferation of guns in our community."
Then Mr. Cruz appeared and shook his hand.
One of the mayor's table mates was Letitia James, the New York attorney general. Wearing a blue dress with gold and silver embroidery, she scoffed when she was asked to describe what she was wearing.
Mr. Scaramucci was seated nearby. In September, Ms. James filed a lawsuit against Mr. Scaramucci's former boss in State Supreme Court in Manhattan, accusing the ex-president, his family business and three of his children of fraud. Mr. Scaramucci gestured to Ms. James to pose with him for a photograph. She went over to him for a quick half-hug and rushed back to her seat before a photographer could be roused.
After dinner was served — a beet ravioli appetizer, followed by free-range chicken — the actor Matthew McConaughey addressed the gathering. He has been vocal about gun control measures since the mass shooting at an elementary school in his hometown, Uvalde, Texas. "There's no better way to make the lives of the children killed in Sandy Hook and Uvalde and so many other mass shootings matter than to invest in saving the lives of more innocent children in the future," Mr. McConaughey said.
To close the evening, Sandy Hook Promise honored Mr. Iger with its Promise Champion award. The angel investor Ron Conway, who served as the event chairman, was the presenter. He noted that, five years earlier, he had bestowed the same award upon Joe Biden, joking that it might bode well for Mr. Iger, if he had political ambitions.
"These past couple of weeks for me have taken some unexpected turns, career-wise," Mr. Iger said to laughter from the audience. "But don't get any ideas, Ron. Because I have a day job again."