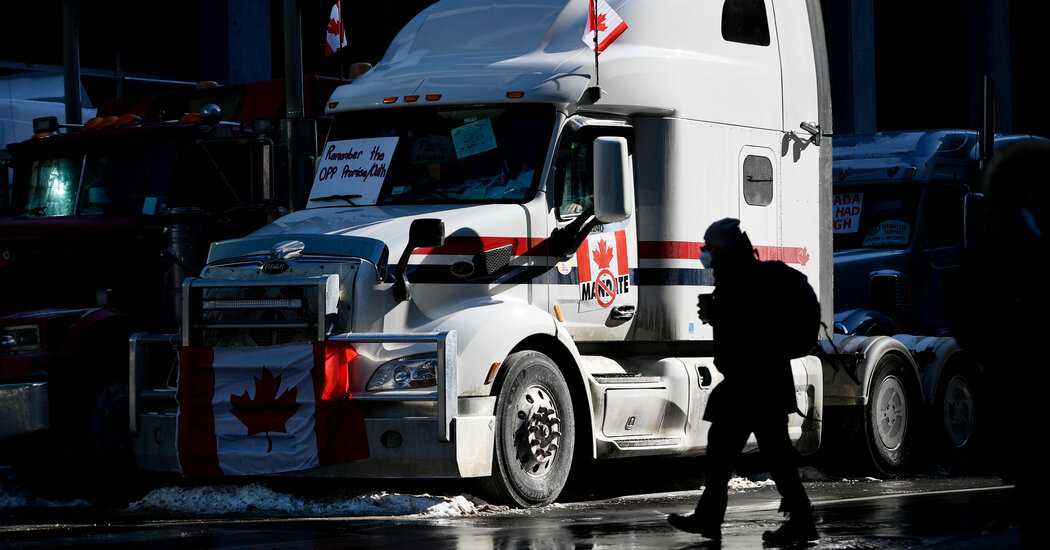 Both were references to Mr. Trudeau's dismissal of the protesters last week as a "small fringe minority."
On Monday, Justice Hugh McLean of the Ontario Superior Court offered Ottawa residents a hint of relief, granting a temporary injunction barring the horn honking and authorizing the police to arrest or remove those knowingly violating the order.
Many Ottawa residents are besides themselves.
"This is unbelievably selfish," said Zully Alvarado, walking through protest grounds displaying a mask — a symbol, she said, of her allegiance to the vaccinated majority. An Ottawa hair stylist, she said the noise, and closures resulting from the occupation, have had a big effect on people already suffering from mental health issues, as well as people who are homeless.
"This is not the Canadian spirit," she said.
Fed up with what they call a "timid" police response to the protest, some residents of the neighborhoods overrun by trucks are challenging the protesters.
On Kent Street in Ottawa, Christopher Renaud, frustrated after many sleepless nights, kicked an empty fuel can sitting in the road. A heated argument with several protesters followed.
"I'm at the point where a regular car horn is setting me off," Mr. Renaud, a government employee said after walking away. "I've never felt so abandoned by government."
A protester stepped up and apologized to Mr. Renaud for the disruption.
"The reason we're invading your city is to uphold our civic rights," he told Mr. Renaud. "It's because we feel our body is being invaded."
Catherine Porter and Ian Austen reported from Ottawa. Sheera Frenkel reported from Oakland, Calif. Vjosa Isai contributed reporting from Toronto and Alan Feuer from Albany.