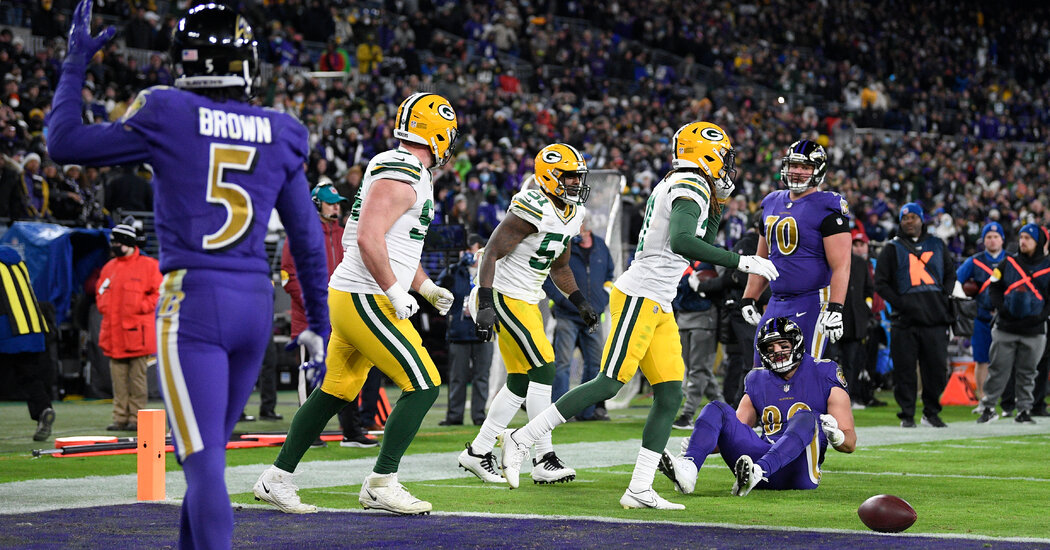 By this late stage of the season, no team is immune from attrition or, especially, the Covid-19 scourge that has clobbered the N.F.L. and the rest of the country. The spread of the Omicron variant forced more than 130 players onto their teams' Covid-19 reserve lists in the past week. In the past four days alone, the Ravens put four players — cornerbacks Jimmy Smith and Chris Westry, receiver Sammy Watkins and safety Chuck Clark — on the list, running their total to five.
Although Baltimore is unequivocally a better team with Jackson at quarterback, Huntley — undrafted in 2020 out of Utah and, like Jackson, mobile and elusive and strong-armed — commanded the offense with aplomb, completing 28 of 40 passes for 215 yards and accounting for four touchdown scores.
"A lot of question marks go up in the air of, if this offense can still run without him," the Ravens rookie receiver Rashod Bateman said last week, before referencing Huntley by his jersey number. "But I think 2 comes in and proves to us that we're not just a one-man show. We're a team, and we can still operate at a high level."
With Jackson, who sprained his ankle last week at Cleveland, watching and tutoring Huntley from the sideline, the Ravens battered Green Bay's defense for 178 yards and two touchdowns across their first three drives, then scored twice within a 4-minute-5-second span late in the fourth quarter to set up Harbaugh's decision.
Under Harbaugh, the Ravens have cultivated a certain identity: Feisty and resilient, they tend to play lots of close games, regardless of their personnel. All season, the Ravens have teetered on that boundary, and it may be unsustainable to endure so many tight outcomes and win them all.
Baltimore lost its opener in overtime and these last three games by a total of 4 points. It also defeated Kansas City, whose running back lost a fumble in go-ahead field-goal range, stunned Detroit on a 66-yard field goal as time expired, and overcame a 19-point deficit against Indianapolis in less than 19 minutes, then won in overtime.
It is a testament to the jumbled, delightful mess known as the A.F.C. North, where all four teams sit within a game of each other, that the Ravens still have, in theory, a chance to win the division.