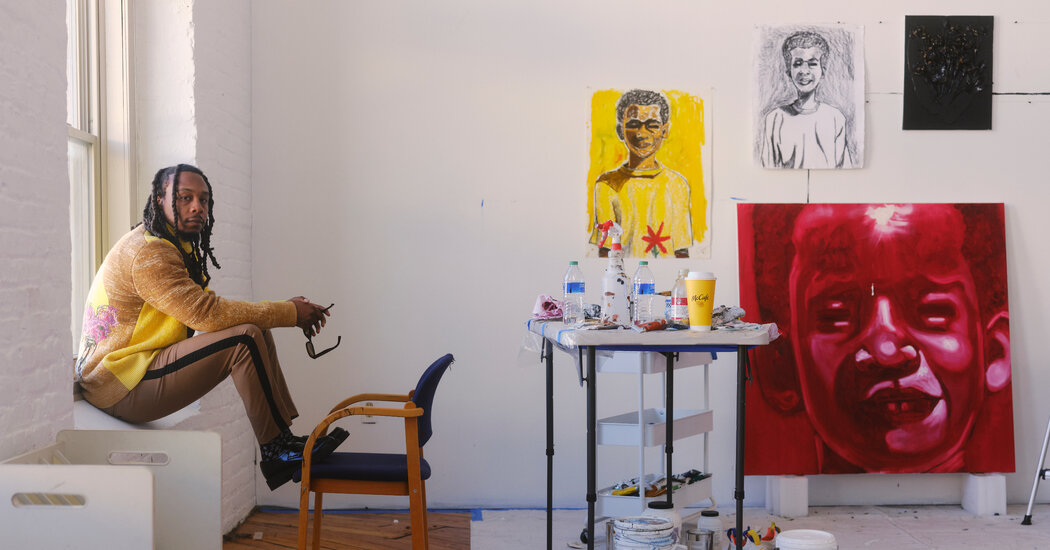 One Baltimore son has painted another.
When Representative Elijah E. Cummings died in October 2019 at age 68, he became the first African American elected official to lie in state at the U.S. Capitol, where he served for more than two decades in the House of Representatives from Maryland's 7th District.
In January, the congressman's official portrait, painted posthumously by the artist Jerrell Gibbs, will be enshrined for posterity in the Capitol, where fewer than 20 of the hundreds of portraits there are of Black leaders.
For Gibbs, 33, who only started painting six years ago and received his MFA at the Maryland Institute College of Art last year, the commission has "changed the way that I look at what I'm doing," he said. "It gave me courage that people want to support what I bring to the table and believe that I have value."
"Elijah was a hometown guy and we thought it would be poignant and very Elijah-like to have a Baltimore-based artist of color do his portrait," said Maya Rockeymoore Cummings, the founder, president and CEO of Global Policy Solutions, who met the congressman in 1997 when she interviewed him for her dissertation and married him in 2008.
She was asked by the House Oversight and Reform Committee, where her husband was chairman, to steer the effort to commission a portrait. She, in turn, enlisted the help of the Baltimore Museum of Art, where she served as a trustee from 2017 to 2019. Its curators identified a broad pool of local artists, and a selection committee of museum and community arts leaders unanimously chose Gibbs, who received $75,000 for the commission.
"Maya felt there was the opportunity to do something that attested to Elijah's desire to shine a positive light on young people in Baltimore making great art," said Christopher Bedford, the director of the Baltimore Museum of Art. The committee was looking for "somebody with a vocabulary that seems progressive and relevant to the present," he said, "while also having the gravitas necessary to exist in and among more traditionally conceived portraiture in the Capitol."
Gibbs's boldly brushed portrait, which will be on display at the Baltimore Museum from Dec. 22 to Jan. 9 before its permanent installation in Washington, embodies the congressman's regal bearing and arresting gaze. Emerging from an aura of golden-brown light, Cummings wields a judge's gavel and appears to almost burst from the canvas.
Bedford was swayed by Gibbs's deeply felt way of painting and "ability to give his subjects a discernible inner life," he said. "That's a hard thing to teach a portraitist — the thing that made people like Rembrandt, Titian and Velazquez so successful."
The selection of Gibbs to paint the portrait of Cummings for the U.S. Capitol invites comparison with the National Portrait Gallery's painting of Michelle Obama, who in 2017 chose Amy Sherald, another little-known, Baltimore-based painter at the time, for the high-profile commission.
"For a young painter, a commission like this can be really pivotal," said Gwendolyn DuBois Shaw, an art history professor at the University of Pennsylvania. "It certainly has been for Amy, whose life is totally different now." The painting of the first lady catapulted Sherald to the center of the art world; she is now represented by the powerhouse gallery Hauser & Wirth.
When Gibbs learned early this year that he was one of three finalists, along with Monica Ikegwu and Ernest Shaw, chosen from more than 30 candidates under consideration for the Cummings commission, he described feeling completely overwhelmed. "The hardest thing for me was to remember what got me to the position of being chosen, which was me painting the way I paint," he said.
The nine-member, Baltimore-based selection committee, including the art historian Lori N. Johnson, the artist and curator Jeffrey Kent and the arts advocate and barbershop owner Troy Staton, did studio visits with each of the three finalists (for Gibbs, it took place in his garage). Rockeymoore Cummings remembers him standing out.
"Jerrell was naturally curious about Elijah and talked knowledgeably about the work that he did in life," she said. The committee was impressed with all three artists and invited each to submit a drawing of what their portrait might look like.
After doing many drawings Gibbs was dissatisfied with, he submitted an actual painting to the committee, using a photograph by Justin T. Gellerson on the cover of Cummings's book, "We're Better Than This," as a model.
"Jerrell captured Elijah's expressiveness, his somberness, his majesty in just a few strokes," said Rockeymoore Cummings. The group's decision was almost immediate.
While the figure of Cummings in the painted study is similar to the final result, Gibbs's preliminary concept shows the congressman flanked by the U.S. and Maryland State flags and standing before a desk with a statue of a roaring lion, which the artist had included as a symbol of Cummings's presence in the courtroom. Yet during the months of working on the actual portrait, the artist described getting sidetracked by these extraneous objects and threw away or covered up a series of failures.
"I realized what I wanted to capture was his voice, his presence, his disposition, his strength, and everything else was just taking away from him," said Gibbs, who simplified the background and cropped and enlarged the figure of Cummings. "I thought about Rembrandt and the atmosphere he created for the figures by use of light and texture. Once I figured that out, I got really excited."
Rockeymoore Cummings was initially unsure. "I was like, Jerrell, what happened to my stuff?" she said, laughing. "Every portrait in the Capitol of every chairman that ever was has a flag behind them and Elijah had no flag."
She asked Gibbs to reconsider, but he held to his vision. Rockeymoore Cummings now embraces how her husband stands alone in the portrait. "The last years of his life focused on fighting to protect and defend our democracy," she said. She interprets the aura behind him as "an open question mark about what our country is going to choose for its future."