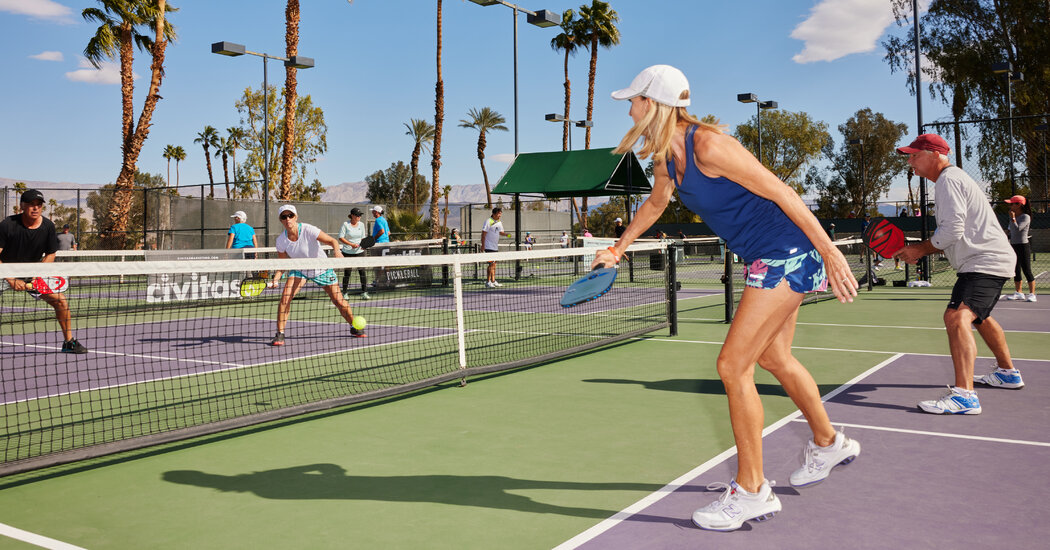 There's a moment in the most recent season of "Curb Your Enthusiasm" when the character Hal Berman (Rob Morrow), seeking support for his ill father, tells Larry David that the point of country clubs is to feel a sense of togetherness in a time of need.
"I joined for the golf," Mr. David, who plays himself on the show, counters plainly. "And you know what? I'm enjoying pickleball, too."
Invented in the summer of 1965 on Bainbridge Island, Wash., pickleball is played with a wiffle ball and is a cross between tennis, badminton and Ping-Pong. It has long enjoyed a cult following on the fringes of American sporting life.
Over the last decade, however, it's grown in popularity as a racket sport with a lower barrier to entry than tennis that offers recreation without the years of fine-tuning it might take to play competitively. The nets are lower than in tennis and the courts are roughly one-fourth the size, so there's less sprinting involved, and it has become a favorite with retirees and some celebrities.
The actor Matthew Perry, who before his starring role on "Friends," had been a nationally ranked junior tennis player in Canada, picked up pickleball during the pandemic. "I don't move around as well as I used to, but I saw my friend Amanda Peet talking about pickleball on a talk show and I was like, 'I have to try this,'" he said. He now plays several times a week.
The USA Pickleball Association estimates that more than 4.8 million Americans played pickleball in 2021. And as it expands, there are more opportunities to engage with the sport.
Matthew Manasse, 33, a nationally ranked professional player, who runs the pickleball program at the Riviera Country Club in Pacific Palisades, where Mr. David plays off-screen, began offering lessons and organizing member matches in April 2021.
"In tennis, the technique takes years and years," Mr. Manasse said. "But in the first pickleball lesson, we are able to play a full game and get rallies going."
While pickleball has largely been enjoyed in the privacy of retirement communities, country clubs and the homes of the Hollywood elite in recent years, the sport is transitioning to the mainstream with the emergence of its own media ecosystem. There are pickleball influencers on Instagram, like the young star Leo Chun, and blogs, like Crazy Pickleball Lady. Recently, CBS Sports Network, ESPN3, Fox Sports and the Tennis Channel have all announced plans to broadcast the sport in various capacities.
A new magazine, InPickleball, aimed at players of all skill levels, began publishing last September. It publishes nine issues per year and has a circulation of about 45,000. The name, according to Richard Porter, the magazine's president, comes from an aspiration to emulate InStyle magazine.
InPickleball features tips to improve play, style roundups, travel recommendations for great pickleball destinations, advice for how to avoid injuries and interviews with celebrities and players who are dedicated to the sport.
There are stories like "Are Pickleball Players Having Too Much Fun?" which looks at the debate about whether games have gotten too rowdy, and a feature with sun-drenched photos of Teddi Mellencamp Arroyave, the former "Real Housewives of Beverly Hills" cast member and a pickleball enthusiast.
(Stuart Emmrich, a former New York Times editor, consulted on the magazine last year but is no longer affiliated with it.)
Athletic companies like Franklin Sports, known for baseball gear, are responding to the increased interest. The company makes balls, paddles, nets and bags, and the equipment is carried in stores like Walmart, Target and Dick's Sporting Goods. Adam Franklin, the president of Franklin Sports, said that pickleball is the fastest-growing segment of its revenue.
"It's not often that a new sport comes along that has both mass playing appeal and mass retail appeal," Mr. Franklin said.
"We're a baseball brand at heart, but right now we have pickleball in more retailers than baseball."
Dedicated pickleball players, like Brené Brown, the vulnerability researcher and author, who co-owns a team in Austin, Texas, the ATX Pickleballers, hopes the increasing exposure does not change the spirit of the game.
She plays pickleball most days, crediting its competitive yet accessible nature as "vitally important" to her mental and physical well-being.
"It's about connection, joy and play — and the importance of play in a world where exhaustion and workaholism are status symbols," she said. "To use my own term, it's a wholehearted sport."
She hopes her investment is a chance to shape the sport's future and create an institution built on equality and fair pay for its professionals.
"Anytime there's money and control in question, you see people being their best selves and people being their worst selves," she said. "My hope is that in order to capture the spirit of pickleball, people come to the table with open hearts and open minds and collaborative spirit. Anything short of that, to me, is disrespectful to the sport."