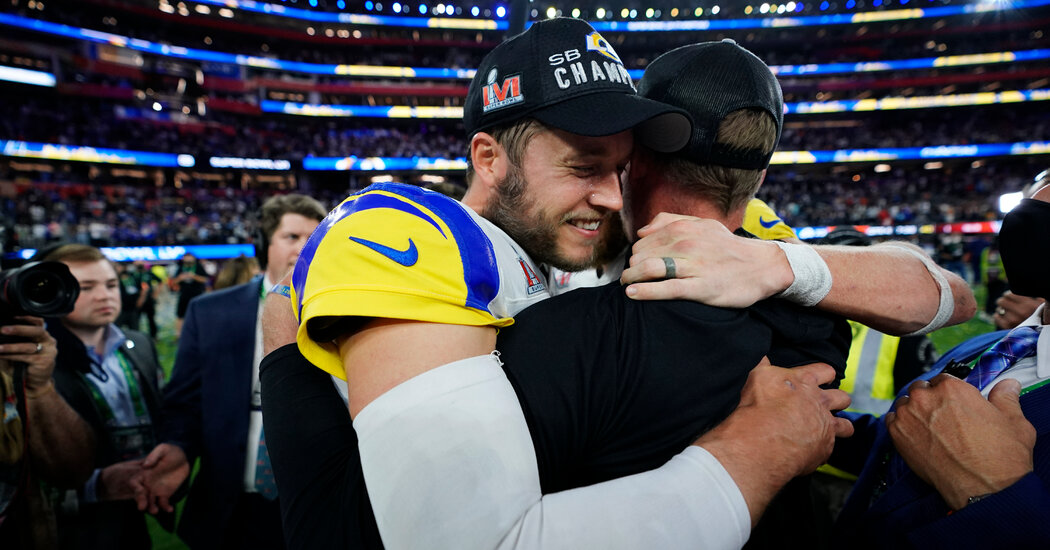 As Burrow stayed patient, guiding the Bengals on a seven-minute drive in the second quarter that was capped by an exquisite trick play — running back Joe Mixon's toss to Tee Higgins — Stafford started firing his passes high, wide or just off. One such throw caused Beckham to reach behind him, and when he did, his body moved one way and his leg, planted in the turf, went another. He rose, eventually, but did not return in the second half, felled by a knee injury.
Across his first two stops in the N.F.L., Beckham developed a reputation as a petulant but popular receiver, as well known for making absurd catches as proposing to kicking nets, appearing in a Drake video and forcing his way out of town. But in Los Angeles, he had found football nirvana and emerged as a viable second receiver, drawing coverage away from Kupp, particularly in the red zone.
With Beckham out, the Rams deployed the rookie Ben Skowronek, who dropped a sure touchdown in the N.F.C. championship game against San Francisco two weeks ago. On the team's first offensive play after halftime — after Burrow connected with Higgins on a 75-yard touchdown — Stafford's pass deflected off Skowronek's outstretched left hand and into the arms of Bengals cornerback Chidobe Awuzie for an unlucky interception.
The Bengals converted that takeaway into Evan McPherson's second field goal — a 38-yarder — that extended their lead to 20-13 with 10:15 remaining in the third quarter, and a Super Bowl win finally seemed possible.
After all those hollow years in Cincinnati, with all those dumbfounding defeats and playoff malfunctions and cursed injuries, the chant still rang out, less a greeting or a declaration than a rhetorical question: "Who dey think gonna beat dem Bengals?"
The Bengals franchise was founded in 1967, four months after the first Super Bowl, and since then they have finished last in their division for a full one-third of their existence. More than three decades passed between playoff wins until they triumphed three times in three weeks this January, each victory distancing the Bengals from all that dysfunction.
Though this season brought with it a culture-changing quarterback who inoculated the fan base from despair, there is no guarantee that the Bengals will return to the Super Bowl — not while playing in the same conference as Mahomes, Josh Allen, Justin Herbert and Lamar Jackson — anytime soon.