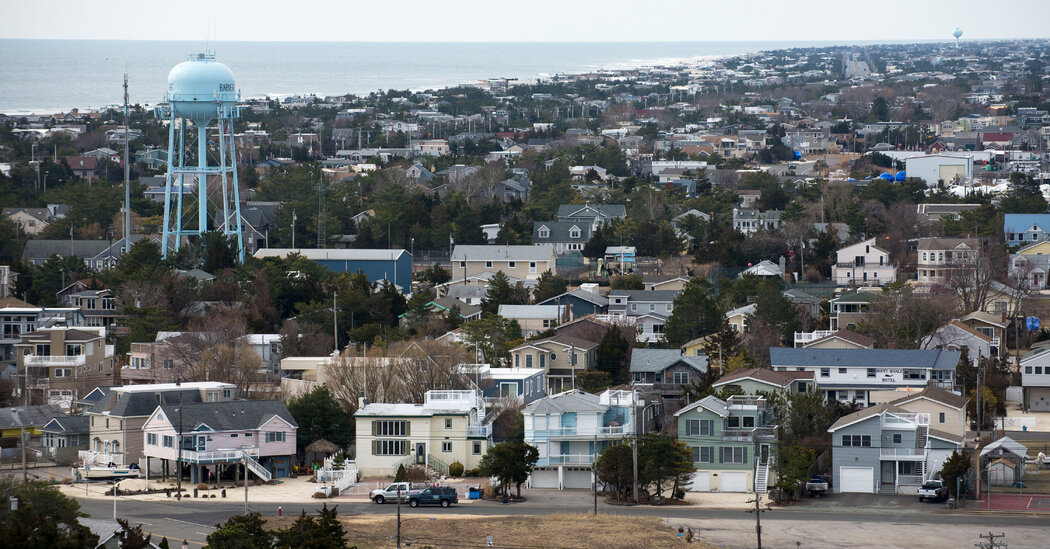 Ocean County, in central New Jersey, is a mixture of beach towns like Barnegat Light and exurban towns like Toms River and Lakewood. Household income in the county exceeds the U.S. average.
Yet Ocean County is among the least vaccinated places in the Northeast. Only 53 percent of residents have received at least two doses of a Covid-19 vaccine (or one dose of Johnson & Johnson). Only 26 percent have received a booster shot.
The large number of unvaccinated residents in Ocean County has led to a horrific amount of Covid illness and death. Nearly one out of every 200 residents has died from the virus. That is worse than the toll in Mississippi, the U.S. state with the largest amount of Covid death per capita, and worse than in any country except for Peru.
What explains the vaccine skepticism in Ocean County? Politics, above all. The county is heavily Republican. Donald Trump won it by almost 30 percentage points in 2020, and many Republicans — including those who are older than 65 and vulnerable to severe Covid illness — are skeptical of the vaccines.
This partisan divide has led to the "red Covid" phenomenon that I have described in previous newsletters. Today, I have an update.
Blue, then red
First, some background: In the pandemic's initial months, Covid cases and deaths were higher in Democratic areas, probably because they are home to several major international airports. The virus entered this country on the West Coast and in the Northeast. But it didn't stay there. By the end of Covid's first year in the U.S., the virus had swept across the country, and there was no significant partisan divide in deaths.
Only after the vaccines became widely available, in early 2021 — and liberals were much more willing to get shots than conservatives — did Covid become a disproportionately Republican illness. By the summer of 2021, the gap was soaring:
As the chart makes clear, the toll has been even worse in counties where Trump won by a landslide than in counties that he won narrowly.
This phenomenon is an example of how the country's political polarization has warped people's thinking, even when their personal safety is at stake. It is a tragedy — and a preventable one, too.
A new study by four Harvard epidemiologists estimates that 135,000 unvaccinated Americans died unnecessarily in the last six months of last year. The Texas Tribune recently profiled a young unvaccinated couple: She spent 139 days in intensive care; he asked, "Was this my fault?" They have both since been vaccinated.
Natural immunity
There is one big new development. When I last wrote about red Covid, in November, I told you that the month-to-month partisan mortality gap might be peaking, for two main reasons.
One, the availability of highly effective post-infection treatments, like Pfizer's Paxlovid, has been expanding; if they reduce deaths, the drop may be steepest where the toll is highest. Two, red America has probably built up more natural immunity to Covid — from prior infections — than blue America, given that many Democrats have tried harder to avoid getting the virus.
Sure enough, the partisan gap in Covid deaths is no longer growing as fast it had been, as you can see from the new closeness among these lines:
During the Omicron wave, deaths have risen less in red counties than in blue or purple counties. The most likely explanation seems to be that the number of Trump voters vulnerable to severe illness — which was still very large earlier last year — has declined, because more of them have built up some immunity to Covid from a previous infection.
But don't make the mistake of confusing a gap that's no longer growing as rapidly as it was with a gap that is shrinking. The gap between red and blue America — in terms of cumulative Covid deaths — is still growing. The red line in that second chart is higher than the blue line, which is a sign that more Republicans than Democrats or independents have needlessly died of Covid in recent weeks.
Another point to remember: Even in deeply blue counties, an outsize number of deaths are occurring among people who are unvaccinated or unboosted. The vaccines offer incredible protection from a deadly virus, yet many Americans have chosen to leave themselves exposed.
Related: Vaccinating and boosting more elderly people is probably the single best strategy for reducing deaths, The Atlantic's Sarah Zhang writes. One way to do so: Increase Medicare payments to doctors and hospitals that make progress.
Virus developments:
California laid out a plan to treat Covid as a manageable risk that "will remain with us for some time, if not forever."

This moment feels particularly hard for immunocompromised people. "It's like living behind a veil."
THE LATEST NEWS
Ukraine-Russia
The mood in fashion
In recent years, "a certain polite, well-behaved-ness had become a defining characteristic of New York fashion," Vanessa Friedman writes. This fashion week, which wrapped on Wednesday, welcomed a more "anarchic creative energy."
Shayne Oliver's three-day extravaganza featured loads of straps and skin. "The point was less the actual garments than the energy they generated," Friedman writes. "They were going somewhere, and not just in circles."
Other standout moments: Julia Fox opened the LaQuan Smith show — fresh from her breakup with Kanye West — in a slinky cutout dress, and the groundbreaking Black supermodels Beverly Johnson and Veronica Webb glided down the '80s-flavored Sergio Hudson runway. Telfar put on a "happening," mixing branded TV projects with fashion.
So what does the new era of New York fashion look like? Look to Eckhaus Latta, which held its show in an old downtown Manhattan building now scheduled for demolition. The show's mood was celebratory; friends and family walked the runway, and the clothes maintained "a singular crafty intelligence that avoids easy categorization." A poem was handed out: "The future is people walking down the street laughing." — Sanam Yar, a Morning writer
The pangram from yesterday's Spelling Bee was celibacy. Here is today's puzzle — or you can play online.
Here's today's Wordle. (If you're worried about your stats streak, play in the browser you've been using.)