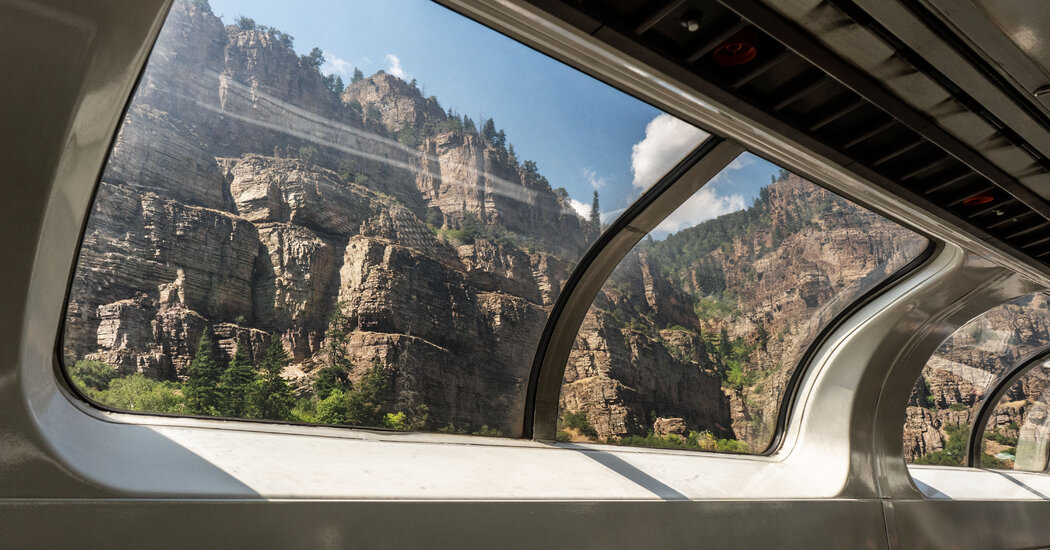 I woke up around 5 a.m. to a low but incessant rumbling. Faint hints of daylight had appeared over my fellow passengers' heads, most of which were still bent in rest. Some people yawned; others stared intently out the window at the valley. I had been aboard the train for about 40 hours, and there was still a long way to go before our scheduled arrival in the San Francisco Bay area.
Riding westbound, I walked to the back of the train to see the rising sun reflected on the tracks. We were passing through Nevada. A few minutes later we stopped in the city of Winnemucca, Nev., right in front of the Martin Hotel, which, at the end of the 19th century, catered to the Basque immigrants who'd moved there to work as shepherds.
Amtrak's California Zephyr, considered by many rail enthusiasts to be among the most scenic long-distance train routes in the United States, operates between Chicago and Emeryville, Calif., near Oakland. The entire route takes some 52 hours and includes 33 stops. In 2018, while traveling through the United States on a three-month photography project, I completed a majority of the trip, departing from Mount Pleasant, Iowa, on a sweltering mid-August day.
I boarded the train at 5:59 p.m. in the golden light of a perfectly clear day, glancing outward at the first of a long series of soy and corn fields, and small-town backyards that are so often overlooked.
At 10:55 p.m. the 12 silver carriages of the Zephyr slowed and stopped in Omaha. Connie, another passenger, got on and sat next to me. At 72, she had short gray hair, a sun-kissed face and kind eyes. It was too late to start a conversation, so we both just tried to get some sleep. (Neither of us fully succeeded.)
In the early morning, while the yellow hills of Nebraska and Colorado rolled all around us, Connie told me she'd been visiting her daughter in Omaha and would be getting off that afternoon at Glenwood Springs, Colo., to meet her husband.
Eventually I started wandering through the cars, shyly but restlessly, wanting to meet and talk to everyone. It felt like the first day of summer camp. Small groups of people were mingling here and there, exchanging a few words. Others preferred to keep to themselves in their roomettes, or sat alone in their coach seats reading or napping.
The present-day California Zephyr began service in 1983, though an earlier iteration of the train — sharing the same name, but operated privately on a slightly different route — ran between 1949 and 1970.
In the 1970s, long-distance passenger trains like the Zephyr were unreliable and unprofitable and couldn't compete with airplanes or the booming interstate highway system. But in the early '80s, the reality reversed: Air travel worsened (fares skyrocketed, carriers abandoned marginal routes, competition intensified), and some Americans turned again to their network of trains. Short-distance train travel was often cheaper and more convenient, and the routes, conveniently, began and ended in city centers. In 1979, Amtrak added new Superliners — bi-level intercity railroad passenger cars — on its Western routes, and some people rediscovered a long-lost commodity.
As Henry Kisor describes in "Zephyr: Tracking a Dream Across America," published in 1994: "The Zephyr represented a new conception of rail travel: the train as tourist cruise ship through a sea of scenery, not merely as a means of transportation from city to city."
And the train's schedule, as Mr. Kisor points out, encouraged passengers to sleep while the less exciting scenery rolled by — the Great Plains, and the arid landscapes of Utah and Nevada — and enjoy dramatic alpine views during daylight hours.
I spent most of my first full day in the observation car, also known as the Sightseer Lounge (and previously called the Vista Dome). The car's floor-to-ceiling windows offered the best possible views across the Rocky Mountains, the Colorado River Valley, the Continental Divide, the Sierra Nevada and the green forests of Northern California. The soft blue chairs grant riders a bit of privacy, but the tables for four are where most of the socializing happens. Sitting across from Connie, I made friends with nearly everyone around us.
For a majority of people I met, traveling on the California Zephyr wasn't about getting somewhere. Instead the trip was a reward — a slow and much-anticipated few days carved out of a busy lifestyle.
I met Joe, 33, and Mo, 38, a newlywed couple from England who had crossed the Atlantic on the Queen Mary II, gotten married and then boarded the California Zephyr in Chicago, planning to ride all the way to Emeryville. This was their honeymoon.
Then there were John, 33, and Emma, 27, two Amish parents from Pennsylvania who were headed to Grand Junction, Colo., for a specialist doctor's appointment. Emma was crocheting a beautiful centerpiece on what was her very first train ride.
Rose, 18, Jenna, 23, two cousins donning neck pillows, were traveling home to San Francisco.
At the very end of the train, by the back window, I met Robert, 40, and his 2-year-old daughter, Madeline, who was napping in his arms. They were on a birthday trip, along with Madeline's mother and grandmother. They had hopped on in Denver and would detrain at the end of the line.
Sitting next to Connie and me were Tyler, 10, and his grandfather, Bruce, 66. They had boarded the train in Iowa. Their plan: to tour Arches National Park and the Grand Canyon. They decided to both wear flashy T-shirts so as not to lose sight of each other.
Seated behind me was a group of florally clad Mennonites from Michigan. They were on their way to Glenwood Springs, and were talking animatedly about something they had spotted outside the window.
Aside from the observation car, the train's other social hub is the dining car. I missed breakfast the first morning, so, on my second full day, I headed straight there. An attendant was busy setting the tables. The car's booths sit four people, and all the meals are communal — meaning that, if you aren't part of a group of four, then you'll likely be seated with other passengers.
Fifty years ago, having a meal in the dining car was an elegant affair — think linen tablecloths, fine china, silverware. The waiters would dress in white jackets and blue bow ties, with long white aprons and towels over their arms. Now, they wear light blue shirts, red ties and blue aprons. The china and silverware are still there, but, based on old photographs I've seen, they look cheaper. There's no linen in sight; it's been replaced by large sheets of white paper.
Whenever I'm on a long-distance bus trip — I've traveled extensively around the United States on the Greyhound network — I get the feeling that passengers are there not because they choose to be but rather because they have to be, because the bus is either the only available or the cheapest option. (This was always true for me, anyway.)
When traveling by train, though, the atmosphere is completely different. There was a sense of community aboard the California Zephyr. After all, there aren't many places where Mennonites, a Japanese student, smiley newlyweds, parents with their kids and grandkids in tow and retirees are all bundled together for such a long period of time, sharing their life stories.
And that, as Henry Kisor wrote, is part of the appeal for long-distance train passengers — "the joy of encountering humankind in its endless variety."
Marta Giaccone is a photographer based in Tallinn, Estonia. You can follow her work on Instagram.