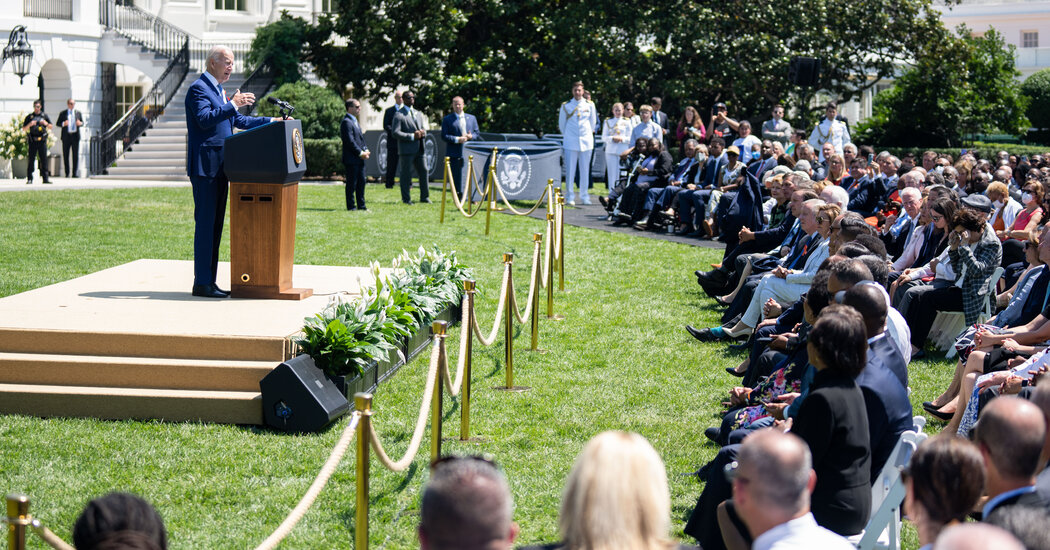 WASHINGTON — President Biden welcomed hundreds of survivors and family members of victims of mass shootings to the White House on Monday to promote newly enacted bipartisan gun legislation, an event that showcased both the president's desire to push for even more restrictive gun control measures and the political limitations that have held him back.
In a sign of the fraught nature of the debate, Mr. Biden's remarks were interrupted early on by a protester, whose words were inaudible to the White House camera feed and to reporters covering the event in person, but who appeared to be arguing that the president and Congress should take more forceful action on the issue.
"Today is many things," Mr. Biden told the crowd. "It is proof that, despite the naysayers, we can make meaningful progress on gun violence."
Immediately afterward, a man rose from his seat and began shouting at Mr. Biden. "Sit down and hear what I have to say," Mr. Biden said. The man continued for a moment, then was led away by an administration official.
Karine Jean-Pierre, the White House press secretary, identified the protester as Manuel Oliver, the father of a high school student, Joaquin Oliver, who was killed in the Parkland shooting in 2018. She said Mr. Oliver had been part of a group that met with Mr. Biden earlier in the day, before the event, which Ms. Jean-Pierre said drew 2,000 attendees.
"Our hearts go out to Manuel Oliver, who has suffered a deep, deep loss," Ms. Jean-Pierre said. "The president agrees with him. He agrees we need to do more."
White House officials said later on Monday that Ms. Jean-Pierre had misspoken, and that Mr. Oliver had met with Mr. Biden earlier this year — not on Monday.
The event, on the South Lawn, appeared to be an attempt by administration officials to portray Mr. Biden as a transformational leader on the gun violence issue, even though the bill he signed into law late last month fell far short of the president's ambitions for a legislative response to mass shootings in Uvalde, Texas, Buffalo and elsewhere.
The audience featured survivors and family members of the victims from multiple decades of mass shootings, including those at Uvalde, Buffalo, Columbine, Virginia Tech, Sandy Hook, Aurora, Colo., Tucson, Ariz., Parkland, Fla., Santa Fe, N.M. and the recent Fourth of July parade shooting in Highland Park, Ill. It also included family members of victims and survivors of what White House officials called "daily acts of gun violence that don't make national headlines."
Vice President Kamala Harris told the crowd that the legislation would not have been possible without Mr. Biden's "unwavering determination."
Ms. Harris and Mr. Biden sought to maintain a difficult balance in their remarks. They promised that the newly signed law — which was the product of intense negotiation and compromise with Republicans in the Senate — would save lives, and that it might have helped to stop recent shootings if it had been in place a year ago. But they also said that it did not go far enough.
The law, which broke a three-decade logjam on the passage of gun measures in Washington, includes expanded background checks for people younger than 21 who seek to buy guns and allocates millions of dollars for government mental health efforts and implementation of the so-called red flag laws that give officials the ability to temporarily confiscate guns from people deemed dangerous by a judge. It also toughens gun trafficking laws and closes what is known as the boyfriend loophole in a ban on firearm purchases by domestic abusers.
"It matters," Mr. Biden said. "It matters. But it's not enough, we all know that."
Mr. Biden used his remarks to renew his call for a new ban on assault weapons; a previous ban, which Mr. Biden helped enact as a senator in 1994, expired after 10 years. Other speakers echoed his words.
"I invite everyone to move forward from this start of the change that will allow us to make it to the end of our fight, which is a world where the safety of schools is never doubted and weapons of war are not allowed in our communities," Dr. Roy Guerrero, a pediatrician in Uvalde, said in introducing Ms. Harris.
But the ranks of the crowd underscored how difficult it would be for Mr. Biden to follow through on his pledge and enact any additional gun measures. Though about 80 members of Congress joined the event, only two were Republicans: Sen. John Cornyn of Texas, who helped lead the negotiations on the bipartisan bill, and Representative Tony Gonzales, whose district includes Uvalde. Many other Republicans have criticized the bipartisan bill as going too far in restricting gun-owners' rights.
Mr. Biden offered no plans on Monday to win Republican converts in order to pass a new gun bill through the Senate, or to persuade holdout Democratic senators to lift the filibuster and pass such a bill by a simple majority vote. At a time when activists have criticized him for not leading more forcefully on guns, abortion, climate change and more, the president closed his speech by reeling off statistics about people, particularly children, killed every year by gun violence.
"We can't just stand by," he said. "We can't let it happen any longer."