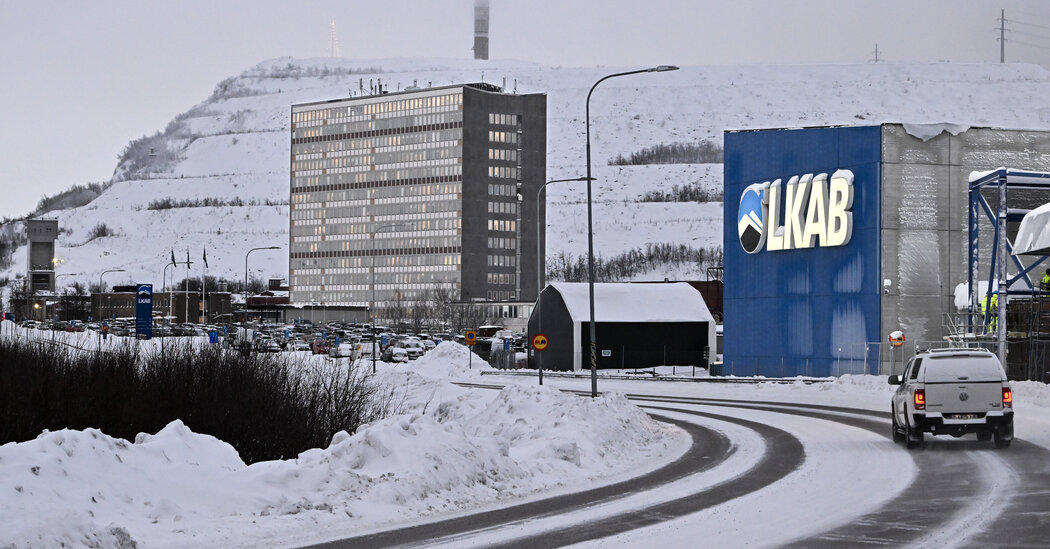 A Swedish mining company said this week that it had found Europe's largest known deposit of coveted rare earth metals, critical to many green technologies including electric vehicles, in a far northern part of the country within the Arctic Circle.
The world's production of rare earths is dominated by China. The discovery by LKAB, a state-owned company, creates the prospect that Europe could over time develop a domestic source of these minerals.
"This is good news, not only for LKAB, the region and the Swedish people, but also for Europe and the climate," Jan Mostrom, the company's chief executive, said in a statement.
Finding the deposit, estimated by LKAB at more than a million tons, is one thing, and extracting the metals is another. LKAB said it could take 10 to 15 years or more before the metals were delivered to market because of the lengthy environmental studies and other work required to open a mining facility in Europe.
Rare earths, a group of 17 elements, are crucial to cutting-edge technologies used for electric vehicles and wind turbine generators. As more of these items are manufactured to tackle climate change and for other purposes, demand for the metals is soaring.
China has a strong hold on the global rare earth industry not only in mining but also in the complex processing of the minerals, which produces radioactive contaminants. Russia is also a leader in extracting the metals.
With heavy investment going into the electrification of the economy in order to reduce greenhouse gas emissions, both Europe and the United States are looking to develop their own sources of rare earths. The worry is that China's dominant position gives Beijing leverage over pricing of the metals as well as the potential to restrict supplies to rivals. In 2010, China halted exports of rare earths to Japan for two months over a fishing dispute.
LKAB's find, near Kiruna, Sweden's northernmost city, indeed appeared to be of significant size, said Ross Embleton, an analyst at Wood Mackenzie, a consulting firm. But he added that unless European permitting procedures could be shortened in a way that was acceptable to responsible investors, the lode was unlikely to make a big difference to the global supply picture anytime soon.
"With European rare earth assets, the development schedules are really hindered by this permitting process," he said.
There is no large-scale mining of rare earths in the European Union, partly because of the difficulty of creating new mines and facilities to refine the metal ores.
Nonetheless, LKAB executives are pursuing a careful process intended to, over time, provide Northern Europe both the ability to extract rare earths and to process them.
"We want to have the whole value chain," David Hognelid, LKAB's chief strategy officer, said in an interview. LKAB estimates that the discovery could "meet a large part of the E.U.'s future demand" for the metals.
To help meet that goal, LKAB recently became the largest shareholder in a Norwegian company, REEtec, that specializes in separating out the rare earths, like neodymium, which is used to make powerful magnets. The plan would be to have REEtec, whose technology is said to be more environmentally friendly than older processes, eventually build a plant in Sweden.
But before that, Mr. Hognelid said, LKAB must further assess the resources. In northern Sweden, the rare earths are found in iron ore deposits. LKAB already has a large iron ore mine near Kiruna that has rare earths in quantities that are less concentrated than in the new find. The company said it was preparing to build a tunnel several miles long from the iron ore mine into the new rare earths deposit, known as Per Geijer, to further assess the resources there.
The economy in Kiruna has relied on mining for more than a century, but new extraction activity will need to be balanced with other interests including preserving areas of natural beauty and safeguarding reindeer herding in the region by the Sami people, Mr. Hognelid said.
"The use of the land will always come with different interests that we will have to manage," he said.
Deposits of rare earths on Greenland, which is legally an autonomous part of Denmark, have attracted extensive interest from the mining industry, though a Chinese company has been blocked from opening a mine on the island because of contamination fears.
LKAB hopes the growing demand for the metals and the imperative of developing domestic sources for them in Europe will help clear the way for the new mine. "Without mines, there can be no electric vehicles," Mr. Mostrom said.