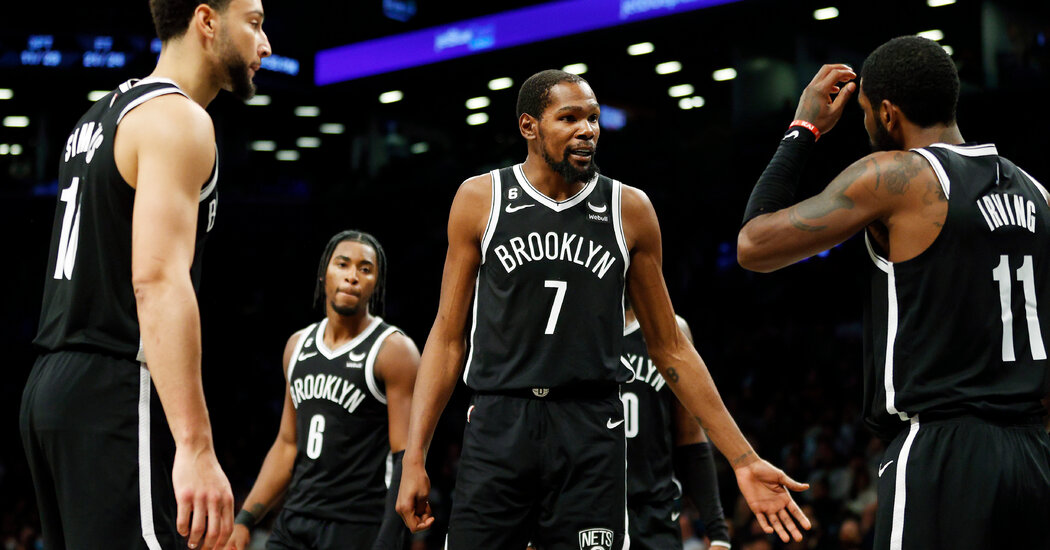 I watched the Nets play in Brooklyn last week, and a Boston Celtics home game broke out.
"M-V-P, M-V-P, M-V-P!" rang the chants, aimed not at one of the Nets but at Jayson Tatum, Boston's feather-touch, do-it-all forward, as he toed the free-throw line in the fourth quarter of what became a runaway victory for his team.
This was one of the most significant rivalry tests of the N.B.A. season, a battle between two teams vying for the best record in the Eastern Conference. It was also the first of a spate of games the Nets would play without Kevin Durant. The team's best player, and the core of the offense, Durant sprained his left knee earlier in the week and stands to spend at least two weeks recovering.
In other words, it was the type of game that reveals a team's DNA.
With much in the balance, the Nets mounted only a tepid response, fading late and losing, 109-98. That may be why the fans at Barclays Center seemed muted, why they allowed a rival like Boston to roll into town and treat the arena like a personal penthouse. The team rolled over for the Oklahoma City Thunder at home Sunday night, dropping back to four games behind the Celtics in the East.
High hopes have stuck to this Nets team since the summer of 2019, when Kyrie Irving signed on to be the franchise's floor general and promised to persuade Durant, the 2014 league M.V.P., to join him. Both stars had won N.B.A. championships in the not-so-distant past. It stood to reason that Brooklyn would become a perennial contender.
The Nets are again an elite team this season. When they are clicking, as they were in December, they are capable of winning a dozen straight games on the strength of hot shooting and stern defense.
So why isn't it more joyful and exciting to watch them?
Brooklyn is the N.B.A.'s most enigmatic team — awkward to root for, understand, figure out and believe in. Over the past several seasons and into the current one, the high hopes for what the Nets could become have consistently been dashed by soap opera controversies.
"If you love the Nets, you have to focus on the skill of the players," one fan told me during the game. "It's all about the skills of this team. That's why you watch. Because their big stars all have, how do I say this, well, they have some baggage."
For the uninitiated, here's a quick rundown of the plot twists.
Steve Nash was hired as head coach in 2020 despite having no coaching experience. His first year went well enough: The Nets were a Durant 3-pointer away from making the Eastern Conference finals.
The promise of this team never quite outpaces the spectacle. The 2018 league M.V.P., James Harden, arrived in 2021 thinking he would complement Durant and Irving perfectly. Break out the Champagne, N.B.A. titles here we come.
But Harden beefed with Irving, partly because Irving — who seems to have never met a conspiracy theory he didn't want to bear hug — refused to get vaccinated for the coronavirus as the pandemic raged. That meant Irving couldn't play home games during a period when New York demanded immunization as a prerequisite for work.
So the Nets shipped Harden to Philadelphia midway through last season. "There was no structure" in Brooklyn, Harden said, offering a parting shot. "And even superstars, they need structure."
He continued pulling back the curtain. "Internally, things weren't what I expected when I was trying to get traded there," he said.
In trading for Harden, the Nets received Ben Simmons, a player talented enough to have once been viewed as Magic Johnson Lite.
Problem is, Simmons arrived in Brooklyn so saddled by injury and self-doubt that he had become allergic to one of basketball's most essential and elementary skills: shooting the basketball.
Nash's team stumbled through last season, dogged by injuries, a teamwide Covid outbreak and, yes, more drama, only to be swept ignobly by the Celtics in the first round of the playoffs. Durant peppered the team with a demand: Fire Nash, or trade me. (He later relented.)
When the Nets began this season losing five of their first seven games, Nash was let go.
I haven't even detailed Irving's self-inflicted wounds. They're enough to fill a book. To keep from dragging on, I'll say that this season could have been a redemption tour until he started it by publicly backing a holocaust-denying documentary that blamed Jews for many of the world's woes.
No, the Nets don't leave you with the warm and fuzzies — not in the way, for example, that Golden State, fronted by Stephen Curry, or the Denver Nuggets, led by Nikola Jokic, do. But the Nets' stars remain popular, at least by one nonscientific measure. Durant and Irving are among the league's vote leaders for this year's All-Star Game.
"It's all about the skills" seems to have become a necessary mantra for the many fans willing to look past all of this team's travails.
What will the Nets' future be? How can anyone be sure when, despite all that skill, the team remains such a work in progress?
Simmons is 26, still capable of becoming the superstar he was billed as when he was drafted No. 1 overall in 2016. He put up quite a stat line against Boston: 13 assists and nine rebounds, the type of play vital to Brooklyn with Durant out.
But there were times when Simmons was near the basket and attempted awkward layups. Clang. He tried again. Clank.
All game, Simmons did not score a single point. As he sat on the bench in the fourth quarter, the Nets already having given in, Celtics fans filled Barclays Center with their loudest roars.
In the news conference after the game, I asked him: What is this team's identity?
I wanted to know if the Nets had a trademark trait they could rely on, something not only excellent but sustainable in the crunch. All championship teams contain such a quality; if you ask me, all deeply embraceable teams do, too.
Simmons leaned back, shook his head as if bewildered and paused for a beat.
"We are still trying to give ourselves an identity," he said. "So maybe at the end of the year, I will give you that answer."
Basketball fans have been waiting long enough.