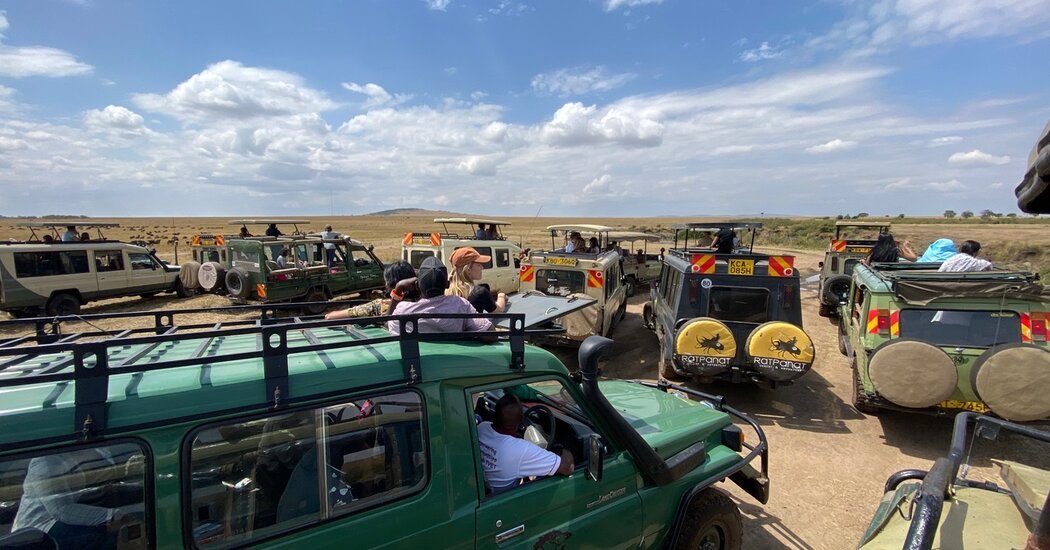 The video surfaced online around October. Filmed from a distance, it shows an antelope grazing on the African plain. Suddenly, two cheetahs race toward it and the antelope takes off, running toward the camera. But the cats are too fast. They converge on it and bring it down. They begin to feed.
Almost at that exact moment, a second drama unfolds: The safari vehicles that have been parked in the background begin to move. One dark-colored 4×4 hits the gas and begins driving closer to the animals. Then vehicle after vehicle is on the move — green, brown white, in various states of repair. You can hear the voices of the guides within yelling at one another. Some start to honk their horns. The vehicles form a circle, jockeying for position as their passengers hold up cellphones to record the cheetahs and their meal.
A woman's voice can be heard in the background. "Are they stupid?" she asks.
The video was filmed in the Masai Mara National Reserve in Kenya, home to many of the Big Five animals (lions, leopards, elephants, buffalo and rhinoceroses) that safari participants tick off their lists. The identity of the video's creator remains unknown, as does the date it was shot.
It was originally shared by a Twitter account using the name @DrumChronicles and has been viewed more than 175,000 times since it appeared. Guides and conservationists who have seen it said the video underscored a problem many of them have observed since the Kenyan government began lifting most pandemic-related travel restrictions: safari vehicles packed with cellphone-wielding tourists led by guides who are willing to get too close to the animals.
Overcrowding at popular safari spots was a serious issue before the pandemic, but as tourists have returned to Kenya, the problem has come back with alarming speed and "appears to be heightened by pent-up travel demand," said Judy Kepher-Gona, director of the Sustainable Travel and Tourism Agenda, an organization based in Kenya that has called for stricter monitoring in the reserve.
"Sadly, what is seen in this video is the rule and not the exception in Masai Mara reserve," she said.
In February, a Toyota Land Cruiser carrying tourists got so close to a family of cheetahs, the vehicle nearly ran over one of the cubs.
In August, Simon Espley, the chief executive of Africa Geographic, a travel and conservation company, watched in horror as 60 vehicles idled on both sides of the Mara River, which runs through the reserve, mere feet from where hundreds of wildebeests and zebras were slowly amassing at a crossing point during their migration in the Masai Mara.
When the hooves hit the water, there was a "crazy, chaotic rush as hundreds of tons of steel lunged forward with screaming engines" from the 4x4s that maneuvered to get closer to the herds, Mr. Espley said.
"It was surreal and sickening as we all converged on what is only a few hundred meters of riverbank, jostled for position and somehow avoided collisions," he said.
Mr. Espley, whose company had organized the safari trip for a group of photographers, said he felt "regret and unease" about being part of that crowd. "Everyone in our safari vehicle did," he said. The travelers asked their guide, a local Masai, to drive them away immediately.
"He was happy to oblige," Mr. Espley said.
The problem, which conservationists describe as "aggressive tourism," preceded the pandemic, but it appears to have gotten worse, with guests hungry for Instagram moments and tour companies trying to make up for the losses they suffered when the world shut down.
"Personally I won't go into the Mara Reserve ever again in season because of this," said Michael Lorentz, a safari guide based in Cape Town who leads tours in Kenya. "It actually upsets me so much, and it upsets my guests to see how badly animals are being treated."
An urge to get too close
The human desire to get close to animals, however dangerous, is innate, said Prof. Philip Tedeschi, the founder of the Institute for Human-Animal Connection at the University of Denver, who frequently visits Kenya with his students.
"It's part of our DNA to pay special attention to living systems," he said.
Last summer, a small boat in Plymouth, Mass., came so close to a humpback that it almost capsized when the whale leapt out of the water and landed on its bow.
In May, a 25-year-old woman who approached a bison in Yellowstone National Park was gored and tossed 10 feet into the air. She survived, park officials said in a statement that warned visitors to stay at least 25 yards from the animals.
The behavior may be misguided and dangerous, Mr. Tedeschi said, but it is also an attempt to have a "peak experience," a term coined by the psychologist Abraham Maslow that describes a euphoric state of mind that comes from witnessing or participating in a moment so intense it changes the neurochemistry of the brain.
And it can lead us to put a premium on being far too close to animals — "literally being able to look over the shoulder of the animal as it kills its prey" — while forgetting that animals are sentient beings whose behavior is altered by our presence, he said.
The consequences for animals can be devastating, Mr. Tedeschi said.
In Kenya, cheetahs — the fastest of the big cats, but also among the most timid — can easily be scared off a hard-won kill even if they have gone days without eating. Vehicles that get too close can reveal a cheetah's position to prey or other predators, adding another challenge for animals that are already struggling to find food because of drought and habitat loss.
Large numbers of vehicles and tourists in the roughly 580-square-mile Masai Mara are also threatening the annual journey of mammals known as the Great Migration, when more than one million wildebeests, along with zebras and gazelles, move through the reserve in July and August, the peak travel months for Kenya.
The Great Migration was already being threatened by other types of human behavior, including urban development, new settlements and fencing for farms.
Tourists clamoring for front-row seats are adding pressure on the animals, who could respond by traveling in smaller numbers or deviating from their established routes to avoid the crush of vehicles and tourists, said Benson Gitau, a Kenyan guide.
Searching for a better way
Tourism is critical to many African economies. By 2030, travel to the continent is projected to generate more than $260 billion annually. In Kenya, before the pandemic, tourism accounted for nearly 10 percent of the gross domestic product, according to the Ministry of Tourism and Wildlife.
In 2019, more than two million people visited Kenya, a number that was expected to grow by more than 7 percent in 2020, the tourism ministry said. But then the pandemic hit, forcing hotels and restaurants to close and more than 80 percent of companies in the country's tourism sector to lay off workers. And those who did not lose their jobs often had to cope with pay cuts of up to 70 percent, the ministry said.
During the height of the pandemic, many guides lost their jobs and had to use their vehicles as taxis or to deliver groceries, said Mr. Gitau, the Kenyan guide, who works in the Loisaba Conservancy, a 57,000-acre wildlife reserve north of Nairobi.
Visitors have returned steadily, though in smaller numbers. By the spring of 2022, international tourist arrivals in Africa had more than doubled compared with 2021. In October, Najib Balala, then Kenya's tourism secretary, projected 1.4 million to 1.5 million visitors to the country by the end of 2022, compared with 870,000 in 2021.
But as the country welcomed back visitors, leaders began rethinking how to manage tourism in its reserves and parks.
In May, Mr. Balala's office released a 130-page report that called for a "new tourism strategy." Among its proposals: increasing prices for the Masai Mara in July and August (it currently costs up to $80 for nonresident adults to visit the park) and restricting development of new lodging in the country's national parks to 30 beds.
There are dozens of camps and lodges in the reserve and the protected areas that neighbor it, according to Masai Mara Travel, a tour company in Kenya. Some camps and lodges in the reserve have up to 200 beds, Mr. Gitau said.
But conservationists and guides on the ground say few, if any, of the measures proposed by the ministry have been enacted.
The Ministry of Tourism and Wildlife, which came under new leadership in October, did not respond to repeated messages for comment. The Kenya Wildlife Service, a state corporation charged with managing and conserving the country's wildlife, declined to comment.
Zebra Plains, one of the tour operators whose vehicles can be seen in the video, did not respond to requests for comment. The video was posted in November on Zebra Plains' Facebook page by a user complaining about the drivers' conduct.
"Whilst our photographic guests usually have off road permits that does not excuse driving between other vehicles and the sighting," the company responded in the comments. "This will be taken up with the guides concerned."
With the Masai Mara increasingly under pressure from tourists, conservationists have been pushing for the "conservancy" model, in which private parcels of land owned by local communities, such as the Masai, are leased to tour companies. They agree to hire community members as guides, camp managers, kitchen staff and housekeepers and to follow rules that include caps on the number of lodges and camps and limits on the number of tourist vehicles. The largest camp in Loisaba Conservancy, for example, fits 20 to 30 tourists, Mr. Gitau said.
Since 2013, when the Maasai Mara Wildlife Conservancies Association was established, about 350,000 acres of wilderness bordering the Masai Mara reserve have come under this type of private-public partnership.
Research shows wildlife fares better where tourism is more controlled. For example, female cheetahs in the Masai Mara reserve raised far fewer cubs than cheetahs in the conservancies, according to a 2018 report in the scientific journal Ecology and Evolution.
Staying in the conservancies instead of the Masai Mara is more expensive — at least $1,200 a night versus a few hundred, said Ashish Sanghrajka, president of Big Five Tours & Expeditions, a Florida-based tour company that organizes trips in the conservancies.
The answer to limiting the number of tourists in the Masai Mara may lie in raising park prices, he said.
"It should be expensive," said Mr. Sanghrajka, who was born in Kenya. "It's supposed to be a privilege. It's not supposed to be a right."
At the same time, a healthy tourism industry is critical to conservation efforts in a region of the world with some of the most endangered species, including black rhinos. Tourism offers local communities an incentive to protect wildlife, and with few other industries offering well-paying jobs, many Kenyans depend on tourism as a lifeline out of poverty.
The goal should be to improve enforcement and monitoring in the Masai Mara reserve, not to discourage travel, Ms. Kepher-Gona said.
To that end, visitors have tremendous power, she said. They can make sure tour companies have guides licensed by the Kenya Professional Safari Guide Association and ask tour companies for their codes of ethics and if the guides keep their distance from animals to avoid disturbing them.
Mr. Gitau said that as a rule, a trained guide will come no closer than 20 to 30 meters to a hunt. "When you arrive there, you have to switch off your engine, keep quiet and enjoy the scene," he said.
Tourists can also act more responsibly by tempering their expectations, Mr. Gitau said. When he picks up guests, he said, he always asks them what they want to see. Often they say they want to see "a kill."
Mr. Gitau said he tells them he will do his best to give them a memorable experience. But he always adds this reminder: "Nature is full of surprises. Whatever happens, just know that it was meant to happen."
Follow New York Times Travel on Instagram, Twitter and Facebook. And sign up for our weekly Travel Dispatch newsletter to receive expert tips on traveling smarter and inspiration for your next vacation. Dreaming up a future getaway or just armchair traveling? Check out our 52 Places for a Changed World for 2022.
Susan C. Beachy contributed research.