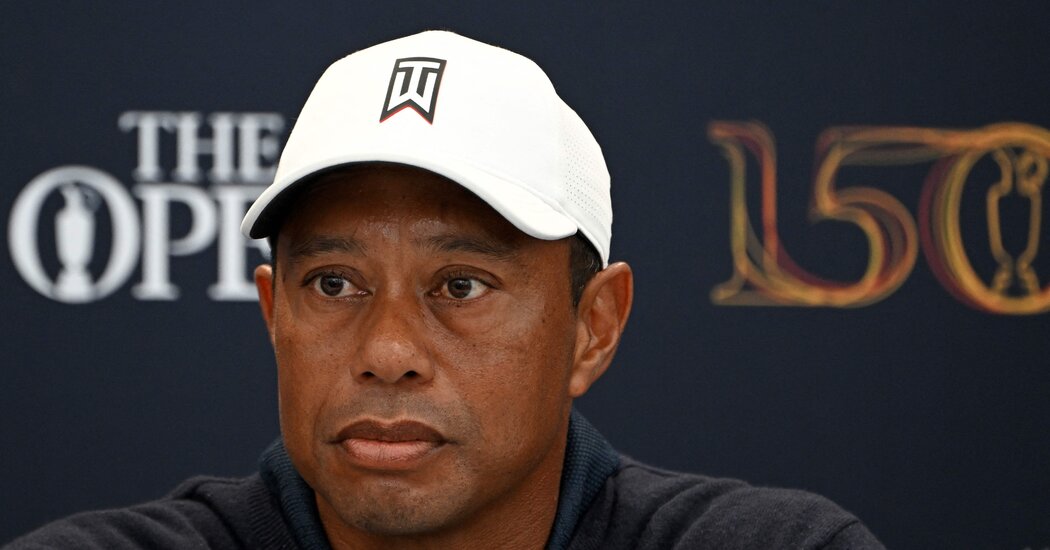 ST. ANDREWS, Scotland — Tiger Woods, having returned to his sport's most ancient ground on Tuesday, at first tried succinct bluntness. Fittingly, he soon enough reached for history. Then, at last, as the winds off the North Sea thumped and thrashed outside, he deployed sustained, searing disgust.
The subject, as it so often is around golf tournaments these days, was LIV Golf, the insurgent invitational series flush with Saudi Arabian money and swaggering defiance. And Woods, nearing the start of what he said could be his final British Open at St. Andrews, issued his fiercest, most extensive condemnation yet: an unqualified, multipart rebuke of the defectors who, he suggested, are becoming even more fabulously wealthy by way of shortcuts and ill-considered strategies.
"What these players are doing for guaranteed money, what is the incentive to practice?" Woods asked at the Old Course. "What is the incentive to go out there and earn it in the dirt? You're just getting paid a lot of money up front and playing a few events and playing 54 holes."
Not quite willing to abandon the jab so soon, he almost immediately added, "I can understand 54 holes is almost like a mandate when you get to the Senior Tour — the guys are a little bit older and a little more banged up — but when you're at this young age, and some of these kids, they really are kids who have gone from amateur golf into that organization, 72-hole tests are a part of it."
Just such a test will start on Thursday, when the Open is scheduled to begin. But Woods has won two Opens on the Old Course, and, approaching 17 months after the car wreck that nearly claimed his right leg, his appearance this week is already possessing the air of an informal valedictory at St. Andrews.
If it ultimately proves that — it could be years before the answer is known — Woods will have used part of his last major at the Old Course, his favorite in the world, to defend an order that has gone decades without significant threat.
LIV Golf has already used its treasure, sourced in large measure from Saudi Arabia's sovereign wealth fund, to lure some of the world's most prominent players, including Sergio Garcia, Dustin Johnson, Brooks Koepka, Phil Mickelson and Patrick Reed. Although the Justice Department is examining whether the PGA Tour's efforts to maintain discipline in its ranks have violated antitrust laws, the consequences for LIV Golf players and their supporters are mounting nevertheless.
The tour has punished players, the qualifying criteria for top tournaments could eventually shift and Greg Norman, the major-champion-turned-LIV-chief-executive, was effectively banished for now from the Open, a competition he won twice.
Although Woods did not criticize current players by name, even as he complained that they had "turned their back on what has allowed them to get to this position," he pointedly said he did not object to the exile that Norman, barred from even a Tuesday dinner of past Open champions, has protested as "petty."
"Greg has done some things that I don't think is in the best interest of our game, and we're coming back to probably the most historic and traditional place in our sport," Woods said on Tuesday. "I believe it's the right thing."
Rory McIlroy, another Open winner, also said Tuesday that he agreed with the decision by the R&A, the Open's organizer.
"I could see a day where he's certainly welcome back," McIlroy said. "But right now, just with everything going on, we want the focus to be on the 150th Open championship and this being a celebration of a wonderful golf tournament and a wonderful game in general, and I think it was the right decision for that."
For Woods, another run at St. Andrews became a principal goal after the crash that, for a time, had him hoping just to walk. The Open will be his third major since the crash; he finished 47th at the Masters Tournament in April, and he withdrew from May's P.G.A. Championship after the third round. He skipped the U.S. Open in June to prepare for the trip to Scotland, where the terrain is more forgiving and where he has built a proud record since 1995, when he first played the Open.
"The biggest challenge is, I'm not playing tournament golf to get tournament ready for the majors," he said on Tuesday. "I'm not hitting shots in tournaments to know what works and what doesn't work."
He has played several dozen holes at St. Andrews these last few days, including nine on Tuesday, when the winds were fierce enough that Woods turned to a 6-iron from 120 yards on No. 10.
He has long reveled in the quirks and menaces of St. Andrews, where tides and winds do much to determine the difficulty of any given moment. Now, he knows there may be few chances after he tees off on Thursday at 9:59 a.m. Eastern.
"I'm not going to play a full schedule ever again," he said. "My body just won't allow me to do that. I don't know how many Open championships I have left here at St. Andrews, but I wanted this one. It started here for me in '95, and if it ends here in '22, it does. If it doesn't, it doesn't. If I get the chance to play one more, it would be great, but there's no guarantee."
Simply navigating Swilcan Bridge, the St. Andrews landmark where Jack Nicklaus bade farewell to professional play, is already more challenging.
"Honestly, now I've got to be a little more careful with spikes on, on that bridge," said Woods, whose office includes a picture from a 1995 visit to the bridge during his first practice round at St. Andrews. "I don't quite have the agility that I used to. I almost ate it today."