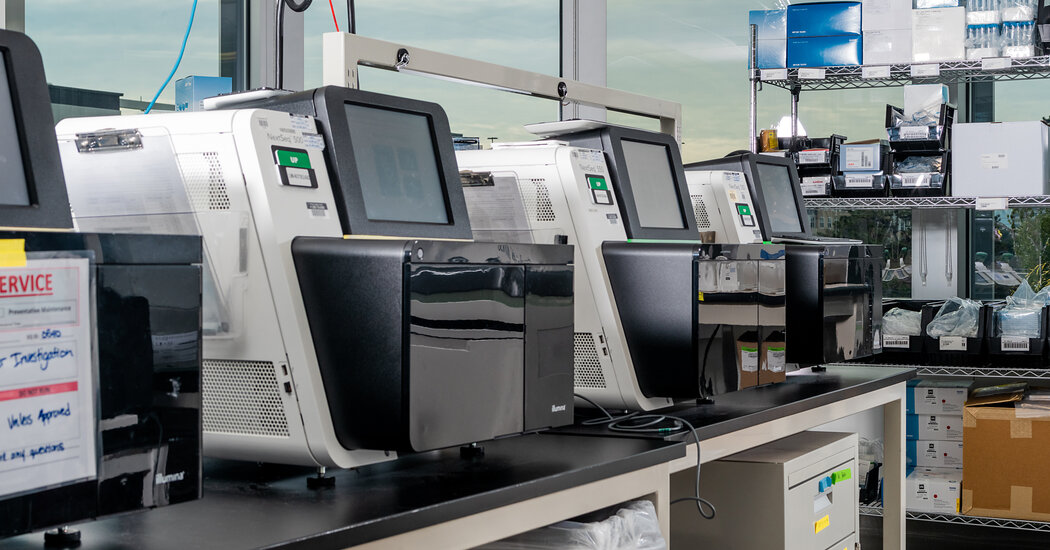 Illumina, the leading maker of gene-sequencing machines, is tiny compared with the tech giants of Silicon Valley. But like Google and Facebook, Illumina now finds itself in the cross hairs of antitrust enforcers in the United States and Europe.
The company bought Grail, a promising start-up in a related business that does not really exist yet. Grail developed a blood test for the early detection of dozens of kinds of cancer. It is the early leader in this technology, but many other companies are developing products for what one day could be a huge global market for medical technology. All of them rely on Illumina's gene sequencers.
Illumina announced its acquisition plan in September 2020. Six months later, the Federal Trade Commission filed a complaint to block the deal, saying Illumina would have the gatekeeper power and the financial incentive to throttle Grail's rivals. A few months later, the European Commission began investigating the deal as well.
Last August, Illumina went ahead and completed its $8 billion purchase of Grail, defying regulators. No side is backing down, in a battle waged mostly with legal briefs so far.
The Illumina case offers insights into the new thinking in antitrust that says the government should move quickly and forcefully to stop bigger companies from buying fledgling innovators. But it also shows the challenge modern trustbusters will face in persuading courts to embrace their pre-emptive strike policy.
Illumina took an unusually aggressive step when it closed the Grail deal before investigations were finished and courts had ruled. If Illumina loses, the remedy will be to unwind the acquisition. It is the same solution the F.T.C. is seeking in its case against Facebook, now a subsidiary of Meta. The government wants the company to divest Instagram and WhatsApp, claiming it bought them in 2012 and 2014 to take out incipient competitors.
Illumina's antitrust fight is being closely watched. Cases that set precedents and shape judicial thinking often do not involve the corporate behemoths of their day. The landmark Supreme Court ruling in Lorain Journal v. United States in 1951, for example, centered on the anticompetitive behavior of a small newspaper in Ohio.
"Smaller cases can make big law, and this could be one of those cases," said Andrew I. Gavil, a law professor at Howard University.
Not long ago, Illumina's plan to acquire Grail would most likely have sailed through an antitrust review. Grail uses Illumina's gene-sequencing technology, but it is in a different market. In traditional antitrust terms, the Illumina-Grail deal is a vertical merger as opposed to a horizontal merger, which involves combining two companies in the same business.
Vertical combinations have been regarded as generally beneficial, often lowering prices as the buyer brings more investment and stronger competition into the market it enters.
But in the last few years, there has been a rethinking of antitrust. A progressive school of legal scholars and antitrust experts argues that enforcement has been too lax, too slow, too backward looking — in curbing growing market power not just of the internet giants but across the economy.
Two leading members of the progressive camp are now in charge of antitrust enforcement in America: Lina Khan, chair of the Federal Trade Commission, and Jonathan Kanter, head of the Justice Department's antitrust division.
New merger rules are at the top of their agenda. Last month, they jointly announced a review of the agencies' merger guidelines and specifically cited the horizontal and vertical definitions as ripe for reconsideration. "Often transactions don't neatly fit into either of those categories," Mr. Kanter said.
The Illumina-Grail merger is a test case for the new approach. The F.T.C. sued Illumina three months before Ms. Khan took over.
"But this is clearly the kind of case she and her policy cohort say the government should be more aggressive in bringing," said William Kovacic, a former chair of the F.T.C. and a professor at George Washington University.
Illumina, which is based in San Diego, and the government are at odds on most points. But they agree that the market for blood tests that screen for multiple cancers should eventually be huge — as much as $50 billion by 2035, according to industry forecasts.
Grail introduced its blood test in June and says it can detect more than 50 cancers. A physician must prescribe it, and the $950 test is not yet covered by insurance.
Several other companies are developing early-detection blood tests, though Grail screens for more cancer types. The aspiring competitors include Exact Sciences, Guardant Health, Natera, Freenome, Singlera Genomics and Harbinger Health. They also depend on Illumina, which holds about 80 percent of the gene-sequencing market today. In its most recent quarter, Illumina's revenue increased 26 percent to $1.2 billion, the company reported on Thursday.
In Illumina, the F.T.C. sees a monopolist poised to thwart competition in a nascent market. In its complaint opposing the merger, the agency asserts that "Illumina will control the fate of every potential rival to Grail for the foreseeable future."
The European Commission is investigating the deal under a recently revised rule designed to block "killer acquisitions," when the target company is a fledgling innovator with minuscule sales but "high competitive potential."
Illumina disputes the claims and is fighting regulators on both sides of the Atlantic. In the United States, the case is now before an F.T.C. administrative judge. The F.T.C. almost always wins on its home court. If Illumina loses before the commission, it plans to challenge the ruling in a federal appeals court. In Europe, Illumina is contesting, among other things, the commission's jurisdiction, since Grail has no sales in Europe.
New Developments in Cancer Research
---
Card 1 of 6
Progress in the field. In recent years, advancements in research have changed the way cancer is treated. Here are some recent updates:
Illumina is betting on the courts and their history of pro-defendant rulings. In its reply to the F.T.C. complaint, Illumina observed that the commission and Justice Department "have not successfully enjoined a vertical merger in over 40 years." It added, "There is a reason for that track record."
Illumina has an energetic salesman for the deal in its 51-year-old chief executive, Francis deSouza. He has spoken to regulators, investors and members of Congress. Some conversations have been on video calls, but many were in person, including trips to Brussels, Washington and New York, with meetings stacked up and rapid Covid tests in between.
"The stakes are high here," Mr. deSouza said. "We think this technology can be life-changing."
Illumina, he said, has the financial resources and expertise to accelerate the development and adoption of Grail's blood test. Illumina sells in 140 countries and has expert teams in medical regulations and reimbursement.
Hastening Grail's use, Illumina argues, could save thousands of lives from the early-stage detection of cancers like pancreatic, head and neck and ovarian, which are often diagnosed when the cancer is advanced and mortality rates are higher.
Grail began inside Illumina. In 2013, Dr. Meredith Halks-Miller, a pathologist, was examining prenatal blood tests for abnormalities. She detected fragments of DNA that were cancer signals in the blood of some mothers. Eventually, further tests confirmed the discovery.
In 2016, Illumina spun out Grail as a cancer-test development start-up. It raised $1.9 billion from investors, including Jeff Bezos and Bill Gates. Grail was preparing to go public in 2020. Then Illumina came in, offering more than Grail was likely to raise in a public offering.
Illumina has pledged that any Grail rivals will get the same access and pricing for its sequencing as other customers. Sequencing prices — $600 a genome today, down from $150,000 in 2007 — will continue to fall, the company promises.
Gene sequencing, Mr. deSouza said, is the company's core business and will remain so. He points to prenatal blood testing, where Illumina has a business but makes eight times as much selling sequencers to other companies in that market as it does on its own tests.
The F.T.C. is unconvinced. In the future, the market for multiple-cancer blood tests will become so large that Illumina, the commission said, will have "the incentive to kill or disable" emerging rivals to Grail.
For Grail, early clinical studies have been encouraging.
Dr. Tomasz Beer, deputy director of the Oregon Health and Science University's Knight Cancer Institute, led a study of more than 6,600 adults 50 and older who had no current diagnoses of cancer at the start of the research. The Grail test accurately detected 29 cancers, without high false-positive rates. Once it detected cancer, the Grail test found the affected organ 96 percent of the time.
"Where this field is going to shake out is hard to know," Dr. Beer said. "But this approach has a lot of underlying scientific promise."