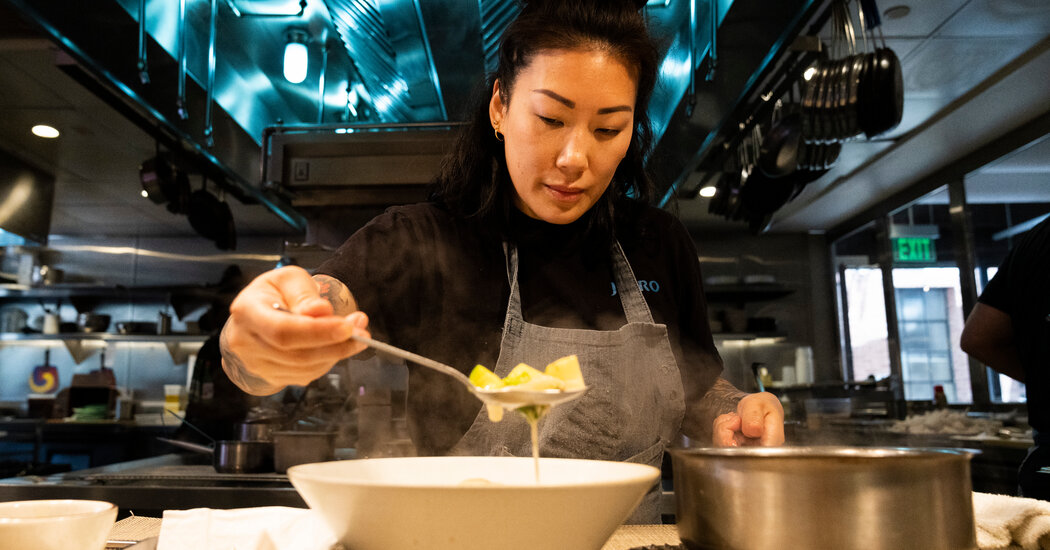 LOS ANGELES — Katianna Hong is tinkering with her grandmother's matzo ball soup for a second time. The first time, she adapted it for a staff meal while she was executive chef at the Charter Oak in the Napa Valley.
But here at Yangban Society, the Los Angeles restaurant she opened in January with her husband, John Hong, she's making even more ambitious changes to the recipe, and in the process reimagining the cooking of the Korean diaspora.
Instead of the mirepoix of carrots, celery and onions her grandmother called for, Mrs. Hong opts for what she calls "Korean mirepoix" — potatoes and hobak, a sweet Korean squash — cooked slowly in chicken fat until translucent. She dribbles a spoonful of the mixture around a hulking matzo ball surrounded by swollen sujebi, the hand-torn Korean noodles, all floating in a bowl of chicken broth as creamy and cloudy as the ox bone soup seolleongtang.
This isn't fusion food that lifts flavors and techniques from different cuisines and lumps them together devoid of context. It is food that is deeply rooted, encapsulating Mrs. Hong's identity as a Korean woman adopted and raised by a German Jewish father and an Irish Catholic mother.
"The food we are doing is stuff that is authentic to us," Mrs. Hong, 39, said as she prepared the matzo batter. "We were eating sujebi, and it reminded us of the homeyness of matzo ball soup."
As Korean food continues to influence American dining, with Korean fried chicken and bibimbap appearing on all types of menus, a variation on that interplay is unfolding in the kitchens of chefs with backgrounds like Mrs. Hong — Korean adoptees who came to the United States in the 1970s and '80s. These chefs are coming to terms with a heritage they didn't grow up with. And they are enthusiastically expressing it through the very public, and sometimes precarious, act of cooking for others.
In the process, they're finding fulfillment — and sometimes attracting criticism from other Korean Americans that their cooking isn't Korean enough.
An estimated 200,000 Koreans have been adopted globally since 1953, roughly three-quarters of them by parents in the United States, said Eleana J. Kim, an associate professor of anthropology at the University of California, Irvine, and the author of "Adopted Territory: Transnational Korean Adoptees and the Politics of Belonging."
The aftermath of the Korean War left some children, many of foreign paternity, abandoned because of poverty and racial prejudice, she said. "During the subsequent decades, in the absence of South Korea's welfare support for poor families, children born in poverty were quickly shuttled to overseas adoption agencies, which viewed South Korea as the main source of adoptable children."
In the United States, the number of babies available for adoption dropped in the 1970s, and American families turned to those agencies. Today, Korean adoptees remain the nation's largest group of transracial adoptees.
Food is a complex part of the adoption experience for many people born abroad because of the tight connection between cultural identity and cooking, said Kim Park Nelson, an associate professor of ethnic studies at Winona State University, the author of "Invisible Asians: Korean American Adoptees, Asian American Experiences and Racial Exceptionalism" and a Korean adoptee herself.
"The most common example I hear, and what I have experienced, is being asked if I like kimchi," Dr. Park Nelson said. "I do, but not all adoptees are crazy about kimchi."
"There is almost a nationalistic connection between kimchi and Korea," she added. "It's like a test question: Are you actually Korean?"
To reflect their American upbringings and Korean heritage, these adoptee chefs — most of them now in their 30s and 40s — describe their cooking in a number of ways. To Mrs. Hong, it's Korean American. Others call their food Korean-style or Korean-inspired. Some use the terms Koreanique, "vaguely Asian" or "kinda Korean."
At Tiny Chef, a Korean-inspired pop-up restaurant in St. Louis, Melanie Hye Jin Meyer channels her restaurant experience, Midwestern upbringing and Korean identity in dishes like Spam musubi burritos and kimchi-enriched carbonara. But at first, she worried that her distance from her Korean roots would call the credibility of her food into question. (She has since reconnected with her birth family in Seoul.) She even lined up a backup job in case her business flopped.
Many adoptees learn about Korean foodways through libraries, friends and social media. Ms. Meyer would watch YouTube videos and go down internet rabbit holes. One day, her searches led her to try making tteokbokki, the tender, bouncy rice cakes often purchased ready-made from frozen food aisles, from scratch.
"The first time I made it, I completely messed it up and ended up rage-throwing it all away," Ms. Meyer said. "I broke down. It was almost like, 'I am not good enough to be making this,' or 'I am not Korean enough to be making this.'"
For a Korean adoptee, eating Korean food can be a reminder of the loss, grief and disconnection they've experienced. Cooking may intensify those feelings.
Alyse Whitney, a food editor and the creator of an online recipe exchange called the Adoptee Potluck Club, has written about her own fleeting experiences with Korean cooking while growing up. That lack of early exposure to the cuisine can create even more challenges for adoptees who cook professionally.
"When chefs weren't raised by Koreans and don't have that intrinsic knowledge of Korean food, it can be really scary to take on Korean flavor profiles," she said.
In spite of that, adoptee chefs, many of whom began cooking Korean dishes only later on in their restaurant careers, are making delicious, thoughtfully researched food, as intricate and varied as they are.
When the chef Matt Blesse decided to move back to South Korea, he set out to explore Korean cooking, and started Actually Good, a Seoul pop-up restaurant that pairs rice-based cheongju with experimental Korean food like pork shoulder cured in the cheongju lees, roasted and served ssam-style.
At the "vaguely Asian" restaurant Porcelain in New York City, the chef Kate Telfeyan marinates chicken halves in her kimchi brine, then fries them until the reddish skin is bubbled and crackly.
At Yangban Society, Mrs. Hong combines jajangmyeon sauce with the classic Bolognese she picked up while working at an Italian restaurant, and serves the black-bean-spiked ragù over rice. And at Graze in Madison, Wis., the chef Tory Miller brushes gochujang barbecue sauce over grilled pork tenderloin and spare ribs, a condiment he dreamed up last summer while running a pop-up called Miller Family Meat & Three.
Mr. Miller said he finally felt comfortable with his identity by the time he opened his pop-up, and it showed in the menu. "I felt free to be like, this is what it is and this is the food I want to make," he said.
But getting to that point can take time. Feelings of self-doubt — the impostor syndrome — can turn into fears of cultural appropriation. Many adoptee chefs say they feel like outsiders looking in, wondering not only if they have permission to cook the cuisine of their heritage, but also if what they're doing could taint it.
"Korean food has that pride in how it's made, since it speaks to the culture and to a way of life," said Ms. Telfeyan, who grew up in a small, predominantly white Rhode Island town. "When I make kimchi at the restaurant, I'm sticking it in Cambros instead of traditional clay pots. I worry about how authentic my Korean food is since I didn't grow up eating or making it with my parents or the community I lived in."
In addition to navigating their own complicated relationships with Korean food, these chefs also have to consider customer perceptions. With the cuisine's growing footprint in the United States comes high expectations among non-Korean and Korean diners, who can hold the cooking to rigid definitions of authenticity.
"In some ways, Korean food becomes a marker of what you aren't," Mr. Blesse said.
Mr. Serpico recalls one memorable complaint from a Korean woman during the summer of 2020, when he was cooking at the Philadelphia takeout and delivery pop-up Pete's Place, a collaboration with the restaurateur Stephen Starr, who is white. The pop-up advertised its food as "kinda Korean."
The woman called the restaurant to say she was skeptical of the overall concept and Mr. Starr's involvement. The general manager told her that the chef was Korean.
"She was like, 'He's adopted. He's not really Korean,'" Mr. Serpico said. "She tried to have a Korean-off. I've dealt with this my entire life."
Mr. Miller remembers overhearing a table of Asian customers at Sujeo, his former restaurant in Madison. One guest remarked to the group that Mr. Miller was Korean; another replied with, "Well, he's adopted."
Mr. Miller, who had already taken pains to describe Sujeo as "pan-Asian" — even though about half the menu was Korean — was crushed.
The pressure makes Dr. Park Nelson wonder: "Why would any Korean adoptee chef want to cook Korean food?"
For these chefs, cooking is the ultimate reclamation of their Koreanness — and an act that pushes the cuisine to exciting places.
"The markers of being Korean are so small, but the Korean diaspora is so wide," Mr. Blesse said. "There has to be room for things to open up, for Korean food to expand."