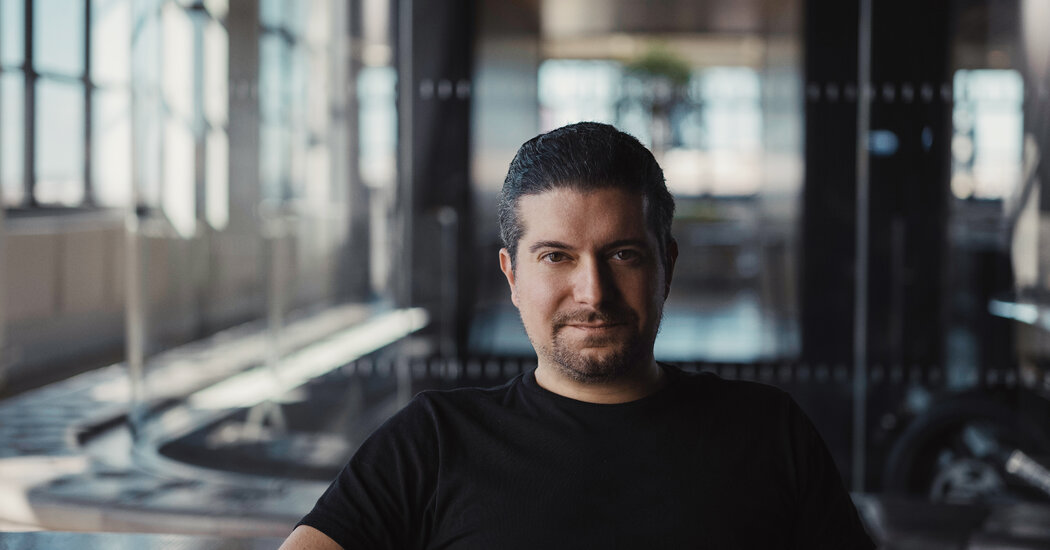 In 2009, Anthony Casalena was listening to a lot of podcasts, especially one called "This Week in Tech," a round table where tech reporters gathered to talk about things like Farmville, Foursquare and the iFart app.
Though the website building business he started in his dorm room six years before had yet to make a profit, he decided to make a big bet. He spent around $20,000 for an ad on the show to tell listeners about Squarespace.
"It was so expensive compared to anything else I had done," he said over Zoom from his vacation house in Montauk, N.Y., in September. By this fall, he was working on an ad campaign on a somewhat larger scale — including the Sunday Super Bowl ad starring Zendaya.
How Squarespace went from podcast spots to Super Bowl ads shows that his 2009 bet was right. Podcasts could sell.
To find out if that gamble on his first podcast ad on This Week in Tech worked, Squarespace built one of the earliest post-purchase surveys, the ones companies now pepper customers with. When he looked at the results, Mr. Casalena was shocked. A third of the company's new subscribers had heard of its product from the ad on This Week in Tech.
"So we became pioneers in trying to find every emerging show host we could before they're super popular," Mr. Casalena said. Everyone at Squarespace started hunting for podcasts to advertise on.
When a podcast host ad-libbed their promotional copy — and particularly if they stressed that using the Squarespace promo code supported their show — the return on the ad spending was enormous. And, according to a former Squarespace employee, when that host was Joe Rogan, the return was almost unbelievable.
Other people later discovered the same about Mr. Rogan, who started podcasting the same year Squarespace started advertising. In 2020 Spotify offered him a reported $100 million for his show.
It has also, in recent days, apologized for him. After several artists pulled their music from Spotify because they believed Mr. Rogan promoted Covid-19 misinformation, and his past use of racial slurs drew new attention, Spotify's chief executive sent his staff an email saying "there are no words I can say to adequately convey how deeply sorry I am." (Mr. Rogan also apologized for what he called "shameful" language.)
The controversy erupted several months after Mr. Casalena and I spoke and, through a spokesman, he declined to comment on Mr. Rogan.
The success with podcast ads made Mr. Casalena such a believer in advertising that in 2015, he decided to buy a 30-second Super Bowl ad that he figures cost him $10 million. "It's a good deal," he said. "What other ad do we do that gets picked up in the media over like a hundred different sources and played for free?" It is very hard to argue with that point here.
Mr. Casalena's commitment to podcast advertising was so singular even in 2015 that when President Barack Obama — years from being a podcaster himself — went on Marc Maron's show, Squarespace was the only company approached about ads.
Ilyas Frenkel, Squarespace's growth marketing manager at the time, received that call from Midroll Media, the company that sold Mr. Maron's ads. Mr. Frenkel asked the salesperson who Mr. Maron was interviewing that put the ad rate at $100,000. "He couldn't tell me but he said, 'You have to do it.' We said, 'OK,'" Mr. Frenkel said.
That year, FiveThirtyEight tracked the biggest podcast advertisers, and it found that Squarespace was taking out two-and-half as many ads as its nearest competitor, Stamps.com.
The company was advertising on more than 400 podcasts a month. According to a former Midroll employee, the company had an internal meeting because the executives were concerned that one account, Squarespace, accounted for a third of the revenue.
Updated
Feb. 14, 2022, 2:08 p.m. ET
Squarespace's team purchasing ads on Facebook and Google would get grilled in meetings, because their return on what they spent on ads couldn't compete with the team placing ads on podcasts and YouTube videos.
The podcast ad budget grew so large that the team of four young people couldn't spend it all. According to the former employee, at one point, Squarespace discussed taking out ads that didn't even talk about Squarespace and just promoted Podcast Awareness month, something they were going to make up. Squarespace employees were the only group of people in the world who have ever thought there weren't enough podcasts.
Squarespace ad buyers were agnostic about audience size. If they spent $500 on a podcast with a tiny audience and scored 20 subscribers, it was worth it — because people who pay an annual fee to host their website aren't likely to leave and redesign their site somewhere else.
Squarespace gets mocked for being the podcast-ad company, but Mr. Casalena revels in the attention, rattling off mentions on "Saturday Night Live," the Netflix show "Only Murders in the Building" and J. Cole's song "My Life." ("I think he just really needed something that rhymes with 'airspace," Mr. Casalena said.)
Dax Shepard said he heard Squarespace ads so much on his favorite podcasts that he believed their ads helped legitimize his show when he started reading them. "It one of the few ads I know by heart," Mr. Shepard explained in an email. "It's a party trick."
Mr. Casalena said that since he founded the company, he has spent over $1 billion promoting his brand across all platforms. The revenue from those ads, plus all that attention, helped the company go public in May, landing Mr. Casalena himself $2.4 billion in stock in the $6.6 billion company.
Long before anyone came up with the idea of Web3 (the name for a decentralized internet run on crypto tokens), Mr. Casalena understood that people were looking to monetize every interaction in their lives.
He saw that Squarespace's small business owners were selling services along with goods. Online classes. Tattoo appointments. Tutoring. Tarot card reading. The internet rule "information wants to be free" was starting to deteriorate.
"People were able to get audiences in ways they couldn't get them before via the social networks. But they don't want to be beholden to the social networks," Mr. Casalena said.
He is now betting on a world in which people's social media accounts reviewing wine or dispensing makeup tips become their main businesses. "We see this larger opportunity now around selling time," Mr. Casalena said.
In 2019, Squarespace made its first acquisition, buying Acuity Scheduling, which helps businesses with online appointments. In March 2021, it bought Tock, which helps restaurants and wineries manage reservations and takeout orders, for more than $400 million.
After a 2021 Super Bowl ad in which Dolly Parton extolled the side hustle angered people who felt exploited by the gig economy ("5 to 9," she sang), Squarespace refined its service-economy-forward message with a campaign featuring John McEnroe.
The former tennis great had stumbled into a new line of work — doing voice overs — and in the ad (and the seven-minute mockumentary accompanying the campaign), Mr. McEnroe uses Squarespace to promote his voice-over career.
To help everyone on the journey from person to brand, Squarespace created its new Video Studio app, which provides a library of images as well as voices you can access simply by typing. A company that started advertising on podcasts essentially changed its business to help people make podcasts.
The decentralized economy, Squarespace predicts, will be all side hustle, all the time. "The part of the economy that will be less commoditized is our individual experiences," said Nick Kokonas, the derivatives trader turned Chicago restaurateur who founded Tock.
If 10 different merchants on Amazon are selling the same product, he can buy the cheapest one. "But food isn't like that. And personal training isn't like that. Those people whose marketplace used to be hyperlocal, this gives them global reach," he said.
Mr. Kokonas believes that most businesses selling goods will add a service component, a trend called multimodal spending that the pandemic sped up.
In this year's Super Bowl ad, Zendaya plays a woman selling seashells who uses Squarespace to offer seashell meditation sessions and a seashell travel, becoming a "seashell celebrity." Which is a not a completely improbable job description in 2022. No doubt, she'll also have a podcast.