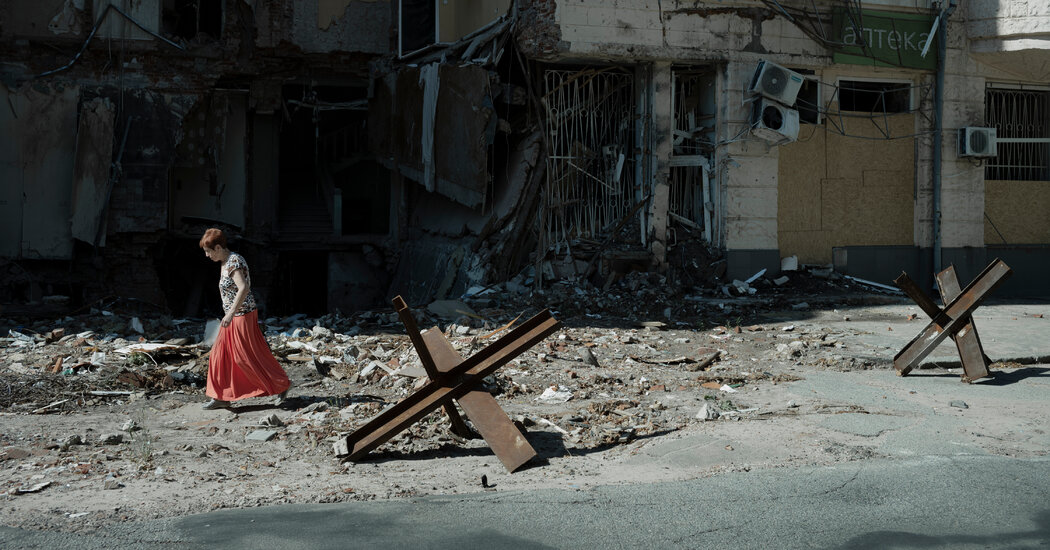 Ukraine repelled the effort to capture its second-largest city, but the artillery attacks did not stop. Many residents who left have returned but fear that a new offensive is imminent.
---
KHARKIV, Ukraine — Alina Titova fell to her knees on the steps of the central railway station at her first glimpse of her home city after arriving back on the train.
"I want to kiss these steps," Ms. Titova, 35, told the two friends who had come to meet her. It was her first trip back to Kharkiv since she left the besieged city in March, ending up in Germany with her three young children.
It was hardly an uplifting return. Ms. Titova was staying only long enough to take care of some business matters and to try to persuade her parents to leave their nearby village before winter set in.
"Everyone wants to return to Kharkiv," she said. "If it's safe to return we would walk on foot from Germany. But it's not safe for the kids yet."
Just 25 miles from the Russian border, Kharkiv is Ukraine's second-biggest city and has been one of the hardest hit in the war. But despite relentless bombardment, Ukrainian forces repelled Russian troops trying to capture the city, and eventually pushed many of them out of the northern suburbs and back into Russia — a limited but meaningful success that offered the promise of a respite for Kharkiv's beleaguered residents.
The relief was ephemeral. Though Russian troops pulled back, the attacks never stopped. Airstrikes have devastated the city's infrastructure, and five months into the war rockets and artillery still slam into the city and surrounding suburbs every night.
Military analysts have said the attacks are a way to force Ukraine to keep troops in the north, preventing them from joining the larger fight in the eastern Donbas region. But in June, President Volodymyr Zelensky said Russia was gathering forces to attack Kharkiv again. And the city is bracing for it.
"We know that they did not abandon the idea of capturing Kharkiv city," said Oleh Synyehubov, the regional governor. "As soon as they find any weak spot in our defense lines, they will immediately exploit it."
With his administration's offices in ruins, Mr. Synyehubov spoke to The Times in an underground concrete complex that has been turned into the city's media office.
Mr. Synyehubov, who is also head of the regional military administration, said that on average four or five airstrikes hit Kharkiv every night, many of them targeting schools and colleges.
Because Russian forces have been pushed back, Mr. Synyehubov said, most attacks now were using rockets with a 40-mile range.
Better Understand the Russia-Ukraine War
"They are trying to prevent people from sending their children to school in September," the governor said, adding that he saw the continued bombardment as an attempt by Russia to gain leverage in any potential negotiations.
Half of Kharkiv's prewar population of 1.8 million has left and 90 percent of businesses are closed, according to city officials. The normally vibrant center of the city, a cultural hub of eastern Ukraine, is largely deserted. There are few cars on the wide streets where largely empty trolley cars rumble along the tracks.
On a recent morning, a man on a motorized wheelchair with a large Ukrainian flag flying behind him made his way down the middle of an empty street, between buildings with boards in the windows standing in for shattered glass.
Next to a heavily damaged bank building, two customers walked into a shawarma shop — one of the few businesses open in the area.
Valeria Golovkina said her Turkish husband and his brother had reopened the shawarma shop, the Ala Cafe, just two days beforehand, after replacing broken equipment and repairing water damage from the shelling.
"We need to work — what else can we do?" said Ms. Golovkina, 42, who left for Istanbul in March with her husband. When they returned in June, she said, all the windows had shattered and the ceiling had collapsed onto the floor.
"At first when things calmed down a lot of people returned but now it's anxious again in Kharkiv," she said.
She said a lot of Kharkiv residents who left after the invasion had returned because their money ran out.
Most of those who remain are either city workers — the city is now Kharkiv's biggest employer — those too poor to leave or young people determined to stick it out in the city's edgy wartime half-life. There are almost no children.
Kharkiv's mayor, Ihor Terekhov, said 109 of the city's approximately 200 schools had been damaged in the strikes. He said the city was now planning for a third year of online classes starting in September.
"You understand that no parent will let their children go to school while they are being bombed," said Mr. Terekhov.
The mayor said 4,500 buildings had been heavily damaged or destroyed, including a major scientific library and Kharkiv's main art museum. About 50,000 apartments in more than 400 buildings are now unrepairable.
In June, Mr. Terekhov said, during a lull in the fighting, up to 5,000 residents a day were returning. The city restarted bus, streetcar and metro service, all free of charge for the many residents with no money and no jobs.
Even now, he said, while some residents continued to leave, there were still more returning, despite the threat of a renewed Russian assault.
"For Kharkiv residents, Kharkiv is a nationality," he said. "Because Kharkiv people cannot imagine life without their city."
"Our main task now is to survive the winter," he added, noting that the city was trying to replace 120 miles of damaged gas pipelines used to fuel its buildings' heating systems.
The devastation is evident all over Kharkiv. Down the street from a gutted telecommunications building, where twisted aluminum bars hanging like ribbons clanged in the wind, city workers tethered to cranes measured plywood sheets to replace the shattered glass of almost every window in an apartment building.
"We've worked from the first days of the war," said Vadym Maramzin, 30. "It's hard to count how many windows we've done — I think thousands." He said a lot of the men he knew had sent their families out of the city and stayed to either work or do military service.
Dmytro Konovalov, 19, waiting for a workman to open the gate to the house he inherited from his grandparents, fled in March when the house next door was hit.
"We took our bags and ran because the house was burning," he said. When he returned in May, it was too damaged to live in. In front of the house was an upscale coffee bar whose ceiling had collapsed. "Come have coffee" a cheery sign read. Inside, a chalkboard menu hung above overturned wooden chairs covered with rubble.
Mr. Konovalov, a cook, said he had come to see what he could salvage from the house but would not stay in Kharkiv because there was no work.
Despite the danger, Kharkiv has a small but thriving bar scene, full of patrons who consider it a badge of honor to stay in the city despite the danger.
"Half the people don't have jobs now so the only thing they can do is go out in the eventing to chat with people, to meet with friends and somehow release the tension," said Vlad Pyvovar, who was serving up plastic red cups of cherry liqueur at the Drunken Cherry bar.
Customers spilled out of the tiny bar into the street, sitting on the wall of a subway entrance and listening to live music. Occasionally, an explosion thudded in the distance — too far away for most people to tell whether it was incoming or outgoing fire.
"Kharkiv people got used to it and those who couldn't get used to it left," said one of the customers, Iryna Holub, 21.
Outside another bar called DAF, short for "Drunk as" followed by an expletive, an olive green military van raced by with sirens sounding.
Inside, a couple of customers were getting ready to leave before the mandated 9 p.m. closing time.
"A lot of my regular customers come here and see we are open and they say 'Sorry I have no money now but maybe see you later,'" said the bartender, Evheniy Moskalenko, 27. "Sometimes I say, 'Let's just sit here and talk a little.'"