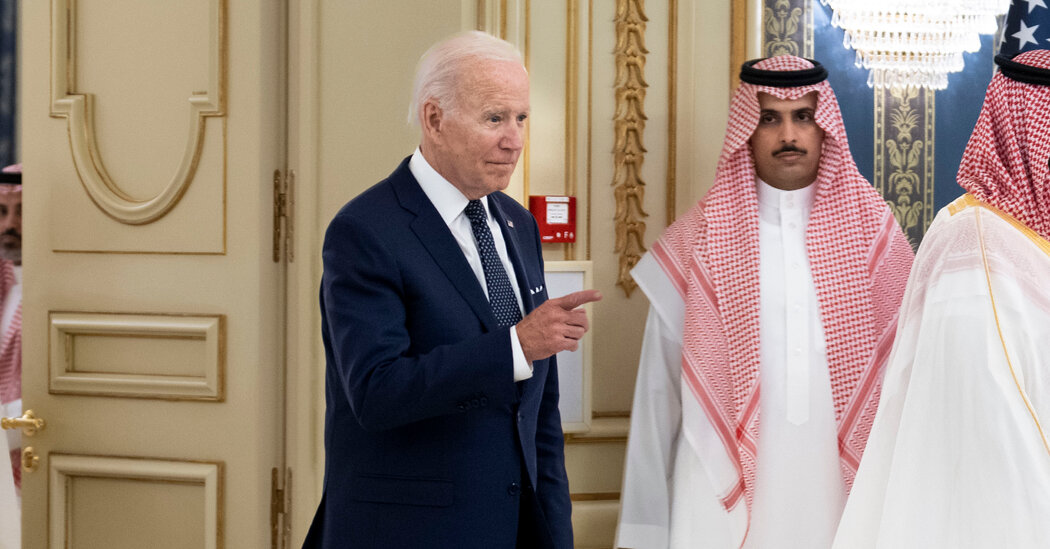 BEIRUT, Lebanon — President Biden will meet in Saudi Arabia on Saturday with leaders from the United States' closest partners in the Arab world to discuss working together to contain Iran and bring stability to global energy markets thrown into disarray by Russia's invasion of Ukraine.
But looming over the meetings for many of those leaders are doubts about the United States' long-term commitment to the region and worries about whether Mr. Biden will make good on his vow to pursue a foreign policy based on human rights.
Mr. Biden has made it clear that he considers confronting Russia and China, and their ambition to replace a U.S.-led global order with a system more to their liking, a greater priority than the wars and sectarian conflicts that continue to rile the Middle East.
That has been a disquieting shift for countries that have long counted on the United States for security and now worry that they might be on their own.
Mr. Biden has also spoken passionately about supporting democracy, which is sorely lacking in the region and in most of the countries whose leaders will meet with Mr. Biden in the Saudi capital, Riyadh.
Seven of the nine Arab countries attending are ruled by unelected kings, emirs, princes and sultans: Saudi Arabia, the United Arab Emirates, Bahrain, Qatar, Kuwait, Oman and Jordan.
While Egypt is officially a republic, its president, Abdel Fattah el-Sisi, took power in the military overthrow of his democratically elected predecessor, and has systematically squeezed democratic practice and open dissent out of his country's political system. Mr. Biden will meet with him one-on-one on Saturday.
That leaves only Prime Minister Mustafa al-Kadhimi of Iraq, which has a complex relationship with the United States because of the American invasion that toppled Saddam Hussein in 2003 and Iraq's raucous domestic politics, which include a number of staunchly anti-American parties.
But Mr. Biden's visit to Saudi Arabia itself suggested a demotion of the focus on rights by the president, who vowed during his election campaign to treat Saudi Arabia as a "pariah," only to visit when faced with issues that he hoped the kingdom could help him solve.
The presidential trip comes amid a monumental shift in the region that has seen a number of Arab states build closer ties with Israel, a close American ally that most Arab states have long shunned.
The Emirates and Bahrain, whose leaders will meet Mr. Biden on Saturday, established full diplomatic relations with Israel in 2020, while Saudi Arabia has quietly increased unofficial ties.
Those new relations have in some ways rejuvenated links to Israel from Egypt and Jordan, the only Arab states that previously had peace treaties with the Jewish-majority state.
Much of the impetus for dealing with Israel comes from some Arab leaders' concern about Iran and a desire to contain it — an interest that they share with Israel.
High on Mr. Biden's agenda for the trip is finding a way to bring down oil prices. Four of the countries represented — Saudi Arabia, the Emirates, Kuwait and Iraq — are members of the Organization of the Petroleum Exporting Countries, a cartel whose members pump about 30 percent of the world's oil and agree on production quotas.
Mr. Biden could use his meetings on Saturday to urge them to agree to increase production or just prevail on Saudi Arabia, OPEC's de facto leader, to use its weight to push for policies that will help the United States.