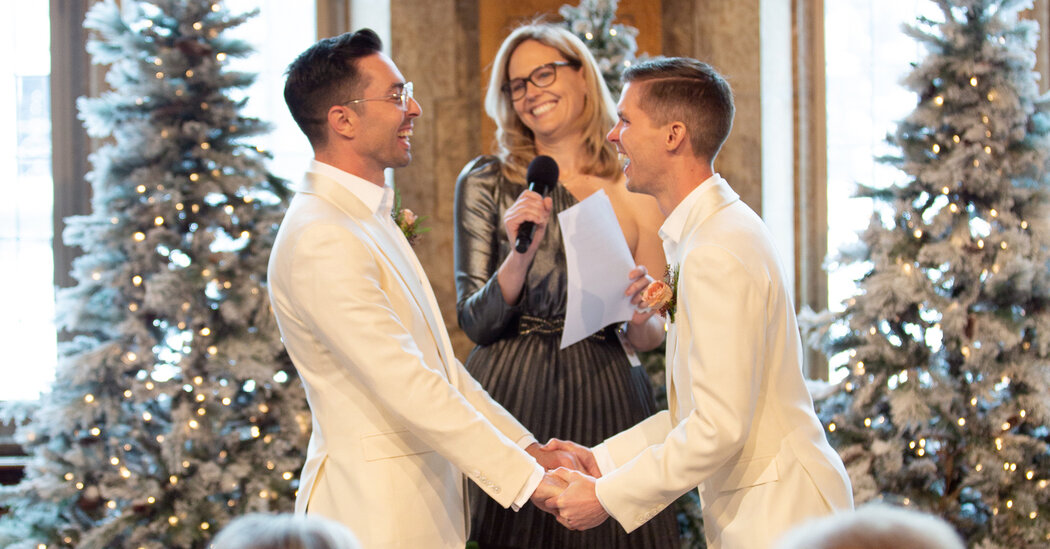 On the night of the Primetime Emmy Awards in September 2017, James Pearse Connelly was nominated for outstanding production design for his work on two shows: "Bill Nye Saves the World" and "The Voice." He did not win for either. But Walter Wachter likes to say that Mr. Connelly ultimately won something better.
It was at the award ceremony, held at the Microsoft Theater in Los Angeles, where Mr. Connelly first met Mr. Wachter, a production manager of original series at Netflix. The two had a brief exchange after being introduced by Jonathan Mussman, Mr. Wachter's boss at Netflix, whom Mr. Connelly also knew.
Though their conversation was short, Mr. Wachter, dressed to stand out in white patent leather Oxford shoes and a matching white bow tie, made a lasting impression on Mr. Connelly, who had brought his mother as his date that evening.
A few days later, Mr. Connelly sent a Facebook message to Mr. Mussman asking him about, as Mr. Connelly recalled, "the cute guy with the white bow tie and white shoes." Mr. Mussman happened to be in a meeting with Mr. Wachter when the message came through, and he showed it to him.
Mr. Wachter then followed Mr. Connelly on Instagram. Mr. Connelly responded by sending Mr. Wachter a direct message on the app. A week and a half later, they had their first date: sushi and sake in West Hollywood, Calif. They became so enmeshed in conversation, it took the server several attempts to get their order.
"We went deep on our first date, with our hearts and minds wide open," said Mr. Connelly.
Both men grew up in New Jersey — Mr. Connelly, 41, is from Leonardo, and Mr. Wachter, 32, from Mount Laurel — and moved to Los Angeles to work in television.
Mr. Connelly, who graduated from Rutgers University, is the older of two children of Brian Connelly, an architect, and Mary Ellen Connelly, an art teacher, who are divorced. A production designer, he won a Primetime Emmy Award in 2009 for his work on the 2008 MTV Video Music Awards and, in 2011, started his own production design company, JP Connelly, in Los Angeles.
In 2020, Mr. Connelly won a Daytime Emmy Award for his work on "The Kelly Clarkson Show." He has also appeared on the HBO Max reality competition show "Craftopia," serving as a guest judge in its first season and a resident judge in its second.
Mr. Wachter, who goes by Wallie, graduated from Boston University and, before joining Netflix in 2016, worked as the executive assistant to the vice president of production at HBO. He is the youngest of four sons of Walter Wachter, a civil engineer, and Catherine Wachter, a homemaker who died in April 2017.
At the time of their first date, Mr. Wachter was still reeling from the loss of his mother months earlier. Mr. Connelly had recently come out of a difficult five-year relationship. Both men had dated enough in Hollywood to feel the perception that someone was interested in him because of where he worked or who he knew.
That evening, when Mr. Connelly described his mother's belief that love is all about giving, without the expectation of something in return, it resonated for Mr. Wachter.
"I immediately knew I wanted to invest my time and energy into this," said Mr. Wachter.
From then, other early milestones in their relationship included a date at the Greystone Mansion in Beverly Hills, where they debated whether to post their first selfie together (they did), and the day Mr. Wachter met Mr. Connelly's French bulldog, Eleanor.
"We definitely had a certain communication magic between us, whether we were talking or texting," said Mr. Connelly.
Soon, Mr. Wachter began staying over at Mr. Connelly's place more and more. By November 2017, without any real discussion, he had moved in. While both wanted children, they had differing opinions about marriage.
Mr. Connelly came of age at a time when same-sex marriage was not yet legal, and he hadn't made it a priority. By the time Mr. Wachter came out in 2008, he said, same-sex marriage seemed more of a possibility — Massachusetts had legalized it years earlier and Connecticut did that year — and he wanted children within the framework of marriage.
Eventually, Mr. Connelly came to understand Mr. Wachter's viewpoint and, in the coming years, they would begin looking for an egg donor and a surrogate for a baby, a process that remains ongoing.
As for an engagement, Mr. Wachter said that while Mr. Connelly "was warming up to the idea of marriage, he wasn't going to be the one to propose. He needed a push from me."
Ahead of a trip to Japan that the couple took at the end 2019, Mr. Wachter went shopping for a ring. On their third day there, as the couple was waiting for a boat to collect them from their hotel on the Katsura River in Kyoto, Mr. Wachter dropped to one knee, surprising Mr. Connelly, who was preoccupied with creating Instagram stories.
Being proposed to was "an amazing gift," Mr. Connelly said. "I was blown away and super surprised at how emotional it was."
Afterward, he wanted to propose to Mr. Wachter in return. But the pandemic, which set in soon after they returned from Japan, delayed Mr. Connelly's plan.
In July 2020, the men drove to Northern California for a getaway to Jenner, a small town on the Sonoma Coast. By then, they had acquired another French bulldog, Rigby, who along with Eleanor, joined them for the trip. (They got yet another, Honey Pie, after Eleanor died the following year.)
While Mr. Wachter suspected a proposal was coming, he did not expect it to happen on a hike overlooking the ocean at sunset.
"They are so in sync that they can have this whole conversation through their eyes," said Lydia Smyth Garland, a friend of both men. "They are the couple at the restaurant that people watch from afar and think, 'Now that's how it should be.'"
The couple had a tradition of taking an annual trip somewhere new to both of them; for their wedding, they decided to open up that tradition to include their friends and family, and chose a location of Banff, Alberta.
Although they began planning during the pandemic, they optimistically chose Jan. 2, 2021, as their wedding date. But in the coming months, it became clear that Covid would make it too difficult for that to happen.
They postponed the event by nearly a year, to Dec. 19, 2021, at the Fairmont Banff Springs. The day before Mr. Connelly and Mr. Wachter were to fly to Canada, they were hearing rumors that the country might shut its borders because of the Omicron variant. Luckily, they remained only rumors.
While the couple was prepared for the extra steps required to travel internationally during the pandemic, they didn't think about the local stipulations for having a legal wedding in Canada until days before the event, when Ms. Garland, whom they had asked to officiate, mentioned it.
"We were so busy thinking about rugs and the color of the couches, that we never thought about the legal portion," Mr. Connelly said. They moved forward with their celebration and made plans to legally marry in Los Angeles upon their return.
Of the 120 people they invited to Banff, because of the Omicron variant, only 65 vaccinated guests made it to the event. To the morning ceremony led by Ms. Garland, the couple wore white jackets, white shoes and no ties; for the evening reception, they changed into tuxedos with midnight-blue jackets, made to measure by Zegna.
The self-imposed pressure on Mr. Connelly to create an unforgettable backdrop for their celebration in Canada was immense, he said.
He didn't disappoint.
"As soon as you walked into the room, you were transported to this winter wonderland," said Amanda Zucker, a friend and guest.
Décor included 30 evergreen trees and tree stumps from the province of Alberta, as well as custom sofas, pillows and lamps of Mr. Connelly's design that were upholstered and sewn in Toronto.
On Jan. 22., they legalized their union at the Albertson Wedding Chapel in Los Angeles, with Ms. Garland, ordained by the Universal Life Church for the occasion, officiating.
Before Ms. Garland, the couple read their own vows.
"I give of my brain to envision with you what this life, our life, could be and how we change 'could' to 'is,'" said Mr. Wachter.
"You are a place where I feel safe and inspired," said Mr. Connelly. "I want to decorate our life with rich textiles, flowers, stories and songs."
On This Day
When Jan. 22, 2022
Where Albertson Wedding Chapel, Los Angeles, Calif.
Family Affair In addition to having Ms. Garland officiate, the couple had her son, Philip Garland, 3, and daughter, Gwendolyn Garland, 2, serve as ring bearers.
The Reception After their ceremony at the chapel, Mr. Connelly and Mr. Wachter shared a celebratory dinner together at République, a French-inspired restaurant in Los Angeles.