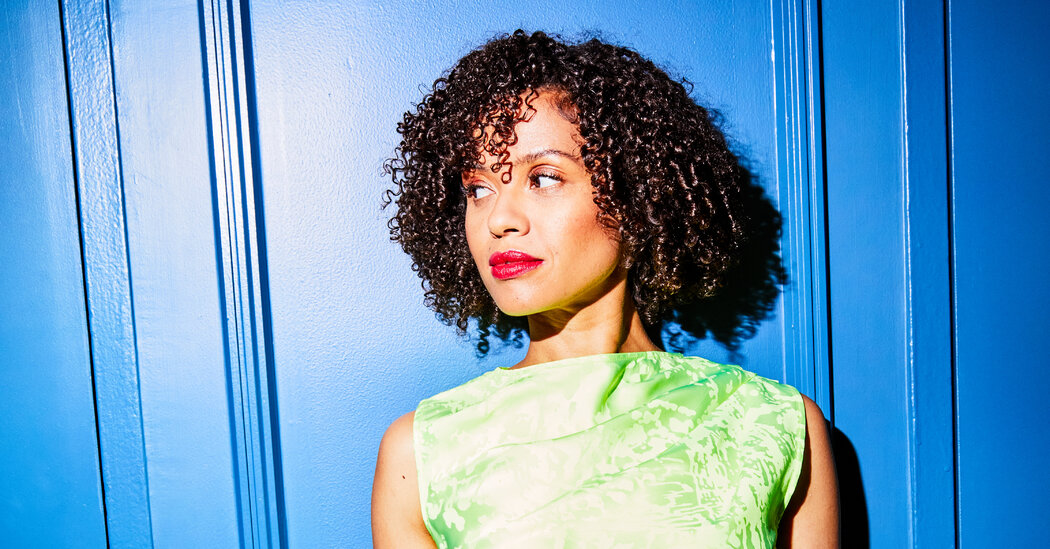 LONDON — A few minutes into "Surface," a new eight-part series from Apple TV+, the central character, Sophie, played by Gugu Mbatha-Raw, asks her therapist a question:
"If my life was so perfect, why did I try to end it?"
Sophie, who has amnesia after a suicide attempt, has a handsome, wealthy and devoted husband, a World of Interiors-worthy townhouse with a panoramic view of San Francisco, a fun best-girlfriend and a killer wardrobe. She is also beautiful — obviously, since she is played by Mbatha-Raw, the British actress who rose to prominence playing the title role in Amma Asante's 2014 feature "Belle."
Mbatha-Raw, 39, has worked prolifically in film and television over the past decade, with starring roles in Gina Prince-Bythewood's "Beyond the Lights," the Marvel series "Loki" and, most recently, the Apple TV+ series "The Morning Show."
But with "Surface," which will premiere on Friday, Mbatha-Raw is leading a major series for the first time, and also stepping into new terrain as an executive producer of the show, created and written by Veronica West ("High Fidelity," 2020).
Sophie's question is the driving force of the show, which West said was inspired by the 1962 Alain Resnais film "Last Year at Marienbad." Why did Sophie try to kill herself? Did she try to kill herself?
In a recent interview at a London hotel, Mbatha-Raw said she was drawn to "the fact that Sophie herself is the mystery," adding, "There are amnesia dramas, but I hadn't seen this with a woman who looks like me at the center."
The role, she said, had forced her to abandon her usual scrupulous preparation for playing a character. "She is a blank slate, she is looking for clues, and her information comes from those around her," Mbatha-Raw said. "It was the opposite of creating a back story; here I was building the character as Sophie is building herself throughout the show."
It was strange to work on playing a married couple when only one character knows the history of the relationship, said Oliver Jackson-Cohen, who plays James, Sophie's husband. "There are so many different versions of Sophie, and so many versions of Sophie and James," he said in a telephone interview. "But that's true of our lives."
Sophie exists in "two realities," said Ari Graynor, who plays her best friend, Caroline. "The external reality she is interacting with, and her internal reality of trying to put everything together. Gugu has a gift of allowing both these realities to be simultaneously felt with layers of sensitivity and subtlety and precision."
Mbatha-Raw — who was an associate producer on the HBO Max limited series "The Girl Before" — signed on to "Surface" before it was sold to Apple. West described her as "an exec in all aspects — casting, marketing the vision for the show, helping to shape Sophie's back story." She added, "The thing I most admire about Gugu's approach is that she was always pushing me to go bigger and bolder, let her character be flawed and messy."
Reese Witherspoon, who worked with Mbatha-Raw on "The Morning Show," wrote in an email that she had binge-watched "Surface" over two days, "marveling at every twist I did not see coming." Mbatha-Raw, she wrote, is "vulnerable, defiant, ferocious and determined."
Mbatha-Raw seems to have always been determined. She grew up in Witney, a pretty town in Oxfordshire, England, the only daughter of Anne Raw, a British nurse, and Patrick Mbatha, a South African doctor. (Her full name is Gugulethu, a contraction of igugu lethu, which means "our pride" in South Africa's Nguni languages.) Her parents separated when she was a year old, and she lived mostly with her mother, who supported her early love of dance and musical theater. At 11, she played Dorothy in a school production of "The Wizard of Oz" and thought, "This is what I want to do."
Despite Mbatha-Raw's pleading, her mother wouldn't let her go to a children's theater school, but in her early teens she joined the National Youth Music Theater, then the National Youth Theater — both highly selective and reliable breeding grounds for British actors. (Alums of the National Youth Theater include Daniel Craig, Chiwetel Ejiofor, Rosamund Pike and Helen Mirren.)
At 17, she was touring with the National Youth Theater in Japan ("my first experience of acting opening you up to the world and transcending cultures") when she heard that she had been accepted at the prestigious Royal Academy of Dramatic Art in London. Unlike some of her peers, she wasn't "snapped up" by an agent after the three-year course, she said: "But I sort of assumed it would work out; I'm not sure if that was confidence or ignorance."
In person, Mbatha-Raw is articulate, friendly and quick to laugh, self-possessed and alertly focused. (She is also smoothly diplomatic in the manner of experienced interviewees.) "You have to have a bit of blind faith in yourself as an actor, some crazy inner belief to keep you going," she said.
After graduating from the academy, she found fairly steady work, landing minor roles in film and television, and won critical attention playing Juliet opposite Andrew Garfield's Romeo at the Royal Exchange Theater in Manchester. In 2007, she was cast in several episodes of "Doctor Who"; and she played the lead role in "Fallout," a 2009 television drama directed by Ian Rickson.
"It was the first time I realized I could be the lead onscreen, and it was very urban, emotional, about knife crime in London, a bit of a character stretch for me," Mbatha-Raw said. Rickson, she added, made her a playlist for her character, which she has done ever since.
Mbatha-Raw is "a transformer," Rickson said in a telephone interview, "someone who can inhabit such different kinds of women, be wildly different in her roles," adding, "I have seen her play across generations, across class, and she has made great choices and avoided typecasting, the burden on young women to be decorative, libidinous."
The same year "Fallout" premiered, Mbatha-Raw played Ophelia opposite Jude Law's Hamlet, first at the Donmar Warehouse in London, then on Broadway. That led to a role in J.J. Abrams's short-lived television series "Undercovers," and an extended stint living and working in Los Angeles. "I felt my mind was opened to a different scale, a broader sense of ambition, the American spirit," she said.
She was in the United States in 2013 when she heard she'd been cast in the role of Belle, inspired by the true story of the daughter of a formerly enslaved African woman and a British aristocrat who is raised by his family in Georgian England.
In theater, she said, she never felt that being biracial limited her opportunities. "But I remember when 'Downton Abbey' came out and I felt it couldn't be a path for me," Mbatha-Raw said. "Being the lead of a period drama in 'Belle,' when you grow up here, really felt meaningful. I realized acting wasn't just a way to be part of the culture, but to push the culture along."
"Belle" gave Mbatha-Raw a bigger profile, "but it wasn't like my career was suddenly out of control," she said. She played what she described as "wife roles" in a number of mainstream movies, but also the lead role — a pop star teetering between fame and self-destruction — in the film "Beyond the Lights."
"Within 10 seconds of her reading at the audition, I knew I was watching the character," the film's director, Prince-Bythewood, said in a telephone interview, adding that she shot an eight-minute short to persuade unconvinced studio executives "that Gugu was the character I'd been working on for three years."
Mbatha-Raw has worked with several Black female directors, including Asante, Prince-Bythewood and Ava DuVernay (on "A Wrinkle in Time"), and said that she had actively sought out female collaborators on recent projects. "I have had great experiences with male collaborators," she said carefully, "but there is a lot to do in terms of balancing the distribution of work and power in our world."
Equally, she said, seeing her friend David Oyelowo bring his three-year-old daughter, Zoe, to an awards ceremony, had inspired her to think carefully about the roles she chooses. "I want Zoe to grow up seeing herself represented."
The decision to take on an executive producer role in "Surface" was motivated by both of these ideas. "When I came out of drama school, I didn't even know what a producer did," Mbatha-Raw said. "But spending time in America, and doing projects like 'The Morning Show' with Reese Witherspoon's production company, in the wake of #MeToo and Time's Up, really made me think about having a voice in how these stories get put together.
"There is power in being behind the scenes," she added, "in learning how decisions are made, how to navigate those rooms, those conversations."
Asked whether she would be interested in directing, Mbatha-Raw answered cautiously. "There are certainly stories I would like to explore, stories about Zulu culture," she said, alluding to her heritage on her father's side. "I'm certainly looking for things — let's see."