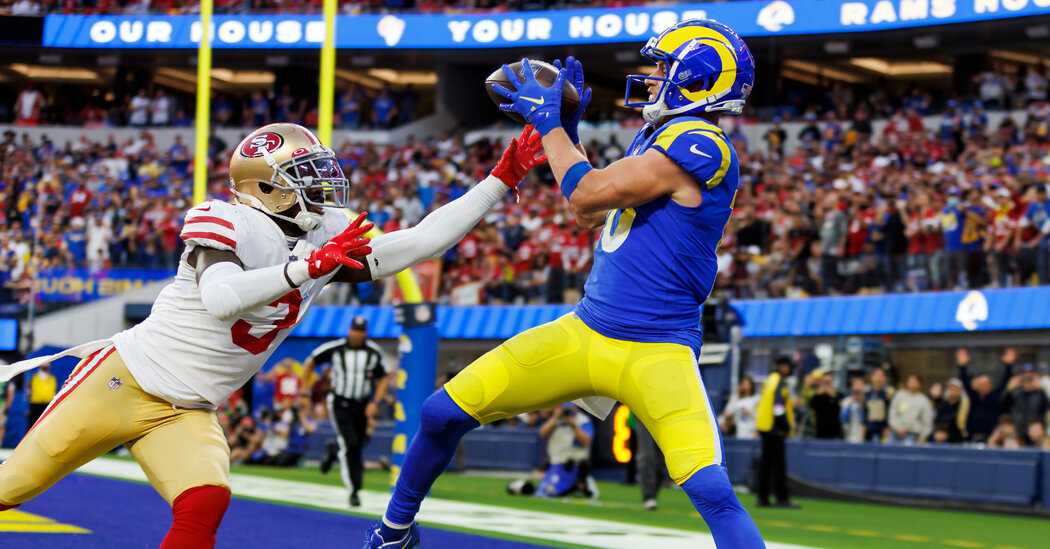 LOS ANGELES — Nick Edwards knows the Los Angeles Rams' Cooper Kupp not as the most efficient receiving threat in the N.F.L., but as the scrawny, overlooked freshman at Eastern Washington who was obsessed with eating eggs to add muscle mass.
Edwards, now the offensive coordinator at California Polytechnic State University, was Kupp's teammate at Eastern Washington as a senior in 2012 while Kupp was a redshirt freshman. Two years later, Edwards returned as Kupp's position coach. From afar, he has watched Kupp, a third-round draft pick in 2017, develop into a masterful route runner, a sure-handed catcher and a skillful blocker.
His improvement, attention to detail, along with catching passes from a new quarterback, Matthew Stafford, propelled Kupp to an outstanding 2021 season. He led the league in the major receiving categories, posting 145 catches for 1,947 yards and 16 touchdowns. Only three other receivers since 1970 — Steve Smith, Jerry Rice and Sterling Sharpe — have achieved that feat. He fell just 18 yards short of breaking Calvin Johnson's record for most receiving yards in a single season.
Despite defenses deploying a bevy of strategies to counter Kupp this season, he still managed an All-Pro season and became the driving force that propelled the Rams to the Super Bowl.
Here's how:
His lateral quickness and leverage allow him to beat defenders off the line.
Kupp, ran the 40-yard dash at the 2017 draft combine in an unimpressive 4.62 seconds. Kupp said he made a concerted effort each off-season to improve his quickness, especially in lateral change of directions.
"Speed is a luxury in my mind, quickness is a necessity," Kupp said in a news conference this week. "If you can't create separation at the top of routes and be able to have enough twitch to be able to move people at the line of scrimmage and things like that, I think you will have a hard time separating in this league."
Dive Deeper Into the Super Bowl
Edwards said Kupp in college studied mechanics from defensive linemen's finesse pass-rush moves because he felt it would help him win his releases off the line of scrimmage against defensive backs. Rams Coach Sean McVay often gives Kupp "option" routes in the slot and in bunch formations, especially against man coverage looks. Option routes allow Kupp to use his shiftiness to size up a defender and choose which direction he will break off depending on the leverage.
Against San Francisco 49ers cornerback K'Waun Williams in the N.F.C. Championship game, with the score tied 7-7 late in the third quarter, Kupp was able to catch a crucial 9-yard pass for a first down. His footwork on the play allowed him to dissect which way the defender was leaning with his hips and then find the opening on the opposite side.
"He knows how to work an edge, get a guy off of his spot, and then be able to break one way or the other on a lot of these routes that we give him," McVay said in a news conference last week.
He creates separation to make the catch, and turn upfield.
Kupp gets exceptional separation from defensive backs, averaging 3.6 yards of cushion from his nearest defender, seventh-most in the league, according to NFL Next Gen Stats. That way, when Stafford finds him with a pass, Kupp is unlikely to battle to make the catch: He's only dropped eight of his 191 targets.
Once Kupp separates from his defender, there's the challenge of actually tackling him. McVay gives him easy opportunities to amass yards, such as screen passes where he gets the ball behind the line of scrimmage, with blockers in front paving the way for his runs.
Catch made, Kupp looks to turn upfield and rarely surrenders himself to tacklers, enabling him to post 846 yards after the catch, tops in the N.F.L.
That's a testament to Kupp's physical strength which allows him to absorb punishment and break tackles, a factor McVay said Kupp didn't get enough credit for.
Bengals Coach Zac Taylor, who as the Rams assistant wide receivers coach in 2017 evaluated Kupp before the draft, noted Kupp's improvement.
"He never goes down on first contact," Taylor said in a news conference last week. "That's one thing, if you watch him, he never goes willingly out of bounds."
His willingness to block camouflages the Rams' play-action calls.
Despite his massive responsibility in the Rams' passing game, Kupp is an abnormally devoted blocker on the team's rushes. Taylor said when he still coached in Los Angeles, he would sometimes wake up to texts messages from Kupp that were screenshots of running plays, along with the receiver's opinions on how to use that play against a certain defensive look.
When Kupp blocks at full speed, he can deceive the defense into thinking it's actually a pass play, temporarily freezing linebackers and defensive backs long enough for the pass to develop.
Kupp and his quarterback are totally in sync.
Taylor said Kupp was "one smartest players I've ever been around in any position," and said he views the game like a quarterback, understanding the entire offensive concept — rather than just his place in them — and can quickly recognize how defenses counter them. Edwards said that in college Kupp would sometimes draw plays that he liked by hand on pieces of paper, add his signature, and leave them lying around for coaches.
Kupp likewise went above and beyond to acclimate Stafford after the Rams traded for him last January. Having played in McVay's system since 2017, Kupp took it on himself to set up regular breakfast meetings with the quarterback ahead of training camp practices and watched film, a meeting that colloquially became known as "Breakfast Club."
"If you added up all the hours that those two have spent together, one-on-one in the quarterback room, in that setting outside of the scheduled meeting time, it would make up a lot of time and people probably wouldn't even believe it," said Kevin O'Connell, the Rams offensive coordinator, in a recent news conference.
In every game, their chemistry is on display. Some of Stafford's darts to Kupp are in tight, narrow spaces. Those completions can only happen when the ball is thrown with precision, and also when the quarterback trusts that the receiver will be in the correct spot to make the play.
"The more time you can spend talking about football with somebody like him that just eats it up, it's just going to be better for us," Stafford said. "I think it's been reflective in his ability to make plays for our team to help us win."